News
»
Go to news main
Meet Shaniqwa Thomas, Class of 2022
Posted by
Tammi Hayne
on May 24, 2022 in
News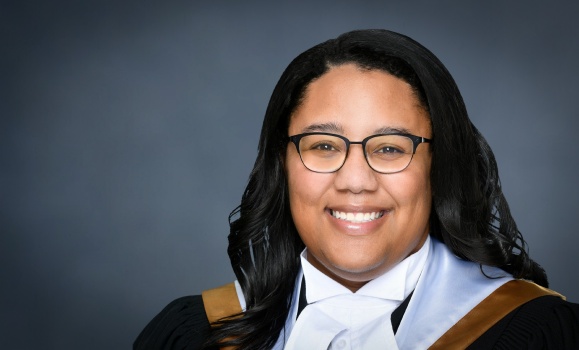 Congratulations to the Schulich School of Law's Class of 2022! Over the past few weeks, we've featured Q&As with graduating law students who have reflected on their time at Weldon. Today, in our final profile, we're talking to Shaniqwa Thomas.
Why did you want to attend the Schulich School of Law?
When it came time to pick what law school to attend, I was drawn to Schulich Law due to its Indigenous Blacks and Mi'kmaq (IB&M) Initiative. I was ecstatic when I was offered a seat as I wanted to return to Dalhousie University as my brilliant and beautiful mother brought me with her when I was a child as she completed her first degree. I wanted to complete my post-secondary journey where it all started.   
In what ways were you involved with the law school community?
I was involved in the Dalhousie Black Law Students Association (DBLSA) as Vice-President during my second year and became President in my third year. During my time as President, I oversaw the largest Black Law Students of Canada Atlantic Chapter. We ran many events and fundraising initiatives that not only enabled my DBLSA members to go to Vancouver this year for the national Black Law Students of Canada Conference but will also make it easier financially for students to attend in years to come.  
I sat on the Equity, Diversity, and Inclusion Committee, where I was able to aid in enhancing the learning environment at Weldon for the current and next generation of students. I also became the student representative for the Canadian Association of Black Lawyers – Nova Scotia. Advocating for social and racial justice for students and my community has been a driving force throughout my journey before and during law school.  
What is your favourite law school memory?
I am not sure it's my favourite but completing a law degree during a pandemic was definitely memorable.  
What will you miss most about Schulich Law?
It was always a pleasure to interact with classmates and professors within the walls of the law school. Schulich Law is a community and having the opportunity to discuss different issues within society with fellow students and faculty allowed for a greater learning environment. This allowed me to see issues from many different perspectives. These perspectives are something I will always keep in mind as I go forward in my career.
What are your post-graduation plans?
I will be articling at Stewart McKelvey here in Halifax.