News
»
Go to news main
Meet Harry Critchley, Class of 2022
Posted by
Tammi Hayne
on May 16, 2022 in
News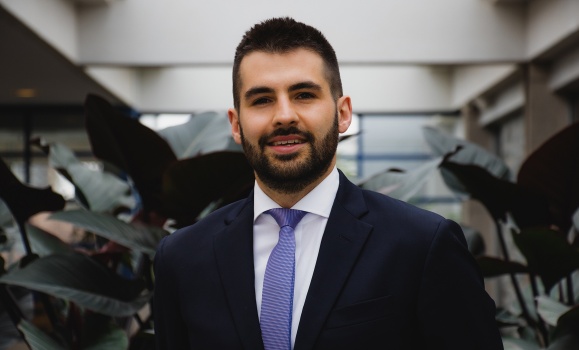 Congratulations to the Schulich School of Law's Class of 2022! In the coming weeks, we'll feature Q&As with graduating law students who will reflect on their time at Weldon. Today we're talking to Harry Critchley.
Why did you want to attend the Schulich School of Law?
Schulich Law was the only place I was interested in when I decided to go back to school. Before that, I worked for about five years as an educator and researcher—most recently at the Access to Justice and Law Reform Institute of Nova Scotia, which is actually located in the law school. Through my work and also through volunteering in the jails, I met a number of students, lawyers, and law professors from Dalhousie, so I was well aware of the Weldon Tradition. Also, Schulich Law offers some of the most generous scholarships of any law school in Canada and that support really helped make it all possible.  
In what ways were you involved with the law school community?
I've been lucky to be involved in a number of activities within the law school and beyond. During 2L, I was an Indigenous Blacks & Mi'kmaq (IB&M) tutor and this year I also gave a talk with Dr. El Jones and Schulich alum Jennifer Taylor on a report I helped write for the HRM.
Right now, together with Professor Sheila Wildeman, I'm the co-chair of East Coast Prison Justice, an advocacy organization for criminalized Nova Scotians, mainly in the areas of corrections and policing. Through that, I've worked on numerous projects, including an ongoing human rights monitoring initiative for people in provincial custody with Prof. Wildeman, Dr. Adelina Iftene, and Schulich Law alum Hanna Garson. We're working right now, with the BC Civil Liberties Association, as a participant coalition in the Mass Casualty Commission, which has been a really interesting and challenging experience so far. I'm also on the board for the Elizabeth Fry Society of Mainland Nova Scotia and the Halifax Board of Police Commissioners. 
What is your favourite law school memory?
My favourite memory is being at Dalhousie Legal Aid Service for the semester. After a full year online, it was so great being in-person and getting to work on files with everyone else. I had wanted to do the Clinic even before I started at Schulich Law, so I was really happy when I got the chance in the fall of 3L. 
What will you miss most about Schulich Law?
I will miss how incredibly kind and supportive everyone at Schulich Law is. It's a pretty wide world once you get out there lawyering—even in a smaller province like Nova Scotia—so it's great to have met so many amazing people. 
What are your post-graduation plans?
I'm going to be articling at Nova Scotia Legal Aid in Dartmouth in their criminal office. Right now, I am in the South of France working and living on a farm and practicing my French. It's been really great to take a break from the law and just be outside—though learning bee-keeping in French was pretty difficult at first!