News
»
Go to news main
Meet Zakariya Chatur, Class of 2022
Posted by
Tammi Hayne
on May 3, 2022 in
News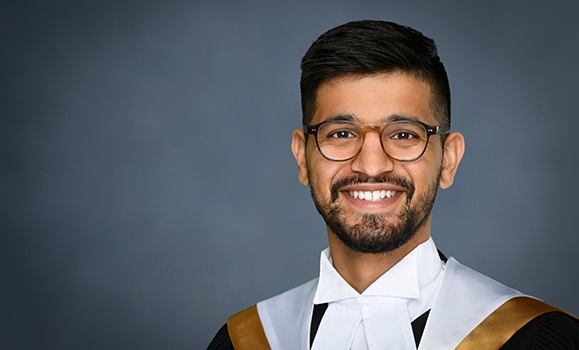 Congratulations to the Schulich School of Law's Class of 2022! In the coming weeks, we'll feature Q&As with graduating law students who will reflect on their time at Weldon. Today we're talking to Zakariya Chatur.
Why did you want to attend the Schulich School of Law?
I decided to attend the Schulich School of Law for two reasons. First, I have lived in Atlantic Canada since I was eleven years old. I grew up in New Brunswick and completed my undergraduate degree at St. Francis Xavier University. I consider this part of Canada my home and I thought it would be great to do my professional training here. Second, the Schulich School of Law has an incredible reputation for being a collegial community.
In what ways were you involved with the law school community?
I was involved with a variety of law student societies. During orientation week, myself and two friends, Ben Foster and Robin Asgari, founded the Dalhousie Public Policy and Law Society. I also served as VP Internal of the Business Law Association of Dalhousie, the Co-Chair of the Dalhousie Asian Law Students Association, and as a student representative on the law school's Equity, Diversity and Inclusion Committee. I ended my law school experience at Dalhousie Legal Aid Service.
What is your favourite law school memory?
This is a difficult question to answer. I would have to say my entire Dalhousie Legal Aid Service clinic experience. Although it was only one semester, I developed the confidence to pick up a file from an intake meeting and see it through to completion. I had the opportunity to negotiate with the Crown and do sentencing submissions on adult criminal files. And, most importantly, I met some incredible people along the way.
What will you miss most about Schulich Law?
I'll miss the people the most. Our law school experience has been like no other—from hurricanes, to pandemics, to floods. Despite all that, I was fortunate to make some real connections with people.
What are your post-graduation plans?
After graduation I will be articling at Bennett Jones in Calgary, Alberta.