News
»
Go to news main
Reaching Out and Reaching Back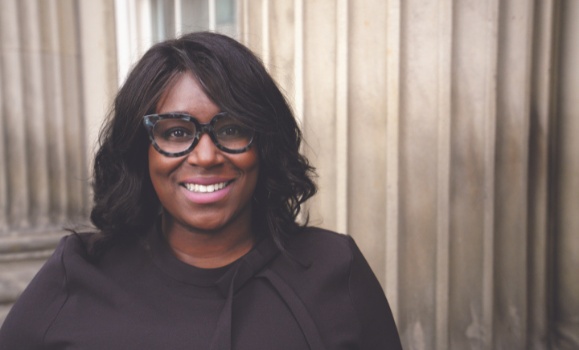 This story originally appeared in the 2021 edition of Hearsay, the Schulich School of Law Alumni Magazine.
When Charlene Theodore ('06) was elected president of the Ontario Bar Association in September 2020, becoming the first Black lawyer to hold the position in the organization's history, her leadership in boosting opportunities for women and people facing racial inequality in the legal profession was already firmly cemented.
But stepping into the one-year role just months after George Floyd's death in Minneapolis sparked protests across North America and pushed countries to reckon with dismantling systems of discrimination and combating anti-Black racism, gave her long-time work a greater magnitude and a stronger sense of urgency.
"In the midst of this horrible situation, it brought home the honour and significance of having this role in this time and I always thought of it as an opportunity that I didn't intend to waste," said Theodore, who was named one of Canadian Lawyer's Top 25 Most Influential in the justice system and legal profession in 2020.
Theodore immediately dove into her new role, representing close to 16,000 lawyers, judges, law professors and law students. From her condominium in downtown Toronto, surrounded by colourful, vibrant art that celebrates Black cultures in Canada and around the world, she works around the clock on initiatives aimed at creating healthy and inclusive workplaces for lawyers, speaking publicly on the inequities facing women and racialized lawyers and how to fix judicial diversity in Canada, while juggling her day job as in-house counsel for the Ontario English Catholic Teachers' Association.
"When I get to a place where I have a platform or some kind of relative power or influence, I always reach out and reach back and bring my people with me," she said. "I like to be part of a team," she added.
One of her first steps as president of the Ontario Bar Association was setting a clear mandate for the next decade. Focusing on equality, the policy highlights one key issue a year; workplaces is the current focus. With the pandemic forcing people to re-think how and where they work, her Work that Works initiative provides the ideas and tools needed to build productive, healthy and inclusive work environments for lawyers. "It is really about showing people the how," she said.
To highlight her ideas and encourage workplaces to set measurable goals, Theodore created a podcast (oba.org/WorkThatWorks). She points to the progress she sees in other sectors. The Toronto Stock Exchange, she said is seeing notable change after the Ontario Securities Commission introduced a comply-or-explain rule in 2015, requiring most companies listed on the exchange to disclose annually how many women are on their board and in executive officer positions.
"I serve others. I help others," she said. "My whole career has been working in community, working collaboratively."
A Toronto native whose parents came from the Caribbean, Theodore grew up in Brampton, Ont. As a teenager, she was awakened to the power of the legal system after reading the story of Steven Truscott's wrongful conviction. "The law was used as a tool to essentially take away his life unfairly," she said. "The other side of that point is that the only way to right that wrong was by using the law."
Affected by Truscott's case, she knew she wanted to be part of a system where solutions to complex issues and injustices could be found. She initially studied psychology at Carleton University and got a job in the growing Employee Assistance Program industry. But the call of law grew louder, so she gave up her job and headed east. She chose the Schulich School of Law after hearing glowing reviews from alumni.
At Dal, she became president of the Dalhousie Black Law Students' Association and was inspired by the Indigenous Blacks & Mi'kmaq Initiative. Established in 1989, at a time when there weren't many Black or Indigenous lawyers in Nova Scotia, the program's goal was to ensure equal access, clear systemic barriers to legal education and the legal profession and address racism in the justice system. Recognized as a model for diversity in legal education, she calls the Initiative a template for creating a successful pipeline.
"The IB&M Initiative is really Dal's gift to the legal profession across Canada," she said. "I like programs and initiatives that are about actual solutions."
In law school, Theodore also discovered a different passion: food. During exam periods, she was known to bring homemade cornbread to the library and at Thanksgiving, she made turkey dinner for her friends. "I found out I was a pretty good cook."
While her heart lies with Caribbean-inspired food, she loves to experiment with recipes from around the world. When she travelled alone to Peru four years ago, she visited Machu Picchu in the Andes Mountains and also took cooking classes. When she can travel again, one of the first places she will visit is South Africa, to fulfill a lifelong dream.
In her second year of law school, Theodore interned with the International Bar Association in London, England. The experience led her to article with the African Canadian Legal Clinic after graduating from Dal. The non-profit clinic advocated against hate crimes and racism before the United Nations and federal and provincial committees focused on Supreme Court interventions on anti-Black racism. One of the highlights of the work for Theodore was presenting a report to the Committee on the Elimination of Racial Discrimination, a body of the United Nations Human Rights Office of the High Commissioner.
As a new lawyer, she acted in a case that involved a large Canadian bank that discriminated against a Black customer with dreadlocks. The man tried to withdraw a large sum of money and the bank froze his account—not based on any regulatory compliance reasons, but because of how he looked. "It was a case of banking while Black," she said.
Work to end anti-Black racism has been going on for decades, said Theodore, long before Floyd's death last year, and will continue long after her term ends as president of the Ontario Bar Association. "It is great that out of this tragedy we are seeing a different level of engagement and conversation," she said. "There were so many other people, not just in the U.S. but in Canada, who have lost their lives due to anti-Black racism. Sometimes you wonder, why didn't this happen earlier?"
With so much work left to do to end inequality, not just in the justice sector but across society, Theodore's commitment to helping provide a viable road map for getting there remains unwavering.
"I am an optimist by nature. I will always continue to be engaged with this work and this advocacy," she said. "I've always loved the work that I do."