News
»
Go to news main
Blazing trails: Schulich Law alumni make history in Nova Scotia's judiciary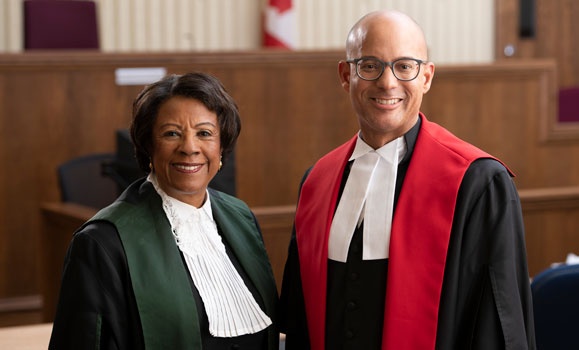 In celebration of African Heritage Month, we're sharing this story that originally appeared in the 2019 edition of Hearsay, the Schulich School of Law Alumni Magazine.
Two trailblazing members of Nova Scotia's judiciary, Corrine Sparks (LLB '79) and John Bodurtha (LLB '95) are inspiring other African Nova Scotians to serve the public with humanity, dignity and respect.
Corrine Sparks (LLB '79)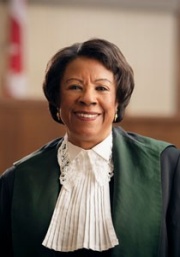 I welcomed the opportunity to serve at the judicial level and knew my appointment would be monumental, especially for African Nova Scotians"
CORRINE SPARKS (LLB '79)
FIRST AFRICAN NOVA SCOTIAN JUDGE IN THE PROVINCE & FIRST BLACK FEMALE JUDGE IN CANADA
Corrine Sparks (LLB '79) grew up in the historical and racially segregated community of Lake Loon outside of Halifax. The daughter of humble, religious and devoted parents, Helen and Spencer Sparks, and the descendent of Black Loyalists and Black Refugees, she is the eldest of nine children. Her community background and the lessons she learned from her ancestors taught her how to deal with struggles in life. "I knew that being born black in Nova Scotia meant I'd face racial discrimination, adversity and challenges," she says.
Sparks was the first in her immediate family to attend university. When she started studying at Mount Saint Vincent in 1971, she had every intention of becoming a history teacher. Over the years, she had been inspired by several history teachers who were passionate about the subject, including one at the Mount. However, she also had what she describes as an "extraordinary" economics professor, so she majored in economics while having a keen interest in political science and psychology.
While at university, Sparks lived in residence and met many students from the Caribbean and African countries. "I became connected with other Blacks from the diaspora," she says. "It was a pivotal learning experience. They, along with others, helped shape me." In high school and at the Mount, she volunteered in many groups, including as a probation officer through the Department of Justice and answering calls at a help line for teenagers. In high school, she received a scholarship that waived her tuition at the Mount, which gave her some financial footing, and she credits the Sisters of Charity for fostering a welcoming environment.
After earning her undergraduate degree, Sparks searched for other educational opportunities. In the meantime, she obtained a summer job at the Nova Scotia Human Rights Commission investigating complaints under the Human Rights Act. A second-year Dalhousie Law School was also working there. "He encouraged me to apply to law school," says Sparks. "I applied that summer, was put on a waiting list and eventually was accepted." In her early 20s, Sparks was one of only three African Nova Scotians in her incoming class of 120 and the only Black woman.
Law degree as a launch pad
Law school was infinitely more challenging than the Mount. "Coming from a small segregated community, then a small liberal arts school, to a prestigious law school was challenging," says Sparks. "It was the first time in my life I had been exposed to the upper echelons of Canadian society." Due to financial demands she took on two part-time jobs, one in the law library and the other in the Rebecca Cohn's box office.
Several faculty members encouraged Sparks, including John Yogis, Art Foote, Philip Gerrard, Innis Christie, Robert Samek and Leon Trakman. (Gerrard later helped review the thesis for her master's, which she earned in 2001; it was titled The Construction and Deconstruction of Africville: A Case for Reparation.) "It was a heavy workload, and I worked hard and got through it, but there were many times when I wanted to quit," says Sparks. "There were lots of people from my community praying for me who wanted me to succeed, so I kept going. I didn't even know if I would practice law after I graduated. But I knew I could use my law degree to advance human rights or to work in government, or as a launch pad for many other careers."
The cultural climate in Halifax then was very different than it is now. "I knew firms would not be receptive to hiring a Black woman, so I moved to Calgary," says Sparks. There, she worked as a bank's trust officer, then at a small oil and gas company in the corporate and legal department. Homesickness drew her back to Halifax in 1981. After her return home, she approached Helen Foote (LLB '79), who had opened her own practice; together, they ran the first all-female law firm in Nova Scotia in Dartmouth, and they remain friends to this day.
A monumental appointment
Fast forward to 1987, when Nova Scotia Social Services Minister Edmund Morris—who was aware of the obstacles faced by African Nova Scotians and Indigenous peoples in the province—called Sparks to ask if she would be interested in filling a vacancy on the Family Court bench. His offer surprised her. "Becoming a judge just did not seem to be an option for me in the mid-1980s in Halifax," she says.
Morris made it clear that if Sparks was appointed she'd be breaking down a barrier, but that he was asking her because he knew she was capable. She said she'd give it some thought. A week later, she accepted. "I welcomed the opportunity to serve at the judicial level and knew my appointment would be monumental, especially for African Nova Scotians," she says.
Sparks was sworn in on March 27, 1987, in Province House's Red Chamber. She became the first African Nova Scotian judge in the province and the first Black woman to serve in Canada's judiciary. Members of the African Nova Scotia community from across the province came out to support her. "This will inevitably be part of my legacy," she recalls thinking at that moment. "I was in my early 30s and overwhelmingly thought that it would be the end of my social life, but, at the same time, it could be the beginning of my career and a rare opportunity to serve the public."
When Sparks first started sitting as a judge, she felt distanced from both her community and her peers. "There's an extreme amount of isolation in being a trial judge," she says. "They were mostly men in the beginning, although there were some women. And a few reached out to me."
Sparks is reflective after more than three decades on the Bench. "I'm most proud of serving the many children who are often born into unfortunate family circumstances and who need state support to create a positive path for their lives," she says. Acutely aware of her legacy, she has this wisdom to share with future groundbreakers: "Whenever you're the first in any profession, you're going to face obstacles. It doesn't mean you accept the criticism and barriers, but it makes you more determined than ever to eliminate those barriers for the next generation. I hope those in the legal community and beyond will see me as a hardworking individual who was given a rare opportunity to serve the public and serve humanity."
John Bodurtha (LLB '95)
Being appointed the first Black judge of the Nova Scotia Supreme Court is a huge honour and responsibility."
JOHN BODURTHA (LLB '95)
FIRST AFRICAN NOVA SCOTIAN SUPREME COURT JUSTICE
Nova Scotia Supreme Court Justice John Bodurtha (LLB '95) was the featured speaker at Law Hour at the Weldon Law Building on Feb. 14, 2019. Although it quickly became clear that he takes his role as the first African Nova Scotian Supreme Court Justice extremely seriously, his wit revealed itself when he referred to his judge's robes as the "Bat Suit." He also admitted to his audience that since becoming a judge, he has stopped jaywalking and speeds less.
"Being appointed the first Black judge of the Nova Scotia Supreme Court is a huge honour and responsibility," Bodurtha shared at the session, which was hosted by the Dalhousie Black Law Students' Association and part of the law school's African Heritage Month events. "It shows people from my community that certain things are attainable, and I'm the proof. I always look to give back, to engage other young people."
Bodurtha's robes impress, and sometimes confuse, young people when he visits schools. He relayed a story about speaking to students at St. Joseph's–Alexander MacKay Elementary School in Halifax's North End, wherein a boy asked, "Are you the vice-president?" Bodurtha replied, "No, I'm a judge."
"Many of these kids aren't dreaming big, maybe just to work at McDonald's," said Bodurtha. "There's nothing wrong with that, but I say why don't you dream that you'll own a McDonald's? I want to show kids that they can dream to become a judge. I don't want to be the only Black judge on the Supreme Court in 10 years."
How to become a judge was the next topic that Bodurtha covered. His appointment on Aug. 31, 2018, at the age of 48 followed almost 20 years of tax litigation at the federal Department of Justice. His advice? "Be a damn good lawyer, to start. Be aware that everything you do as a lawyer, someone is watching you. The days in court that you haven't been respectful will come back to haunt you. Your reputation is key—if you have a good reputation, people will speak highly about you. You also need to be prepared, on time, and ready to go when your name is called, because you need to step up."
Education as a means to advancement
Bodurtha's parents came to Canada from Jamaica in 1968. His father graduated in medicine and his mother in nursing from the University of the West Indies, and because of that institution's connection to Dalhousie and Saint Mary's, they moved to Halifax to work, where Bodurtha and his younger brother and sister were born. "Education was of the highest importance to my parents," he says. "They saw it as a means to advancement in life, and they instilled the importance of education in all of their children. They worked hard and passed on that work ethic to us, along with the values of loyalty and respect."
After earning a BA in psychology from the University of Western Ontario, Bodurtha chose to study law. "I saw it as an opportunity to further my education and, at the end of it, hopefully get a job and start making a decent living," he says. "Essentially, it was a means to get out of my parents' house and become self-sufficient. To say that I had a plan would be wishful thinking. I was a wide-eyed 22-year-old wondering, what have I done?"
While at law school, Bodurtha met an incredible group of students and professors who are still part of his support system today, including Professor Michelle Williams, the director of the IB&M Initiative, of which he was a member. "Law school had it all—systemic racism, overt racism, sexism- all within those four walls. Every societal issue was debated, discussed, and analyzed. It's important to have these conversations. You may not always be successful in changing people's attitudes, but it doesn't mean you shouldn't try. You persevere. The goal is education."
Bodurtha also had the opportunity to meet two titans in the Black legal community: the late Rocky Jones (LLB '92), who was a staff lawyer at Dalhousie Legal Aid Service, with whom Bodurtha worked as a law student, and Judge Corrine Sparks (LLB '79). "To know the systemic and overt racism that Judge Sparks had to overcome is remarkable. She personifies grace and dignity. She provided hope and inspiration to a generation of Black lawyers." He also credits recently retired Justice Valerie Miller (LLB '85), who hired him as a justice department tax litigator in 1997. "Her belief in me never wavered, and she pushed me to reach my potential," he says. "If I can be anywhere close to the Justice that she was, the people of Nova Scotia will be well served."
Inspiring the next generation
Each time Bodurtha steps into his courtroom, he tries to bring the human element into it, explaining the legal language to all parties in plain English so they'll understand what's happening. "I try to make sure that everyone in court is treated with respect, that they feel heard and that they leave feeling the Canadian justice system is working," he says.
In the future, Bodurtha aims to continue to be available and accessible to racialized youth, to inspire them to become the next generation of lawyers and judges. "They need to see and interact with people in these roles who look like them. It provides them with the belief that it is possible to achieve these roles in society. I want to share my experiences of racism in this province with them so they can better deal with it when it occurs."
Not yet one year into his judicial role, Bodurtha feels that he is in a constant state of learning and has been focusing on the present. "I'm trying not to drown under the responsibilities and expectations! But seriously, someone has to be the first. The historical significance of my appointment can't be denied, but at the end of the day, it's a number—that's it. The number will follow me forever, but I want to be remembered for more than that. I want to be remembered for what I did as a trial judge on this court."