News
»
Go to news main
KUDOS! Professor Jocelyn Downie receives 2016 CIHR Barer‑Flood Prize in Health Services and Policy Research at a ceremony in Edmonton
Posted by
Jane Doucet
on October 23, 2017 in
News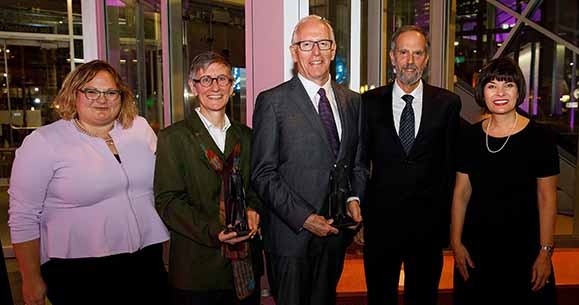 Professor Jocelyn Downie was presented with the 2016 CIHR Barer-Flood Prize in Health Services and Policy Research at a ceremony at the federal, provincial, and territorial health ministers meeting that was held in Edmonton on Oct. 19. She received the prize in recognition of her contributions to bioethics, health law, and policy in Canada.
The 2017 CIHR Barer-Floord Prize was presented at the same ceremony, to Ross Baker, a professor at the Institute of Health Policy, Management and Evaluation at the University of Toronto. The award recognizes his outstanding contributions to improving Canada's health system through quality of care and patient safety.
The prize is named in honour of Morris Barer and Colleen Flood, past scientific directors of CIHR–IHSPR who have built a community of world-class researchers and designed innovative new programs that foster improved health and health care for Canadians. It was in this spirit that the Barer-Flood Prize was created: to recognize an exceptional researcher who has created a seminal body of work that has had a substantial impact on health services and policy research, policy, and care delivery.
"I wish to congratulate Dr. Baker and Dr. Downie on receiving this important honour," said The Honourable Ginette Petitpas Taylor, federal Minister of Health. "Their work has led to better and safer health care for Canadians and contributed to the development of evidence-based policy for carrying out research and addressing health policy issues of national importance."