News
»
Go to news main
Get to Know...Professor Jodi Lazare
Posted by
Jane Doucet
on August 15, 2017 in
News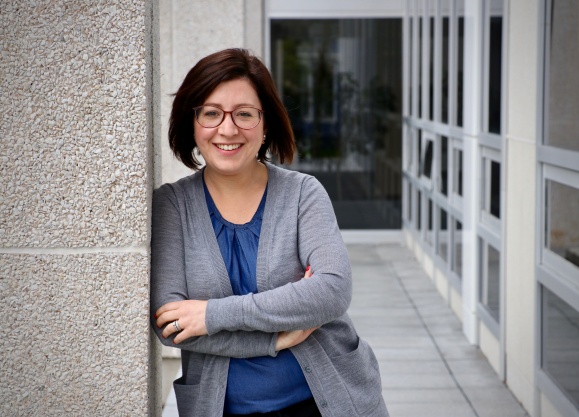 Professor Jodi Lazare, who hails from Montreal, came to our law school as a Schulich Fellow in 2014, then taught part-time here in 2016 and 2017 before becoming a full-time faculty member on July 1. Starting in September, she'll be teaching Children, Youth and the Law, Animals and the Law, Constitutional Law, Professional Responsibility in 1L, and the Laskin Moot. Lazare has degrees in common law and civil law from the University of Ottawa and was a Supreme Court of Canada Law clerk for the Honourable Mr. Justice Michael Moldaver. She is currently completing her doctorate in law at McGill University.
Why were you interested in moving from part-time to full-time teaching?
It has always been my objective to teach full-time. I enjoy everything about teaching, from the deep thinking and creativity that goes into preparing a course to the lively exchanges with students in the classroom, which bring to light new perspectives and ways of understanding legal and social issues. Teaching also means that professors are up to date on the latest legal developments, and it forces us to think on our feet, which can at times be challenging but is mostly lots of fun.
What can you tell us about your doctoral research?
My thesis examines the practice of judicial reliance on the Spousal Support Advisory Guidelines. It looks at the underlying theoretical bases of the spousal support remedy and comparative understandings of marriage and divorce across provincial lines. It also goes beyond family law. I explore the growing phenomenon of the legal system's use of tools created outside of government to regulate social life. I ask how and why this practice exists, whether there is value in expanding our understanding of law and legal instruments, and whether it is legitimate for legal authorities to base their decisions on tools stemming from outside of the traditional legislative process.
What are some of your research plans?
By the fall I'll hopefully be putting finishing touches on my doctoral thesis and beginning to publish a number of articles based on that research. My aim is to split the thesis up according to different subjects – family law, legislative alternatives, constitutional law – and publish those pieces in journals geared toward different audiences. I'm already working on the constitutional law article, which argues that it is not a threat to the legal order when judges rely on non-legislated tools to make spousal support determinations, and that doing so should help advance the pursuit of economic gender equality.
I hope to expand on this project later, through empirical work on the Spousal Support Advisory Guidelines, asking whether they have increased access to justice for family law litigants. I would also like to look at whether similar non-legislated tools might be useful in areas other than family law, where the legal system struggles with fair decision-making.
Do you have a special interest in any particular area of the law? If so, why?
Of course I'm very interested in family law and policy, for the ways in which it can be used to advance economic gender equality. While the gender gap is decreasing, gender roles and inequality are still very much entrenched in social life. Family law is just one way we can move forward in the collective pursuit of equality.
I also have an interest in law as it affects non-human animals. I've cared about animals for as long as I can remember and have always advocated for animal rescue. Of course, animal law goes much further than dogs and cats. As people learn more about intensive farming and the realities of animal captivity, in zoos and for entertainment, for example, they are starting to demand change. The law has not kept up with that demand so there is a lot of room for research, education, and reform when it comes to the legal system's approach to animals.
What else is happening this fall?
Mostly I'm excited to get into the swing of full-time teaching. I'm excited to build relationships with my new colleagues – at Dal and beyond – and with students and the broader community. Starting in the fall I will be looking ahead toward spring conferences and the opportunities they bring to present and obtain feedback on my ongoing work.
What excites you about this next chapter in your legal career?
All of it! Dal was my first choice for a tenure track position and I am incredibly happy to be here. I'm extraordinarily lucky to be able to lean on, learn from, and collaborate with a group of scholars with diverse interests and expertise. And the students are fabulous; they're always giving back to the community, which is inspiring and humbling. On a personal note, I've moved about 10 times in the last 10 years – I'm thrilled to be able to finally settle down in beautiful Nova Scotia.