News
»
Go to news main
In Memoriam: The Honourable Jim Prentice PC QC (LLB '™80)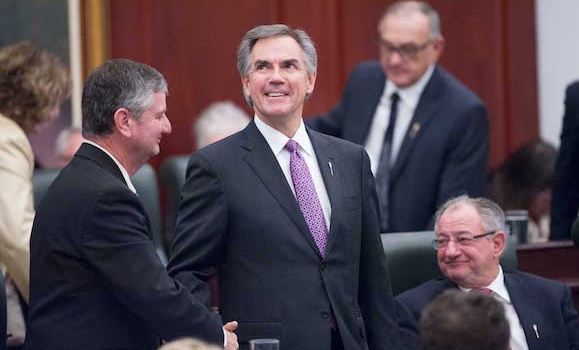 Dalhousie University and the Schulich School of Law are deeply saddened to learn that veteran Canadian politician the Honourable Jim Prentice (LLB '80) was among those killed in a fatal plane crash near Kelowna, BC.
"We offer our great respect to a man who, in the true spirit of the Weldon Tradition, dedicated his life to public service," said Dean Camille Cameron. "Jim entered politics for all the right reasons – a desire to make a difference and do good. He cared deeply, stood up for what he believed in, and treated others with compassion, dignity, and respect. Our hearts go out to Jim's wife Karen, their daughters, grandchildren, and the entire Prentice family."
Born in South Porcupine, Ontario and raised in Alberta, Jim came to Dalhousie's law school in 1977 as a "kid from Alberta with a commerce degree" who made ends meet working in the coal mines of the Crowsnest Pass during the summer months.
In a 2015 interview with Hearsay magazine, Jim detailed his reasons for choosing Dalhousie: "It was a really conscious decision to go [to Dal]," he said. "I'd been accepted into Harvard, but I wanted to go to a university with an important tradition in Canada…Dalhousie Law School was a great Canadian institution."
Jim graduated from Dal in 1980 with a law degree and spent time in private practice, where he specialized in land and property rights – expertise that would later serve him well as a law commissioner with the Indian Claims Commission of Canada.
Early passion for politics
Showing an early passion for political life, Jim joined the Progressive Conservative Party of Canada in 1976 at age 20. He was active behind the scenes for many years before running for party leadership in 2003. In 2004, Jim was elected as a Member of Parliament and served in the House of Commons as Minister of Indian Affairs and Northern Development and Federal Interlocutor for Métis and Non-Status Indians, Minister of Industry, and Minister of Environment.
Known for his intelligence and integrity, Jim was not afraid to stand on principle. He surprised many by courageously voting in favour of Bill C-28 in 2005 – a Liberal bill endorsing same-sex marriage. He later described that vote as a "defining moment", saying that the pressure to vote against same-sex marriage at that time was "incredible."
Retiring from federal politics in 2010, Jim took on the role of vice-chairman of the Canadian Imperial Bank of Commerce and then returned to public life as the 16th Premier of Alberta in 2014. "I agreed to give up my private life and go back into public service, which is not something I planned to do, but felt strongly that someone needed to do something," he said of his return to leadership. He retired from politics after the Alberta NDP won a majority government in 2015.
The measure of a man
In addition to his public life, Jim also served on the board of directors of Bell Canada, on the Trilateral Commission, as governor and vice-chair of Canada's Sports Hall of Fame, as governor of the Duke of Edinburgh's Award, and other roles.
For his exceptional contributions to law and society, Jim was a 2015 inductee into the Bertha Wilson Honour Society. "I am honoured to be inducted," he said. "I have always been very proud of my association with Dalhousie Law School."
Speaking to Hearsay, Jim underscored the importance of a legal education to the development of one's ethical framework, saying it permeated his life and was instrumental to life as a lawyer and a public official. He credited the Weldon Tradition with providing part of the foundation that has supported his long-standing commitment to the political arena. "Law school really helps to develop a sense of ethics and ethical reasoning. And frankly we need more lawyers in elected public life right now," he said. "There was a time when arguably there were too many lawyers, but that's not the case now."
As tributes from across the country continue to pour in, we share the sentiments offered by Calgary Mayor Naheed Nenshi:

In politics, I get to work with people from all political stripes who are filled with a desire to do good no matter what. I also get to work with people who are thoughtful, respectful and driven by a need to improve this community we all share. Jim was all of these things, and so much more. He is an inspiration to all of us who aspire to public service.

When the Sikh community was struggling to set itself up in Calgary and trying to build the first gurdwara in this city, they faced a lot of opposition from a community that didn't know much about their faith.

They were represented by an idealistic young lawyer who fought for respect, acceptance and diversity.

That lawyer was named Jim Prentice.