News
»
Go to news main
Weldon Law Building upgrades update
Posted by
Jane Doucet
on September 16, 2015 in
News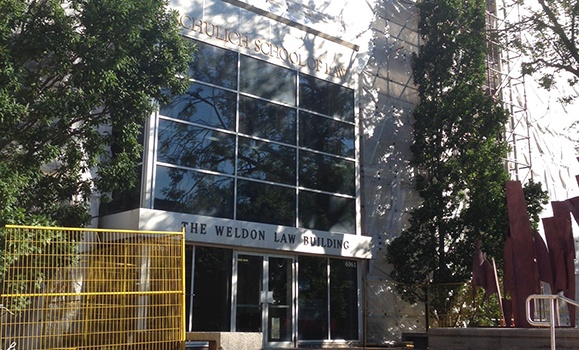 What's going on in there? 
Over the last year, the Weldon Law Building has been getting a thorough exterior and interior makeover, as the Tyvek protective "bubble" covering the stonework attests. "The four phases of upgrades, which are scheduled to continue into 2017, will help make the building more safe, energy efficient, high-tech, and welcoming," says Donna Beaver, Director of Finance and Administration at the Schulich School of Law. Phase 1 is done, Phase 2 is 85 per cent complete, and Phases 3 and 4 are yet to begin.
New fourth-floor workspace and washroom
There's a swanky new "Grad Pad" in the west wing of the Sir James Dunn Law Library! Fourth-floor shelving and books were moved to the first floor to create space for study carrels in the large room, which was made possible by funding in Sir Seymour Schulich's gift and donations from Dalhousie's Facilities Renewal Fund.
"We wanted to make it easier for our grad students to work collaboratively or alone," says Beaver. "It's a bright, quiet, and well-equipped space that our students really need and that they'll enjoy working in." While the carrels are for grad students only, all students will be able to use the meeting rooms (they can sign them out with the Sir James Dunn Law Library staff) and the tables in the open main space. Elsewhere on the fourth floor, on the Weldon side of the building, is a new gender-neutral wheelchair-accessible washroom.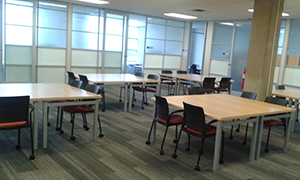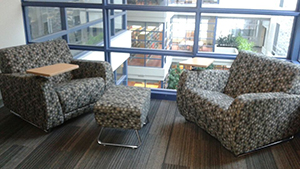 Classroom improvements
Last year, thanks to Schulich funding, Room 309 received a tech upgrade, complete with a new computer, projector, a second screen, and more electrical outlets for students to power their laptops. The room was also enhanced for students practicing their oral competitive mooting skills with the addition of a camera, microphone, podium, and judge's bench.
Rooms 104, 105, 204 and 207 already had tech capability but now have enhanced sound and better sightlines, so students can see and hear from wherever they're sitting. "Each room should operate in the same way, so the equipment is ready to go when the professors arrive," says Beaver. Plans to upgrade the remaining classrooms are in the works.
First-floor student common area
What once was a shabby and forlorn corner with an old couch and a few random chairs has been transformed into a brightly lit modern space for students to relax or work, thanks to a gift from the Class of 1963. The cozy corner off the Henry Street side entrance now boasts three comfy padded booths and tables with outlets to plug in laptops and chargers, plus garbage and organics bins.
Stonework and windows
Before the upgrades began, the entire building façade and the windows were leaking badly. In addition, the front columns were rusting, as were some of the metal ties to the lintels, which created a safety hazard for falling stone. "We had to decide whether to rebuild or repair," says Beaver, "and there was enough value in keeping what we had that it was in our best interest to repair." The stonework on the third and fourth floors has been removed, walls have been repaired, insulated, and reinforced, new stone is nearly finished being installed, and the windows on the third and fourth floor are being replaced.
In Phases 3 and 4, the windows and stonework on the first and second floors will get the same treatment, and the first-floor decking will be repaired. A major interior change will be to the front entrance, where new wheelchair-accessible air-sealed double doors will be installed. To do that work, the main staircase will have to be removed and won't be put back, meaning the side stairs or elevator will have to be used in place of the centre stairs to access the atrium and library.
"Thank you to our students, staff, and faculty for their patience and understanding during any temporary disruptions while this work continues," says Beaver. "When it's done, the building will be more inviting and energy efficient  – warmer in the winter and cooler in the summer."