News & Events
MELAW in the news

14th Annual Douglas M Johnston Lecture
VIRTUAL EVENT
DATE: Thursday, March 9, 2023
TIME: 7:00-8:30 PM
PLACE: Virtual (via Zoom)
REGISTER: sustlife@dal.ca to request the Zoom link
TALK TITLE: A Human Rights-based Approach to the New Treaty on Plastic Pollution
SPEAKER: Marcos A Orellana
Marcos A Orellana is the United Nations Special Rapporteur on Toxics and Human Rights. He currently directs the Global Toxics and Human Rights Project at the American University Washington College of Law. Professor Orellana has lectured in various law schools, includ-ing Melbourne, George Washington, Pretoria, Geneva, and Guadalajara. His practice as legal advisor has encompassed work with United Nations agencies, governments, and non-governmental organizations. He has intervened in cases before several international courts and tribunals. Professor Orellana has extensive experience working with civil society and indigenous peoples around the world on issues concerning global environmental justice. He also represented the eight-nation Independent Association of Latin America and the Caribbean in the negotiations of the Paris Agreement on Climate Change.
SPONSORED BY:
Marine & Environmental Law Institute
College of Sustainability
MacEachen Institute
Marine Affairs Program
For more information see POSTER
or contact: MELAW@dal.ca
Watch the lecture here
Elizabeth May Talk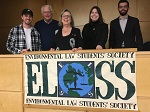 In-Person Event
DATE: Tuesday January 24, 2023
TIME: 6:00 PM
PLACE: Schulich school of Law, 6061 Uniersity Avenue, Halifax, NS
TALK TITLE: How can we ensure governments keep their promises on climate and biodiversity?
SPEAKER: Elizabeth May, a Canadian politician, environmentalist, author, activist, and lawyer who is serving as the leader of the Green Party of Canada
Dalhousie Law alum Elizabeth May, MP and leader of the Green Party, will review the elements of why the Montreal Protocol worked in protecting the ozone layer, while the climate and biodiversity commitments have not yet made a difference. A wide-ranging Q and A session will follow.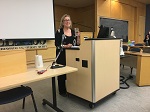 Elizabeth will be open to any questions on topics of interest from right to a healthy environment, her bill on environmental justice, to impact assessment law, and the amendments to the Canadian Environmental Protection Act currently before Parliament.
SPONSORED BY:
Marine & Environmental Law Institute and the Environmental Law Students' Society
For more information see POSTER or contact: MELAW@dal.ca