News
»
Go to news main
Canada – USA Workshop: Transboundary Marine Species at Risk Recovery in a Changing Climate: Taking Stock of Canadian and US Scientific and Governance Responses, Enhancing Future Cooperation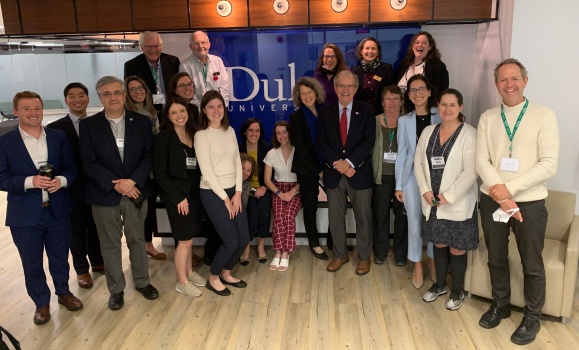 Introduction
Canada and the United States share many transboundary marine species at risk that complicate management and recovery planning processes. Ongoing climate change and the growing calls for dynamic and adaptive ecosystem-based management add to these governance challenges. The time was opportune to convene a workshop to take stock of current national and transboundary approaches to marine species at risk conservation off the Atlantic coast and to explore possible future directions for strengthening international cooperation.
A two-day hybrid workshop was held November 3-4, 2022 at the Duke Conference Facility in Washington, DC. This workshop was held to advance the theory and practice of dynamic ocean management and one of the most critical challenges appears to be how to best anticipate changing species at risk abundances and distributions across and within national boundaries. The recent crisis facing the North Atlantic right whale exemplifies the effects of changing ocean conditions on species migrations, especially in Canada, leading to novel management interventions such as dynamically placed vessel speed restrictions and fisheries closures.
Steering Committee
The workshop has been planned by a steering committee comprised of representatives from the workshop's co-convening institutions: the Marine & Environmental Law Institute, Dalhousie University, the Ocean Frontier Institute, the Environmental Law Institute, Duke University School of Law, and the Duke Marine Lab.
Objectives
The workshop has four main objectives:
Take stock of scientific understandings related to transboundary marine species at risk including migratory corridors.
Compare Canadian and US national approaches and challenges in recovering marine transboundary species at risk.
Assess the role and limitations of existing cooperative management mechanisms and consider how such measures could be strengthened to further the recovery of marine species at risk in a rapidly changing ocean.
Explore ways in which bilateral and regional cooperation might be enhanced in the future to address shifting species migrations and distributions, including through the use effective areabased measures and/or the establishment of a transboundary network of marine protected areas (MPAs).
Program
The workshop program can be found here.
Students
Prior to the workshop, students from both countries prepared and delivered briefs with background information. Students also participated in the workshop and served as rapporteurs.
Workshop Output
A workshop report is expected to be released in early 2023. The report will summarize all presentations, case studies, and discussions.