Environmental Law Moot
The Willms & Shier Environmental Law Moot is Canada's first and only national moot court competition devoted to environmental law. This moot is held biennially. 
The competition takes the form of an appeal before a Canadian court of last resort. Each team files a factum for one party. At the oral hearing, teams argue one side of the appeal in their first match and the other side in their second.
This moot is open to 2nd and 3rd year students in recognition of the fact that this moot is offered biennially. The moot counts as a major paper course.  Academic credit is given at the end of the winter term. Click here for the full course description. 
Environmental Law Moot 2022
We are pleased to report on our school's strong performance in this year's Willms & Shier Environmental Law Moot, which took place online over the course of Friday and Saturday.
The moot was challenging both substantively and procedurally. The participants took part in a hypothetical appeal of the Supreme Court of Canada's 2021 decision References re Greenhouse Gas Pollution Pricing Act. The teams were required to write a factum for either the Appellants or Respondents. Subsequently, across two preliminary rounds the teams had to argue both from their factum, as well as from the opposite side without the benefit of a factum. Furthermore, finalists were tasked with presenting their arguments before the author of the SCC's decision, Chief Justice Richard Wagner.
We entered two teams into the moot. Audrey Axten and Laura Graham prepared an Appellants factum, while Nicole Tomasic and Zayd Khraishi prepared a Respondents factum. While neither team was able to advance to the semifinals they did receive some well deserved recognition. Audrey and Laura won the prize for best Appellants factum, which was well warranted given their creativity in formulating arguments which opposed the constitutionality of the carbon tax while still centring the importance of climate action. Additionally, Nicole was recognized as one of six Distinguished Oralist, which again was well deserved after Nicole and Zayd had a matchup decided on a razor-thin margin against the eventual semi-finalists from the University of Ottawa. Audrey and Laura were additionally faced with the unique challenge of mooting against an exhibition team made up of associates at Willms & Shier and more than held their own.
For the record, the moot was won by the University of Alberta, with the University of Saskatchewan finishing as the runners up.
We would like to thank everyone who assisted the mooters in their practice rounds. We are very proud of the efforts of the mooters and offer them our hearty congratulations!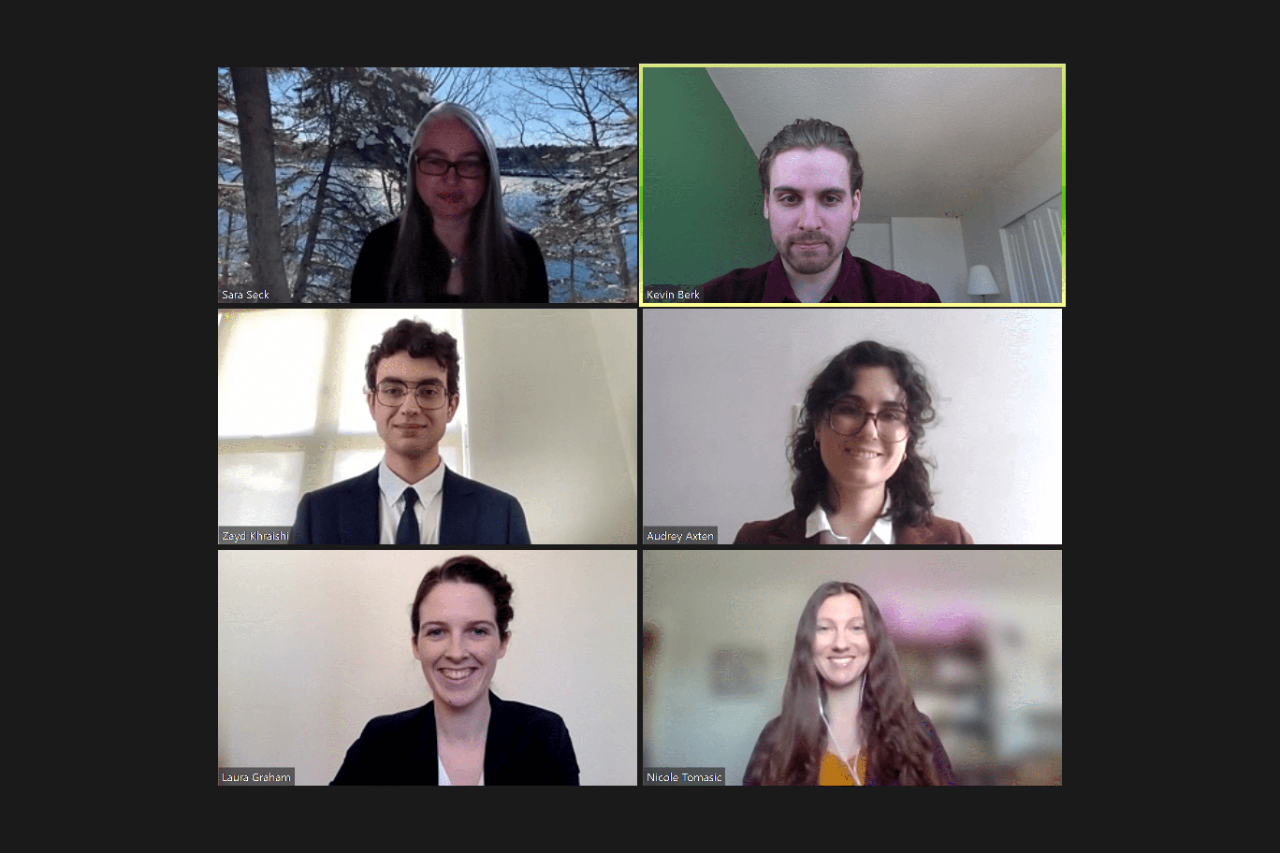 Team and Coaches 2021-20122, in order, left to right: Dr. Sara Seck, Kevin Berk, Zayd Khraishi, Audrey Axten, Laura Graham, Nicole Tomasic