News
»
Go to news main
Meet Kieran Simpson, Class of 2023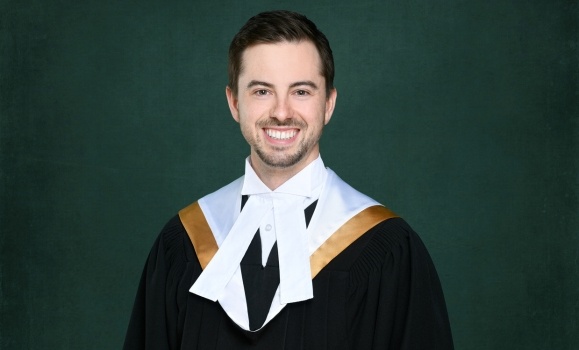 Congratulations to the Schulich School of Law's Class of 2023! In the coming weeks, we'll feature Q&As with graduating law students who will reflect on their time at Weldon.
Today we're talking to Kieran Simpson.
Why did you want to attend the Schulich School of Law?
I was always interested in Schulich Law because I knew they had a great environmental law program, which was an important consideration for me. I was also excited about experiencing the opposite coast of Canada because I'd always lived in B.C. Attending Weldon Welcome Days made my decision a lot easier as I was able to check out the school and city before committing.
In what ways were you involved with the law school community?
I was an executive member of the Environmental Law Students' Society and a student-representative on the Board of Directors for East Coast Environmental Law. I did pro bono work with East Coast Environmental Law in 2L and 3L, and with Dalhousie Youth Legal Education Society in 1L. I also did a work placement with East Coast Environmental Law, as well as research with the Marine & Environmental Law Institute on a coastal climate change adaptation project between 2L and 3L.
I played on several Schulich Law intramural teams including basketball, soccer and hockey as well.
What is your favourite law school memory?
I had one of my papers published last year, which is something I am very proud of. I also got to attend a weekend-long meeting of the Environmental Planning and Assessment Caucus with East Coast Environmental Law in the fall of 3L. 
Outside of school, I really enjoyed the hiking and camping trips I went on with friends, especially to Cape Breton.
What will you miss most about Schulich Law?
I will definitely miss the friends I made the most. I met amazing people and formed very close friendships through law school. I will also miss the city.
What are your post-graduation plans?
After a few weeks in Europe, I will be articling in the small community of Rossland, B.C., at Lysenko Law. I'll be practicing all areas of law while articling, including environmental law. I am very excited about this opportunity – and to have a ski hill a few minutes from the office!