News
»
Go to news main
A new Black Canadian health course creates space for more EDI education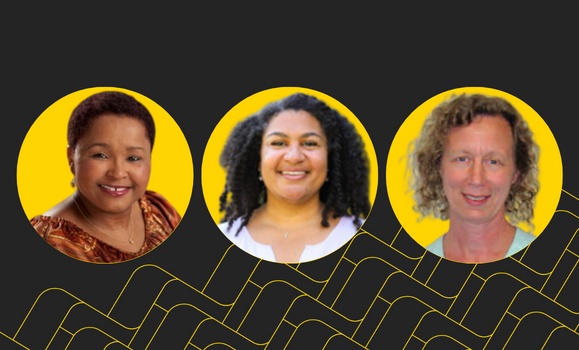 After years devoted to its development, a new elective course entitled Centering Black Canadian Health (HLTH 2000) is a much-needed, and highly anticipated, addition to the Faculty of Health's curriculum.
Open to Dal Health and Faculty of Arts and Social Sciences (FASS) students, the course uses a social determinants lens to educate students on Black Canadians' experiences in health care. This method offers insight into how Canadian education, justice and social systems have impacted, and continue to impact, Black Canadians' physical, emotional, and mental health.
The course was co-created by Dr. Barb Hamilton-Hinch, associate professor in the School of Health and Human Performance,  and assistant vice-provost of Equity and Inclusion; Dr. Marie Earl, assistant professor in the Dal School of Physiotherapy and past-chair of the FOH Inclusion and Equity Committee; and Michelle Patrick, associate director in the Office of Community Partnerships and Global Health in the Faculty of Medicine, and special project manager.
"Anything you learn in this course can be applied to any profession that you are going into," says Dr. Hamilton-Hinch. "Even though our focus is on health, it's really intentional in people developing a race-conscious lens."
The course opens with an overview of Black peoples' migrations to Canada, with an emphasis on African Nova Scotian experiences. Further curriculum topics include EDI, cultural humility, and selected health topics such as mental health. Stories of Black joy are also actively discussed.
"It's one thing just to focus on the negativity and the challenges that people of African descent experience in Canada," says Dr. Hamilton-Hinch, "but it's also important to celebrate the resilience, the strength, the beauty of the Black community."
Across their years on the FOH's Inclusion and Equity Committee, Dr. Hamilton-Hinch, Dr. Earl and Patrick have worked tirelessly to address the challenges presented to them by students and faculty. Seeking to make lasting change, they've collaborated on Interprofessional Education (IPE) mini courses and Inclusion and Equity Committee initiatives—all in addition to their individual roles at the university. Dr. Hamilton-Hinch and Patrick have also taught units on Black health and cultural competencies in Dr. Earl's physiotherapy classes.
"The need to put the spotlight on Black health is not something that can be left undone." - Dr. Marie Earl
It wasn't easy for the three collaborators to develop a university course addressing the challenges faced by people of African descent and African Nova Scotians, when these challenges are perpetuated by the education system itself. "The institution wasn't built for us to be here, let alone have our content in the curriculum," says Patrick.
It took longer than planned for them to get Centering Black Canadian Health certified as a credit offering within Dal Health, but they never lost sight of their goal. "If we are the institution that is educating and graduating health professionals, we have a responsibility to prepare those health professionals to work with Black populations," says Dr. Hamilton-Hinch.
Dr. Hamilton-Hinch, Dr. Earl and Patrick look forward to working with and creating more undergraduate and graduate level courses with other faculty members working in the Improving Health Outcomes for People of African Descent Flagship (connected to the Healthy Population Institute), the up-and-coming Dalhousie Black Studies Research Institute, and the African Nova Scotian Strategy. Excited that Centering Black Canadian Health has also been introduced into Dalhousie's new Black Canadian Studies major curriculum, they stress how Dal's Faculty of Health needs to integrate the course, currently an elective, into its core curriculum.
"Not only are we creating better health professionals, and therefore a better health-care system for Black people, but we are also preparing them to be better colleagues and better citizens," says Patrick.
Dr. Hamilton-Hinch recalls a particular moment when she received written student feedback on the units she and Patrick taught in Dr. Earl's physiotherapy courses. One student wrote about how the Black health and cultural competency content presented have shaped the standards they expect potential employers to meet.
"Students are saying, you've changed the way I think about my practice," says Dr. Hamilton-Hinch, "and that's what we want to see."
Centering Black Canadian Health's development was also aided by PhD in Health candidate Crystal Watson and Dr. Keisha Jefferies (PhD Nursing'22), BScN grad and instructor Chelsa States, BScHP Grad and medical student Kenisse Trotman, and School of Social work student Likda Morash.