»
Go to news main
'Fort‑Schritt: Motion & Migration in German Literature' ‑ Featured course by Dr. Rebecca Haubrich
Posted by
German Department
on June 15, 2021 in
News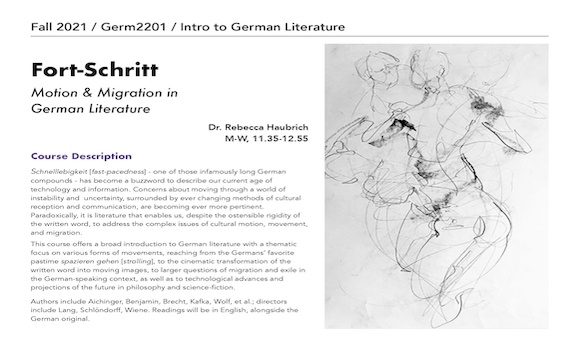 We are happy to introduce 'Fort-Schritt', the new thematic focus of the introductory-level German literature course taught by Dr. Rebecca Haubrich. 
This fascinating course offers a broad introduction to German literature through the exploration of the significance of various forms of movements, reaching from the Germans' favorite pastime spazieren gehen [strolling], to the cinematic transformation of the written word into moving images, to larger questions of migration and exile in the German-speaking context, as well as to technological advances and projections of the future in philosophy and science-fiction. 
For more detail, please check out the full syllabus for GERM2201 and do not hesitate to reach out to the instructor, Dr. Rebecca Haubrich (rebecca.haubrich@dal.ca).