A Virtual Toast to this Year's Graduating Students & Award Winners
»
Go to news main
A Virtual Toast to this Year's Graduating Students & Award Winners
Posted by
German Department
on May 7, 2020 in
News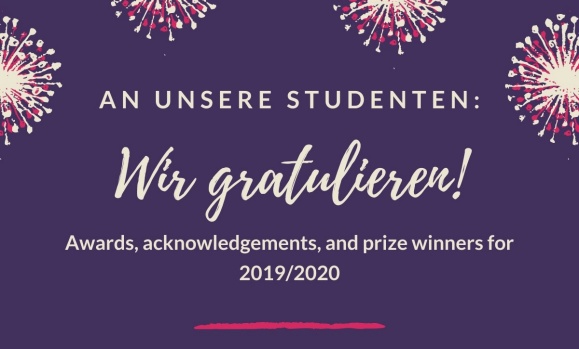 In lieu of our annual awards reception, we would like to celebrate our outstanding achievers and student leaders. A vibrant program depends on the engagement, hard work and enthusiasm of its students and we are grateful and happy for all their achievements and contributions during the year.
Firstly, we would like to recognize our graduating students: Joseph Behl, Jingyi Yang, Iloe Ariss, Victoria Michels, and Brendan Irish. Congratulations to you all on your well-deserved success!
We would like to congratulate our honours graduates, who were also co-presidents this year for the German Student Society: Iloe Ariss and Victoria Michels. Thank you for your outstanding work for the student society. We are very proud of you and your achievements in the German Department throughout the years! The University Medal in German this year was received by Victoria Michels. Congratulations, ​Victoria and Iloe, for an outstanding academic achievement throughout! Iloe was also the DAAD Young Ambassador for Dalhousie and Kings. Thank you, Iloe, for promoting study abroad opportunities and for doing a great job inspiring your fellow students and giving them valuable information on funding possibilities. 
Every year, the German Department nominates two students for the Marjorie Mader Awards. The recipients of this award must be working towards a Dalhousie German degree, must have shown academic excellence, and must have demonstrated humanitarian or other socially conscious work. The award is supposed to fund the participation in an educational program in Germany. This year's Marjorie Mader Memorial Awards are presented to: Katie Lawrence and Lydia Hanson. Congratulations to Lydia and Katie! Unfortunately, Katie and Lydia's Summer study trips to Germany were cancelled this year due to COVID-19, but we are sure they will be able to visit Germany in the future!
We would also like to acknowledge our outstanding upper year students, who will be receiving Book Awards:

Maximilian Pienitz
Cathy Sole
Cole Dejager
Katie Lawrence
Roan J. Treanor
Our first-year class outstanding students were:
Mohammad Tabbara
Zachary Betteridge
Emily Hong
James Ersil
Neil Mueller 
Our second-year outstanding students were:

Berna Macin
George Faza 
Congratulations to all of our award recipients!
We would also like to extend A SPECIAL THANK YOU to our wonderful tutorial leaders:
Nicole Regalado Santivanez
Colleen Keenan
Emily Martens-Oberwelland
Joseph Behl
Max Pienitz
Victoria Michels
Iloe Ariss
Derek Andrews
Ismail Ahmad
Denisha Bracey
We would like to wish best of luck and a great experience going to Germany as English teaching assistants with the PAD program to:
Richard Whyte
Victoria Mak