Introducing our newest member of the Department of German
»
Go to news main
Welcome Rebecca!
Posted by
German Department
on July 9, 2020 in
News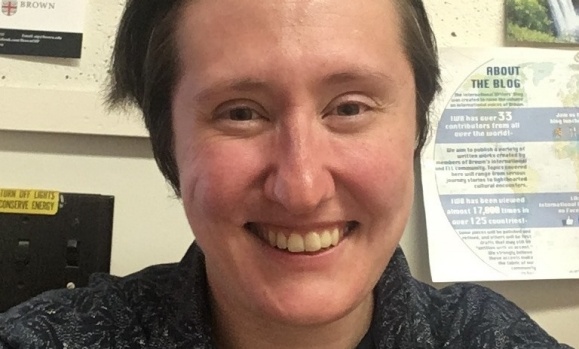 We have a new professor in the department! Well, unfortunately, not literally in the department; she is in Germany at the moment, and we are all waiting to hear when she will be allowed to travel back. But we are so excited to welcome her to our program, and would like to introduce her to you.
Dr. Rebecca Haubrich studied both in Germany (M.A. in Comparative Literature 2011, Goethe Universität in Frankfurt) and the USA, first as a Research Fellow at Yale, then completing an M.A. (2016) and Ph.D. (2018) in German Studies from Brown University, Rhode Island, where she taught as a Visiting Assistant Professor right up to the shutdowns of the Covid-19 pandemic. At Brown, some of the courses she offered included Twentieth Century German Culture, Show Trials: The Aesthetics of Law in Literature and Film, and Mis(s)Education: Feminist Readings of the German 'Bildungsroman', as well as German Language courses. Among the authors she has written about are Sigmund Freud, Walter Benjamin, Christa Wolf, Franz Kafka, Paul Celan, Heinrich Heine, Friedrich Schiller, J.W. von Goethe, Friedrich Schlegel, Heinrich von Kleist, E.T.A. Hoffmann, Friedrich Nietzsche and Heiner Müller.
Her research areas include German Idealism, German Romanticism, gender studies and representations of motherhood, visual studies, theater studies, rhetorical analysis, deconstruction, and the relation of law and literature.
At Dalhousie, in addition to Beginner German 1 (GERM1003), Dr. Haubrich will be teaching Confronting Fascism (GERM3450, POLI3449, HIST3059) and German Romanticism 1 (GERM3203) in the Fall semester. In the Winter she will teach Modern German Philosophy 1 (GERM2651, PHIL2651), Germany & Europe: The Cultural Union 1 (GERM3401) and a Seminar (GERM3052) titled Rhetoriken der Macht/ Macht der Rhetorik (Rhetorics of Power / the Power of Rhetoric). For syllabi and other information about these courses, please contact rebecca.haubrich@dal.ca.  
In her spare time, Rebecca loves hiking, as well as cooking and baking – which like lots of us has been a quarantine pastime. She says "I don't have a sweet tooth, though, so mostly friends and family benefit from any baking attempts…" And aside from preparing courses and doing research, she says "I've been quarantine-exploring my interest in film: Lately, I'm working on a small wooden film projector, which will hopefully be able to play short film reels at home - in a way, a mini-Heimkino, while going to the movies is out of the question."