Our current course offerings
In addition to our language classes, we offer a variety of classes on German literature, poetry, history, and philosophy. View the 2022-2023 Academic Timetable.
GERM 2201 : Intro to German Literature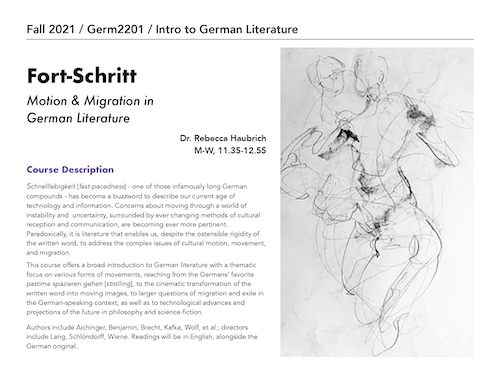 Top 5 reasons to study German at Dalhousie
Speaking German is an asset to careers in engineering, art history, journalism, diplomatic service, linguistics, education, economics, theatre studies, music, film, political science, and architecture.
Combine German studies with other programs, such as Environment, Sustainability, and Society (ESS) or Political Science—and find out how the writings of Freud, Nietzsche, Marx, Hegel, Goethe, and Schiller are still relevant to today's complex social problems.
Through events organized by the German Society, including its annual German Immersion Day, you'll have opportunities to practice your German in a fun, social atmosphere.
A low student-professor ratio means more opportunities for individual attention from profs, helping ensure your success.
Open your eyes to another culture! The Department of German's study abroad program lets you experience German culture firsthand for up to a year—while earning credits toward your BA at Dal.