News
»
Go to news main
Spring 2023 Convocation Address
Posted by
Solange Richer de Lafleche
on May 31, 2023 in
News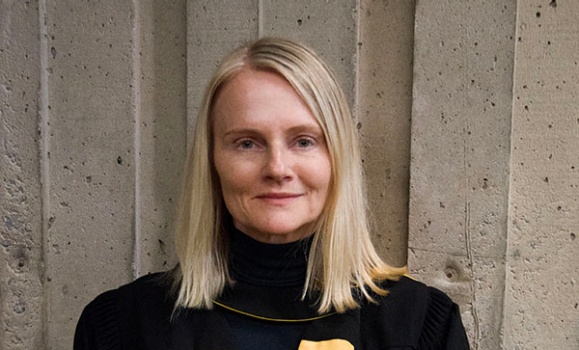 It is my honor to address our graduates, friends, families, faculty, staff, Mr. Chancellor, Mr. President, Board of Governors, and Distinguished representatives of Senate.
I am delighted to congratulate all our graduates today. It is a big moment for you all. It is also an important day for your families and friends. I suspect there have been many highs and lows to get to this point, but you are here now, and I commend you for it. For some of you, this degree may be a steppingstone as you continue along your academic journey. For others, today may mark the threshold to the next chapter. I can imagine that you are experiencing excitement for what lies ahead and perhaps some apprehension. All of you should make space and take a moment to feel pride in what you have accomplished. We are all enormously proud of you.
This room brings back many memories for me as I was once where you are now when I received my master's in architecture from Dalhousie within this same space.
As I thought about how to address you today, I reflected on when I received my undergraduate degree from University College London in the United Kingdom. It was the nineteen nineties and unemployment in the UK was around 10% and annual inflation was 10% too. So, I decided, in an instant and almost on a whim, to leave the UK and to move to Canada with my partner. We were both 21 years old and I had never been to North America. My first experience of Canada was Halifax. It was January and it was bitterly cold. We quickly discovered there was also a recession in Canada and there was not a job to be had in Nova Scotia, so we decided to drive out west to Vancouver. It was on that journey that we experienced the vastness and different landscapes of this country as we passed among forests and rugged coastlines, ancient rock formations, prairies, and mountains and through many different communities. It was on this trip that I recognized the incredible beauty of this country. I was also touched by the kindness of people as they helped two young people – one from the Annapolis Valley in Nova Scotia and one from the West Midlands in England – not knowing where they were going or what they were going to do. With each passing kilometer there was an awareness of seeing tiny glimpses into people's lives and the fragility of it all. But most of all I also understood that there was a deep need to care.
You are graduates in important fields. They are also disciplines that require care in both big ways and in small ways. Dentistry, planning, and architecture help shape the health of people and of our planet. This may appear obvious for dentistry as research is continuing to show the link between oral health and general wellness. Similarly, cities, communities, streets, and buildings need to be designed to promote wellbeing, social inclusion, and reduce environmental impacts.
Like my drive across Canada revealed, you are entering a world with stark social and health inequalities. Many of these disparities, are outcomes of upstream social factors, such as unfair differences in wealth and education and lack of social support networks. The knowledge required to understand how to act appropriately in this ever-changing world is very different from that of the technical knowledge required for our professions. But be assured dentistry, planning, and architecture all have agency and caring is at the very core of what we can do every day.
Caring involves commitment to our communities. Over the years this has been made very evident to me as I have worked as an architect on many different projects and with many groups.  There is an incredible sense of pride when you feel you have made a significant difference to people's lives.  One such project is the Halifax Central Library. My architecture firm, FBM, had the honour to work on the design of this building alongside Schmidt Hammer Lassen Architects, CBCL and many others. The library is one of the only non-commercial public spaces left within this city. It is also a partner in wellness as the library runs an impressive number of programs. Ultimately this project has made the city acutely aware of the need for free and accessible public spaces that encourage social interaction and community engagement as partners for improving population health and wellbeing.
Likewise, the library has brought to the forefront the relevance of the teachings of this university. The mission of Dalhousie has never been solely to prepare you to work in a profession. It has been about finding creative and transformative solutions to assist society in both the everyday lived experiences and to help meet the needs for systemic change. This way of working requires care and attention.   
So, as you travel your road to wherever it may lead always try to bring care to what you are passionate about to help meet the urgencies of our ever-changing world. Your work as planners, architects, and dentists is important and the stakes are high for you all. So, as you navigate your road ahead do so with care and compassion. Let these guide you as you will now guide us into our future.
Thank you and congratulations.
Susan Fitzgerald, 2023