News
»
Go to news main
Alumni engagement and student development in the Big Apple
Posted by
Solange Richer de Lafleche
on March 9, 2023 in
Planning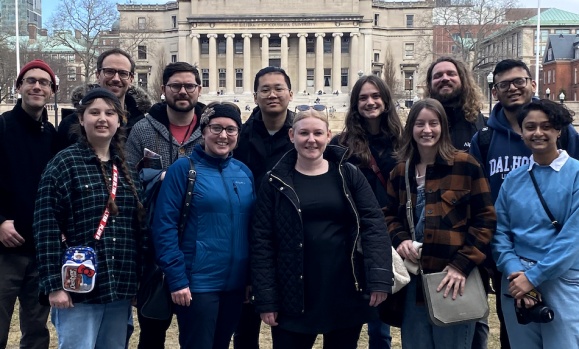 Master of Planning Students from Dalhousie's School of Planning recently visited New York City as part of their International Field Trip (IFT) Course led by Dr. Lisa Berglund. The IFT course is an experiential learning opportunity where students learn about the field of planning through visits to planning offices, tours of architecture and planning-related sites, and visits to cultural and historic attractions related to the field.
"It's important for students to break out of their routine on campus and learn about planning in a new setting with unfamiliar challenges," says professor Dr. Lisa Berglund.
While in New York, students visited the Columbia Graduate School of Architecture, Planning, and Preservation (GSAPP) and were led on a tour of the High Line where volunteers from the Friends of The High Line group guided them through the history, process and future developments in and around the area. They then visited the Hudson Yards, the Meatpacking District and the Stonewall Monument, where they learned about LGBTQ+ Civil Rights. While visiting the monument, National Park Service members guided the group on a walking tour of the area and led a discussion on the history of LGBTQ+ in New York and the United States, highlighting the changes it brought to society and the importance of the public space dedicated to the surrounding community.
As part of their trip, Dr. Lisa Berglund and her students were invited to attend the Dalhousie Faculty of Architecture and Planning Alumni Reception held on February 22nd.
The reception was generously hosted by Architect, Dalhousie alum and 2022 Aurum Award Winner Bryan Langlands (March'92) at the NBBJ Design studios. Dean Graham Gagnon gave a few welcoming words, followed by a tour of the architectural studio and a demonstration on interpretive design.
The event was a great opportunity for students to connect with alumni and learn about their successes, challenges and how their time at Dalhousie influenced their achievements.
"The Dalhousie Alumni reception was a wonderful experience," says Master of Planning student, Raghav Parikh. "I interacted with working professionals at the NBBJ Design studio and discussed emerging technologies and future trends in Architecture and Planning, which will help my peers and I gauge our interests in various fields beneficial to developing our community."