Echoes of 9/11 in the Trump Era: Did 9/11 Really "Change Everything"?
Tuesday, September 11, 2018
12:00 pm to 1:30 pm
Room 1011, Kenneth C. Rowe Management Building
Dalhousie University, 6100 University Avenue, Halifax, NS
Facebook Event | Live Stream (Facebook Live)
Did 9/11 really "change everything"? Before 2016, most of the debate about US defence and security policy focused on whether the Obama administration was effectively overturning the post-9/11 policies of the GW Bush administration (e.g., pulling out of Iraq, re-committing to multilateralism) or holding on to them (e.g., Guantanamo, drones). It sometimes seems like Trump has made all of this irrelevant, by overturning virtually all of the foundations of American foreign policy, and/or having no coherent priorities. What happened to the "post-9/11" defence and security agenda? Are there continuities, or has it all gotten thoroughly Trumped?
Hosted in partnership with the Centre for the Study of Security and Development.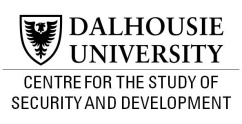 About the speakers 
Aisha Ahmad
Aisha Ahmad is an Assistant Professor of Political Science at the University of Toronto, Director of the Islam and Global Affairs Initiative at the Munk School, Senior Fellow at Massey College, and CEO of the Women in International Security-Canada Toronto chapter. Her book, Jihad & Co.: Black Markets and Islamist Power, tracks the economic origins of jihadists in civil wars, and was awarded the 2018 Best Book in Comparative Politics by the Canadian Political Science Association. She has published prize-winning research in International Security and is the 2018 winner of the Northrop Frye Award of Excellence for undergraduate teaching.

Aisha Ahmad Thinks Policy Matters
"As scholars, we uncover hidden patterns that shape our social world, and discover new answers to the persistent problems we face. Remember, knowledge without action is injustice, but action without knowledge is criminal. The job of policymakers is therefore to take scholarly insights and turn them into practical steps to bring about a better world. "
Brian Bow
| | |
| --- | --- |
| | Brian Bow is Professor of Political Science and Director of the Centre for the Study of Security and Development (CSSD) at Dalhousie University. He is the author of The Politics of Linkage: Power, Interdependence, and Ideas in Canada-US Relations—which won the Donner Prize for 2009—plus a number of other studies on Canada-US relations, Canadian foreign policy, regional cooperation, and defence and security policy coordination. |
Stefanie von Hlatky
Stéfanie von Hlatky is an associate professor of political studies at Queen's University and a fellow with the Centre for International and Defence Policy (CIDP). Prior to joining Queen's, she held positions at Georgetown University, the Woodrow Wilson International Center for Scholars, Dartmouth College, ETH Zurich and was a Fulbright Visiting Research Chair at the University of Southern California's Centre for Public Diplomacy. She has published three books: a monograph with Oxford University Press titled American Allies in Times of War: The Great Asymmetry (2013) and two edited volumes: The Future of US Extended Deterrence (co-edited with Andreas Wenger) with Georgetown University Press (2015) and Going to War? Trends in Military Interventions (co-edited with H. Christian Breede) with McGill-Queen's University Press (2016).

Stefanie von Hlatky Thinks Policy Matters
"Policy matters because it helps establish priorities in international politics. Even if it is not always the case, defence and security policy should be guided by coherent foreign policy principles. Budget, capability and personnel needs can then be tied to specific policy objectives rather than politicized."

About the series
Policy Matters is a weekly panel discussion on major policy issues presented by the MacEachen Institute for Public Policy and Governance. Each discussion features thought leaders from civil society and focuses on one of the Institute's four research themes – Civic Engagement, Atlantic Canada and the World, Health Systems and Governance and Smart Infrastructure. Held each Tuesday from September 11 to November 6, the discussions take place in room 1011 of the Kenneth C. Rowe Management Building at Dalhousie, from 12:00 pm – 1:30 pm. The events are designed to encourage public engagement with local, national and international policy issues and are open to the public.
Join the discussion on Twitter
#PolicyMatters2018