Policy Issues in Housing an Aging Population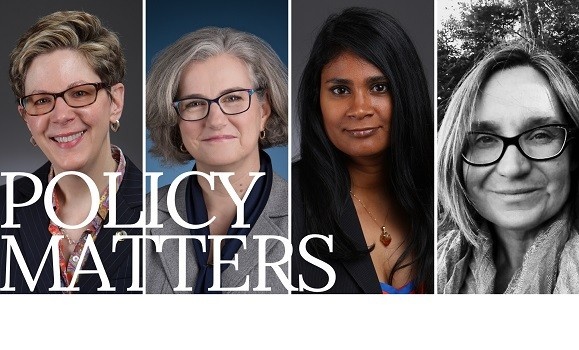 Tuesday, September 18, 2018
12:00 pm to 1:30 pm
Room 1011, Kenneth C. Rowe Management Building
Dalhousie University, 6100 University Avenue, Halifax, NS
Facebook Event | Live Stream (Facebook Live)
How will Canada meet the housing needs of the ageing population? How will the next generation of policy experts deal with the challenges in the rising costs of housing and the unique needs of older Canadians (e.g. smaller household sizes, lower incomes, increased health care needs)? How can all levels of government coordinate their efforts to meet local needs with broad policies and programs? In this moderated panel discussion, each speaker will offer their perspectives on the future of housing in Canada, exploring shared insights for planning, health and policy reform that connect issues of access and changes across these sectors.
About the speakers

Jacqueline Gahagan (chair)



Jacqueline (Jacquie) Gahagan, PhD (Medical Sociology) is a Full Professor of Health Promotion in the Faculty of Health at Dalhousie University. Jacquie holds research associate positions with the European Union Centre of Excellence, the Health Law Institute, the Beatrice Hunter Cancer Research Institute, and the Healthy Populations Institute. Jacquie's program of health promotion research focuses on understanding and addressing health inequities faced among marginalized populations at high risk for poor health outcomes through the development of effective policy and programming interventions. Prior to joining Dalhousie University, Jacquie worked in public health at the municipal, provincial and national levels in relation to harm reduction, HIV/HCV prevention, and tobacco use cessation.

Jacqueline Gahagan Thinks Policy Matters
"Policy is a major tool used by public health and health promotion disciplines to ensure health equity is reflected in our evidence-based decision-making. Health policy offers an opportunity to better understand how well issues such as access to health care are manifest in our policy directions. There are a wide array of examples of health policies that were, for example, sex and gender blind which is why I am passionate about advancing health equity focused policies through the use of, for example, the Government of Canada SGBA+ framework."
Elizabeth Haggart
Elizabeth works with the Nova Scotia Department of Seniors. She is the policy lead for SHIFT: Nova Scotia's Action Plan for an Aging Population, a comprehensive and horizontal government strategy launched in 2017.

Elizabeth taught for eleven years in Mount Saint Vincent University's Master of Adult Education/Studies in Lifelong Learning program while working full time in policy roles with the Nova Scotia government. Over the course of her career, she has worked in a variety of capacities in the public, private, and education sectors in Nova Scotia, Ontario, Mexico, and Jamaica. Elizabeth holds a Master's degree in Adult Education.

Elizabeth Haggart Thinks Policy Matters
"Policy is important because it provides rationale and direction to ensure a coherent approach to the operations of government. Understanding why and to what purpose allows us to create programs and services that support government direction and better serve the public interest. In the context of the aging population, a coherent policy statement and approach enables us to address the complexity and opportunities inherent in our demographic shift."
Ren Thomas
Dr. Ren Thomas is a researcher, writer, and instructor passionate about housing, transportation, growth management, and governance in urban centres. She has a M.A. and Ph.D. from the UBC School of Community and Regional Planning (SCARP), and is a Registered Professional Planner (RPP) and Member of the Canadian Institute of Planners. Her research focuses on affordable housing and transportation, particularly policy transfer processes among practitioners. Before becoming an Assistant Professor at the Dalhousie University School of Planning, Ren worked in a variety of public, private, and non-profit settings, including the Ontario Growth Secretariat, University of Oregon, University of Amsterdam, Canada Mortgage and Housing Corporation, and the BC Non-Profit Housing Association. Her edited book Planning Canada: A Case Study Approach (Oxford University Press, 2016) introduces readers to planning and policy in Canadian cities. It won the Canadian Institute of Planners Award of Merit for Planning Publications.

Ren Thomas Thinks Policy Matters
"From a planning perspective, policy is critical in shaping our cities and regions, from municipal by-laws on land use to federal policy on affordable housing. It defines investment and decision making on how we move around a region, obtain shelter, and remain resilient despite future uncertainty. Planning policy reflects who we aspire to be as cities, regions, and communities—which is why it is so critical that it is informed by equity considerations and the public interest."
Kasia Tota
Kasia Tota is a Principal Planner with the Halifax Regional Municipality Planning & Development. Over the past 15 years she was part of a wide variety of projects and policy initiatives related to regional and community planning, community development, community partnerships, and extensive research on housing, homelessness, and neighbourhood change. Kasia is currently part of a team of staff dedicated to the Centre Plan Project and larger municipal Plan and Land Use By-law Simplification. Kasia has a Masters in Urban and Rural Planning from Dalhousie University (2002) and an Environmental Science degree from McMaster University (1998).

Kasia Tota Thinks Policy Matters
"Policy is important because it provides organizations with a decision-making framework for implementing their vision and goals. A robust and current policy is a beacon for guiding decisions based on open public discourse, community or organizational values, and the best available evidence."

About the series
Policy Matters is a weekly panel discussion on major policy issues presented by the MacEachen Institute for Public Policy and Governance. Each discussion features thought leaders from civil society and focuses on one of the Institute's four research themes – Civic Engagement, Atlantic Canada and the World, Health Systems and Governance and Smart Infrastructure. Held each Tuesday from September 11 to November 6, the discussions take place in room 1011 of the Kenneth C. Rowe Management Building at Dalhousie, from 12:00 pm – 1:30 pm. The events are designed to encourage public engagement with local, national and international policy issues and are open to the public.
Join the discussion on Twitter
#PolicyMatters2018