President's Graduate Student Teaching Award Recipients

Congratulations to the 2022 recipients!
Luana Almeida (Ph.D. Candidate) Graduate Student Representative, Maritime Risk and Safety Research Group (MARS), Department of Industrial Engineering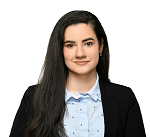 Luana Almeida is a Ph.D. Candidate at the Department of Industrial Engineering. She completed her undergraduate studies at Universidade do Estado do Rio de Janeiro, and joined the Master of Applied Science program at Dalhousie University in 2018. In 2019, Luana received a MITACS Globalink Research Award and had the opportunity to visit the ANT/OR research group for three months at the University of Antwerp in Belgium. Considering the complexity of her research and her excellent progress and achievements, Luana was granted permission to transfer to the doctoral program in 2020. Her research interests are centred on humanitarian logistics with a focus on metaheuristic models designed to optimize the multi-modal distribution of relief supplies to affected communities following a natural disaster. She develops network optimization methods building on Greedy Randomized Adaptive Search Procedure and Ant Colony Optimization approaches. Applications focus on humanitarian logistics in earthquake scenarios on Canada's West Coast. In addition to her research, Luana also takes a leadership role as Graduate Student Representative for the Department of Industrial Engineering. Luana worked as a Teaching Assistant for Operations Research: Linear Models (IENG 3344) and Engineering Risk Management (IENG4567). Among her students, she has a reputation for being always well prepared for her duties, for her patience, for creating a safe environment to address complex problems, and for being committed to share her knowledge during one-on-one and tutorial sessions.
Reem Karaballi (Ph.D. Student) Department of Chemistry, Faculty of Science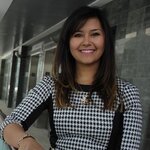 Reem Karaballi completed her BSc. (Honors) and M.Sc. at Saint Mary's University.  Reem is currently finishing her PhD studies in chemistry at Dalhousie University, which is supported by NSERC funding. Her research focuses on exploring new plasmonic transition metal nitride nanomaterials which can be potentially used in catalysis, photothermal therapy, and solar-driven water evaporation. Along with her research work, Reem is heavily involved in teaching and extracurricular activities at Dalhousie University. She has been involved in many teaching positions in the department of chemistry including laboratory teaching assistant, laboratory senior teaching assistant, and part-time lecture instructor. Reem has been part of the first-year team which was recently awarded the National D2L Innovation Award in Teaching and Learning. Along with that, she was part of the Dalhousie Studying for Success program where she provided workshops and worked with students one-on-one. Additionally, she has been an active member of different societies including the Chemistry Graduate Student Society, Green Chemistry Initiative, and the Clean Technologies Research Institute. Reem has also co-founded the first WIC "Working for Inclusivity in Chemical Sciences" Chapter in the Maritimes. She has attended the teaching and learning conferences at Dalhousie University, and successfully fulfilled the requirements of the Certificate in University Teaching and Learning. Reem is looking forward to finishing her PhD studies and starting a new chapter in her life.
Nick Roberts (Undergraduate TA) Department of Chemistry, Faculty of Science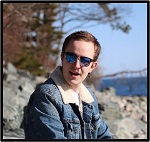 Nick is currently a fourth-year undergraduate student pursuing a Bachelor of Science with an honours in Chemistry and a minor in Neuroscience at Dalhousie University. Nick has been active in research since his first year of university, focusing primarily on main group inorganic synthetic chemistry and density functional theory. His efforts have led to two publications, one in Chemistry: A European Journal and the other more recently in Angewandte.
Outside of his interest in inorganic chemistry, Nick has taken much pride in his teaching at Dalhousie. Nick joined the First Year Chemistry Laboratory Teaching Team in Fall 2019, where his ongoing commitment to improving his teaching and the student experience led to his recruitment to the Online Laboratory Development Team in Summer 2020. Within this team, Nick spoke fully of his ideas to improve course content whilst initiating and championing design ideas that ensured the preservation of in-person laboratory hallmarks, such as choice in experimental path, opportunities to make/learn from experimental mistakes, and establishing chemistry community, despite the 2020/2021 fully online laboratory delivery. As a Senior Teaching Assistant, he independently implemented new tutorials into the laboratory program to support students on tricky topics. Nick is currently a co-investigator/grant holder on several teaching research projects, including a colour vision deficiency (CVD) accessibility support project, an investigative project into online learning and discussion forums and a project investigating the effectiveness of new tutorial series in the First Year Chemistry Laboratory.
As acting President of the Dalhousie University Undergraduate Chemistry Society (DUUCS), Nick is committed to creating community among undergraduate students, graduate students, and faculty. As well, he provides honest/critical feedback about his experiences as a chemistry student, and ensures his fellow students are informed of and connected to opportunities to get more involved in chemistry, science and campus life.
Tareq Yousef (Ph.D. Candidate) Medical Neuroscience, Faculty of Medicine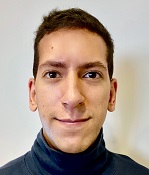 Tareq Yousef completed his BSc at Dalhousie University. As of the summer of 2022, he is completing his PhD in Medical Neuroscience at Dalhousie University under the supervision of Dr. William Baldridge, investigating the role of nitric oxide as a signalling molecule in adjusting the retina to changing levels of light. Tareq has been a TA at Dalhousie since his undergraduate degree where he received his Certificate in Science Leadership and Communication. In Dalhousie's psychology department, he worked as a Teaching Assistant for first-year laboratories and upper year psychology courses such as the Behavioural Neuroscience Laboratory and Advanced General Psychology. During his graduate degree he has focussed his contributions on to Human Neuroanatomy, acting as a lecturer, TA, and Lab Instructor for the undergraduate, graduate, medical, dentistry, and health professions students. Recently, Tareq successfully received Dalhousie's Certificate in University Teaching and Learning and was hired as a Lecturer in Psychology, moving west for the job later this season.
2021
Katherine M. Marczenko (PhD in Inorganic Chemistry Student) Faculty of Science
Katherine Marczenko completed a B.Sc. at the University of Guelph and an M.Sc. at McMaster University in Ontario. She is nearing completion of her Ph.D. in chemistry at Dalhousie University, which is supported by Vanier and Killam funding. Her research focuses on developing new molecules that display unusual reactivity and have the potential to replace precious metals in catalysis. Katherine has a strong reputation among both students and faculty as an effective and enthusiastic teacher across all environments. She has made significant contributions to ongoing curriculum development for second- and third-year chemistry courses. As part of her role as President of the Chemistry Graduate Student Society, Katherine led a team that redesigned Dalhousie's Chemistry Outreach program to align with provincial learning themes and outcomes. In September 2021, she will start her new role as Crystallographer and Course Instructor at the University of Guelph. She hopes to share her enthusiasm for chemistry by teaching an upper year course on chemical crystallography that she developed as part of the requirements for CNLT 5000.
Ralph (RJ) Redden (PhD in Psychology) Faculty of Science
During his time at Dalhousie University, Ralph Redden completed his BA (Honours), MSc, and is nearing completion of his PhD (all in Psychology). His research has been supported by NSERC and Killam funding, and the supervision and mentorship of Dr. Ray Klein. He is preparing to defend his dissertation exploring how low-level automatic processes in our attentional systems interact with our immediate goals in order to create our conscious perception of our surrounding environment. Ralph has held numerous teaching positions here at Dalhousie, having served as a teaching assistant or course instructor in every year of his graduate tenure — in addition to completing the requirements of the Certificate in University Teaching and Learning. Ralph served as a teaching assistant in two core courses in the Psychology undergraduate program: Research Methods in Experimental Psychology, and Statistical Methods. He has instructed Intro to Psychology and Neuroscience, Research Methods in Attention (after TAing it for his supervisor on two occasions), and Experimental Social Psychology. Ralph espouses the practices and philosophies of the Open Science movement in his teaching, and believes that by creating a scientific culture where our materials, data, and outputs are openly available, we can break down systemic barriers that have served to marginalize many from participating in, and contributing to, scientific inquiry. Ralph is excited to represent the Black and Gold as he carries forth the exceptional training and the incredible network of colleagues he's developed at Dalhousie as he begins an NSERC postdoctoral fellowship at the University of Alberta this Fall.
Christie Stilwell (PhD in Health Student) Faculty of Health
Christie Stilwell is a graduate student in the PhD in Health Program and completed her MA and BSc (Hons) in Health Promotion at Dalhousie University. Her research interests relate to Indigenous health and wellbeing, aging and older adults, and health services. She has been an enthusiastic teaching assistant for the Introduction to Research Methods course in the School of Health and Human Performance and for the Women and Aging course in the School of Nursing, as well as other courses within the Faculty of Health over the past five years. Through the Heathy Populations Institute, she has worked to create unique learning and skill building opportunities for fellow graduate students with seminars, workshops, and the Healthy Populations Journal.
2020
Joseph Tassone, Department of Chemistry, Faculty of Science
Joseph Tassone completed his HBSc and MSc at Lakehead University in Thunder Bay, Ontario. He recently completed his PhD in Chemistry as a Vanier Scholar and Killam Scholar at Dalhousie University under the supervision of Dr. Mark Stradiotto, developing new chemical tools for the synthesis of compounds relevant to the pharmaceutical industry. Joseph was actively involved in many teaching experiences at Dalhousie. Joseph tutored undergraduate students in organic chemistry and acted as a Teaching Assistant in first year chemistry. His work as a Teaching Assistant saw his promotion to Senior Teaching Assistant, a role with greater supervisory and teaching responsibilities. More recently, Joseph was hired as a Part-Time Academic in first year chemistry, conducting review sessions before midterms and the final exam in the lecture portion of the course, and acting as an instructor in the laboratory portion of the course. He also participated in various outreach activities in the Chemistry department, and successfully fulfilled the requirements of the Certificate in University Teaching and Learning. Building on his successes at Dalhousie, Joseph will be beginning a postdoctoral fellowship at Yale University later this year.
2019
Asmita Sodhi, Mathematics and Statistics
Asmita Sodhi has demonstrated all-around engagement in her teaching and has taken an active role in building her teaching credentials. She has been heavily involved in outreach activities with her department through her work with NS Math Circles and the Math Challenge Club. Her students think highly of her organization and the impact she has had on their learning.
Landon Getz, Microbiology and Immunology
Landon Getz has engaged in innovative and inclusive teaching practices while pursuing his PhD. Having served as a TA in both Microbiology and Chemistry, he has also supervised honours students, helped to develop learning materials, made contributions to professional development training for Resource Centre Assistants and served as a mentor to other graduate and undergraduate students.
Michael Beh, Chemistry, Faculty of Science
Michael Beh has served as a lab instructor for several years, not only engaging in the Certificate for University Teaching and Learning but also contributing to Centre for Learning and Teaching workshops. His contributions include teaching activities that have had an impact on undergraduate and graduate students, fellow TAs, high school students, and the general public. He also contributed to community teaching in an innovative way through a Dal 200 event, presenting a chemistry lecture as it would have been 150 years ago.
2017
David Beitelman, Department of Political Science
Sarah Greening, Department of Chemistry
2015
Travis Lundrigan, Department of Chemistry, Faculty of Science
Danen Poley, Department of English, Faculty of Arts and Social Sciences
Becky Spencer, Interdisciplinary PhD, Faculty of Health Professions
1995-2014
2014
Josh Goreham, Department of Kinesiology, School of Health and Human Performance
Grace Murphy, Department of Biology, Faculty of Science
Alana Westwood, Department of Biology, Faculty of Science
2013
Laura Albrecht, Department of Chemistry, Faculty of Science
Christina Lord, Department of Biology, Faculty of Science
Marcel Peloquin, Department of Psychology and Neuroscience, Faculty of Science
2012
Kurt Stover, Department of Psychology and Neuroscience, Faculty of Science
2011
Cheryl Watts, Department of Sociology and Social Anthropology, Faculty of Arts and Social Sciences
Rachel Dingle, Department of Psychology, Faculty of Medicine
Victoria Walker, Department of Chemistry, Faculty of Science
2010
Sarah Crawford, Department of Chemistry, Faculty of Science
2009
Yuen-ying Carpenter, Department of Chemistry, Faculty of Science
Jonathan Fawcett, Department of Psychology, Faculty of Science
Cheryl Saunders, Department of Chemistry, Faculty of Science
2008
Leona Chu, Department of Biology, Faculty of Science
Timothy O'Leary, Department of Psychology, Faculty of Science
Meagan Timney, Department of English, Faculty of Arts and Social Sciences
2007
Warren Heiti, Department of Philosophy, Faculty of Arts and Social Sciences
Jason Pearson, Department of Chemistry, Faculty of Science
Heather Phillips, Department of Chemistry, Faculty of Science
2006
Mr. Layman Department of Earth Sciences, Faculty of Science
Mr. Curran, School of Planning, Faculty of Architecture and Planning
2004
Mr. Al-Darbi, Department of Chemical Engineering, Faculty of Engineering
Randy Lynn Newman, Department of Psychology, Faculty of Science
Adam Timmons, Department of Physics, Faculty of Science
2003
Amy Keirstead, Department of Chemistry, Faculty of Science
Karen Parker, Faculty of Computer Science
Mike Rygel, Department of Earth Sciences, Faculty of Science
2002
Sandra Dawe, Department of Microbiology and Immunology, Faculty of Medicine
Kayhan Ghatavi, Department of Psychiatry, Faculty of Medicine
Fiona Harper, Department of Biology, Faculty of Science
Douglas MacLaren, Department of Chemistry, Faculty of Science
2001
Jennifer Corcoran, Department of Microbiology and Immunology, Faculty of Medicine
Brian Johnson, Department of English, Faculty of Arts and Social Sciences
Sandy Lancelot, Department of Chemistry, Faculty of Science


2000
Evelyn Bennett, Department of English, Faculty of Arts and Social Sciences
Amanda Dickinson, Physiology and Biophysics, Faculty of Medicine
Murat Koksal, Department of Mechanical Engineering, Faculty of Engineering
Melanie O'Neill, Department of Chemistry, Faculty of Science
1999
Wendy Oritz-Ojeda, Department of Chemistry, Faculty of Science
Jennifer Russel, Department of Earth Sciences, Faculty of Science
Maya Shmulevitz, Department of Microbiology and Immunology, Faculty of Medicine
1998
Frank Ham, Department of Mechanical Engineering, Faculty of Engineering
Tanya Holt, Department of Biology, Faculty of Science
Mark Silverberg, Department of English, Faculty of Arts and Social Sciences
Stacey Wetmore, Department of Chemistry, Faculty of Science
1997
Alexandra Arnott, Department of Earth Sciences, Faculty of Science
Roberta Barker, Department of English, Faculty of Arts and Social Sciences
Catherine Forestell, Department of Psychology and Neuroscience, Faculty of Science
Marc Mansour, Department of Biology, Faculty of Science
1996
Fiona Bellerive, Department of History, Faculty of Arts and Social Sciences
Mary Chan, Department of Chemistry, Faculty of Science
Alexio Muise, Department of Biochemistry, Faculty of Science
1995
Jason Clyburn, Chemistry Science