Halo is a golden retriever who lives with Jacqueline Doherty, financial controller with the Dalhousie Student Union.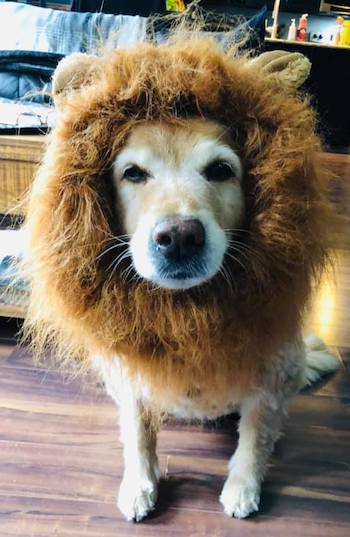 Name: Halo
Nicknames: Halo de Milo, Pretty Lady, stinker.
Species/breed: Golden retriever
Age: 12  
Fave food: Pretty much any people food that isn't healthy! :)
Special tricks : I will sit still while you place treats all the way around me on the floor and I will not move until you tell me I can. I will also let mom put this horrible costume on my head even thought I hate it, just because I know she loves it so much!
Best quality: I am an extremely gentle dog, super friendly (although sometimes a little shy) and I love everyone!
Social media platform, if available: N/A
Want to tell the Dal community about your beloved pet? Forward along your image(s) and information using the above categories to today@dal.ca.
Don't forget to check out the previous pets we've featured in this space this month — Bella, Gracie, Rusty, Tiger Lily, Juno, Louie and Izzie, Willow, Cooper, Anastasia, Dally, Stella, Diana and Mika — as well as pets from previous months:
The month in pets: January

The month in pets: February

The month in pets: March

The month in pets: April