Today@Dal
»
Go to news main
Pets of Dalhousie: Meet Mika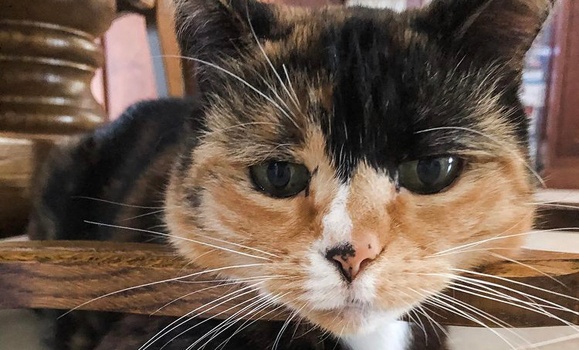 Get to know Mika, a calico cat who lives with Crystal Vaughan, Administrative Manager with the School of Communication Sciences and Disorders.
Name: Mika, which means raccoon in the Indigenous Osage and Omaha-Ponca languages.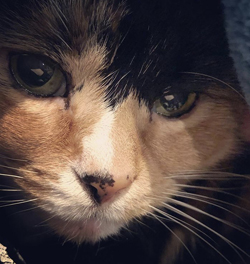 Nickname: Mikasaurus (because she has the confidence and grace of a T-rex), Meeks, Get Off
Species/breed: Calico
Age: 14
Fave food: She was a stray, so she used to steal food off my plate and from the fridge, but now she's a Fancy Feast wet food junkie. However, she still tries to steal licks of cheese, ice cream, and butter.
Special tricks: Typing. She has done an amazing job of deleting paragraphs in emails and assignments, including whole pages of my master's thesis. She is also talented at knocking over everything in her path because moving around objects is for suckers.
Best quality: She is very affectionate and has the sweetest purr.
Social media platform or handle, if available: She often makes an appearance on my Instagram @cannev
Want to tell the Dal community about your beloved pet? Forward along your image(s) and information using the above categories to today@dal.ca.
Don't forget to check out the previous pets we've featured in this space this month — Bella, Gracie, Rusty, Tiger Lily, Juno, Louie and Izzie, Willow, Cooper, Anastasia, Dally, Stella and Diana — as well as pets from previous months:
The month in pets: January

The month in pets: February

The month in pets: March

The month in pets: April