This article is part of a series focusing on the grads of the Dalhousie Class of 2023. Spring Convocation runs from May 29 to June 7 in Halifax and Truro. Read all our profiles here as they are published, and for more information visit the Convocation website.
Arielle Noseworthy is graduating from the School of Nursing with a Bachelor of Science in Nursing (BScN).
Pronouns: she/her
Degree: Bachelor of Science in Nursing (BScN)
Where you're from: Lower Sackville, NS
How significant is it for you to receive this degree?

Receiving this degree is incredibly significant and meaningful to me because I always knew from a young age that I wanted to pursue a career in the health field that involved caring for others.
What were the highlights of your degree?

One of the highlights of my degree was being a part of an independent study through Dalhousie and Global Skills Opportunity that took place in Zambia, Africa. I had the opportunity to share my ideas surrounding technology and digital innovation in health with a larger group of youth from different countries of Africa and the African diaspora. This experience was informative, inspiring, and a beautiful way to explore various cultures different from the ones I have seen growing up in Nova Scotia.
In addition to this experience, I had the opportunity of working as a L'nu Nursing Initiative student research assistant, where I connected with Indigenous undergraduate nursing students. This was most definitely one my favourite parts of this degree as I got to meet with many inspiring and determined students that are going to be amazing future nurses in our health care system.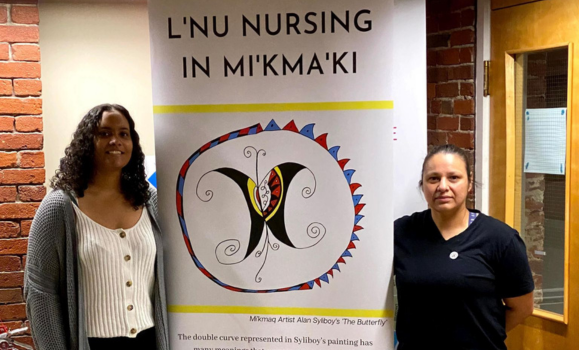 What will you miss about your time at Dal?

What I will miss most about my time at Dalhousie are exploring many different areas of nursing through clinical placement and long days and nights studying with friends.
The nurse instructors that have been a part of my time at Dalhousie and the nurses that I have met on clinical placements all shared their knowledge and passion for this profession and have guided me to where I am today. I will miss their presence, but know I will find the same knowledge, passion, and guidance as I join the health care field as a new graduate nurse.
What was your journey to Dal and to this program?

As mentioned before, I knew from a young age that I wanted to become a health care provider. During my early teen years, I took part in the African Nova Scotian and Indigenous Health Science Camp offered by Dalhousie University, where we explored nursing as a career. This solidified my want to become a nurse and seeing those who looked like me, an African Nova Scotian/Indigenous woman, showed me that this career is attainable. Several years after this camp, I was applying and was accepted into the BScN program!
My sister, Brianna, is also an influential and inspiring factor involved in my journey to this program. She is also a Dal BScN graduate and has supported me every step of the way. I am forever grateful to have her guidance and she is everything I look up to for what it means to be a nurse.
Another influential person is Michele Terfry. She gave me encouragement to keep pushing through even when times were tough. Michele graduated the Dal's BScN program in 1993, so I want to congratulate her for 30 years of being an incredibly kind-hearted and thoughtful nurse.
What topics/research/work did you become passionate about during your education?

The work that I became passionate about during my education was diversifying nursing as I believe that the health care field should reflect the population it serves. I had the honour of working alongside Dawn GooGoo, the L'nu Nursing Initiative lead, on ways to recruit and retain Indigenous nurses. My role involved supporting undergraduate Indigenous nursing students and aspiring Indigenous nursing students through stressful times of this degree and through the application process of the nursing program. I attended student orientations and opened the Indigenous nursing lounge each semester for students.
I also went to high school visits with the amazing Meaghan Ryan, the African Nova Scotia/African Descent Nursing Advisor, to educate students on what the nursing program has to offer and the steps to applying. It was great to share the many opportunities nursing has and pathways that nursing can take you.
What's next for you?

I recently accepted a new graduate nursing position at the Victoria General Hospital. I am excited to begin my nursing journey and wish all my fellow nursing graduates/2023 graduates of Dalhousie University a much-deserved congratulations on their hard work; we made it!