This article is part of a series focusing on the grads of the Dalhousie Class of 2023. Spring Convocation runs from May 29 to June 7 in Halifax and Truro. Read all our profiles here as they are published, and for more information visit the Convocation website.
Sophie Wilcott grew up constantly immersed in theatre. Their parents had both studied Theatre at Dalhousie and went on to run a school of performing arts charity in Saint John, New Brunswick. As a young child, Sophie was often found getting into props, exploring sets, attending community arts board meetings, and even performing in several professional productions.
But because everyone expected them to be a theatre maker when they grew up, they reacted with defiance and reluctance to fit into anyone's expectations.
"But eventually I came to my senses and realized that theatre was the only thing that could ever make me feel full," Sophie says. "I needed to feel like I was a part of something bigger than myself. A play or an artist project that bettered my community. That's still what keeps me in it."
Sophie graduates from Dalhousie this spring with a Bachelor of Arts (Honours) in Theatre with a Certificate in Dance and Movement. With aspirations to act, write and direct professionally, they explain that their primary goal is to contribute to this artistic industry that cultivates positive community development.
"I believe that fostering a positive artistic relationship between children and the arts begins with the adults and educators that surround them," says Sophie.
Sophie has earned several impressive awards and scholarships that have supported their journey as a Theatre student, including the Dalhousie Chancellor's Scholarship and the Fountain School of Performing Arts Undergraduate Scholarship. Additionally, they were awarded the Christine Zinck (Theatre) Scholarship in 2022 and (externally) the Arts New Brunswick Scholarship in 2019 and 2022.
Sophie is developing a new work called Maiden Names which is an exploration of the misattribution of women's art and its stifling of women's ability to process grief. In their final months of university, Sophie submitted their script for this play to the Playwrights Atlantic Resource Centre U-Compete competition, which accepts scripts from across the maritime provinces.  Sophie's script was awarded the Nova Scotian winner and received the Audience Choice award.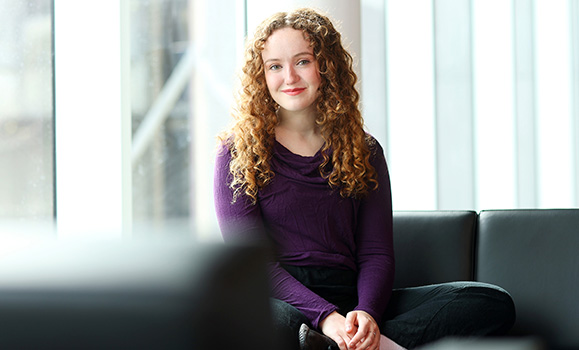 Being 'resilient' while facing uncertainty

Even though they experienced many triumphs as a Theatre student, Sophie recalls the first half of their degree being severely disrupted by the COVID-19 pandemic, which first hit during the winter term of their first year at Dal; meaning their second year, when the acting program really kicks into high gear, was spent entirely online.
"My whole third year of school is something that I look back on with delight," says Sophie, who explains it wasn't until third year that they met a lot of their fellow acting students in person. "Because of all the uncertainty, we spent that year full of gratitude. We held on to every success and failure like it would be the last ones we had together. It was a great way to bond and create. I think we did some of our best work during these times. It was a moment where I saw the effects of our education in practice and that was so amazing. I could feel like we had grown as individuals and as a little community." 
Sophie explains that even though technology kept them connected with their peers and instructors during the pandemic, acting does require a certain amount of human connection.
"My class obtained the nickname 'resilient'", says Sophie. "That word followed us around. Every new teacher, guest artist, everywhere we went. 'Resilient, resilient, resilient.' Our group chat is called Resilient Rebels. I will forever associate that word with our little group of twelve. We joke about it but it's true. We had to learn how to adapt. But that's what theatre folk do! We have to learn to roll with the punches. I was always looking for a silver lining."
Looking on the bright side

Sophie adds that during their studies at Dal, there were several other disruptions that caused their productions and projects to pivot, whether that was moving a show online or experiencing a change of a show's director. But Sophie looked at those moments as opportunities to learn new skills and build new connections.
"I was always encouraging people to look on the bright side and to celebrate that we were learning how to make digital theatre with every resource and export at our fingertips," they explain.
Sophie adds that both their parents, as well as their grandparents are all artists, and they feel lucky to have had such wonderful support from family and the family that they built at the Fountain School of Performing Arts. They realize that the experience they earned along the way, with all the interruptions, pivoting and need to be 'resilient', has added benefit to their experience as a Theatre student.
"I feel way more prepared for the professional world of theatre than I would be if everything had happened according to plan," says Sophie. "Because in the real world, when does anything go according to plan?"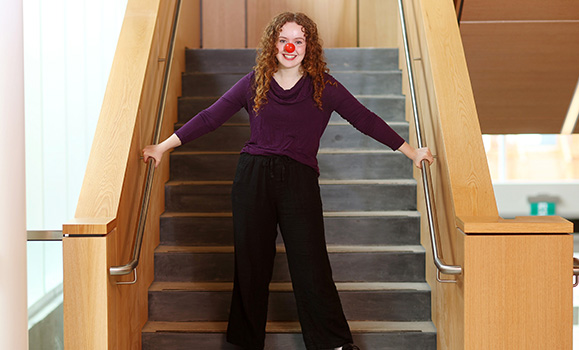 When they were a baby without any hair, Sophie's parents would send them out into the world in a curly purple clown wig. Their parents now joke that Sophie grew into it because they now study clown as an adult.