This article is part of a series focusing on the grads of the Dalhousie Class of 2023. Spring Convocation runs from May 29 to June 7 in Halifax and Truro. Read all our profiles here as they are published, and for more information visit the Convocation website.
Nathaniel Brown's passion for probability and mathematics led him to explore a virtual computer programming course while attending high school in Shelburne, Nova Scotia. Little did he know that this initial leap would mark the beginning of an extraordinary journey into the realm of computer science.
Today, he stands as a renowned researcher, captivating audiences on the global stage with his groundbreaking work.
To Nathaniel, Dalhousie's Faculty of Computer Science was an easy choice. The east coaster has a special appreciation for the ocean and hospitality of the region, but it was the Faculty of Computer Science's reputation that first drew Nathaniel in.
"It was very important to me to make sure that my professors were just as engaged on the teaching side as they were being world-class researchers," says Nathaniel.
Nathaniel started his educational journey as a Bachelor of Computer Science student, and his relentless pursuit of knowledge led him to pursue a Master of Computer Science. As he nears the completion of his degree with a focus on cutting-edge research in bioinformatics and genomics, Nathaniel eagerly anticipates his momentous walk across the stage on Thursday (June 1).
Capturing a more diverse human genome

Nathaniel recently presented at conferences in Germany and the United States on his research in genomics and bioinformatics, which he describes as being at the intersection of biology and computer science. His research works to advance our understanding of how closely related these fields are and how we can enhance the future of healthcare using computer science.
Nathaniel strives to make his research on compact data structures easy to understand by using analogies.
"Say you have a piece of paper you want to be able to crumple it up and squash it down and make it small. But, when you want to read words off the paper, you don't want to have to unfold it all again. You want to be able to keep it in a small space and maybe just look at little pieces you care about; that's what we're doing with DNA code," he explains.
More than ever, health organizations are searching for tools to simplify and advance their screening and disease-identification processes, creating the need for efficient tools and technologies by researchers like Nathaniel.
Nathaniel dives deeper into the explanation of his research, adding to the above: "This is very important for DNA, because after the Human Genome Project we had a human genome for reference, so we were able to use that to then take other people's DNA samples and do something called alignment. That means we take short pieces of DNA and look at where they might match up in that reference."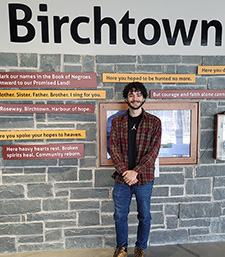 This has been very useful. However, if you just use one of these reference sequences, you'll get something called reference bias. Human DNA is 99.9 per cent the same, but the genome is so big that there can still be big stretches where people differ significantly from the reference.  Pieces of DNA from those stretches may not match well enough to align them.
Squashing down very large DNA datasets is important because it means that instead of using one person's genome as a reference, you can use genomes from 100 or 1000 people. This allows the capture of genetic diversity in more than one population group. 
Instead of just using a Eurocentric DNA reference — which the first human genome was — Nathaniel works to also capture the diversity of populations in Asia, Africa, South America, and beyond.
"If you have more references to look at, you're more likely to pinpoint a spot that causes a rare disease," he explains. "This becomes very important with increased computational resources to process all this information we're gathering, to actually make improvements in health."
Impactful professors

There were two notable influences from the Faculty of Computer Science during Nathaniel's time at Dalhousie. During his first semester, a course with Dr. Srini Sampalli made all the difference.
"I was already familiar with Dr. Sampalli before going to Dalhousie and it's because his emphasis on teaching almost feels effortless, he's so engaged, it builds an incredible foundation."
Nathaniel's second mentor is his current supervisor Dr. Travis Gagie, an associate professor. Dr. Gagie has been one of Nathaniel's biggest supporters.
"He challenged me to not just look at learning the material but to be great at the material, to see it and then be able to apply it," says Nathaniel. "For me, that is what took me from a student to a researcher was being challenged in the safe environment of the classroom."
Bridging gaps and making an impact on healthcare

Nathaniel hopes to continue his research and make an impact on healthcare.
"Working to make a bigger impact in healthcare on the theory side that eventually is going to change medicine and change the way that we can give personalized healthcare to people is the goal for me," explains Nathaniel. "Especially as a biracial Nova Scotian, it's very important because I see some of this in myself and some of my family members being left out of these approaches. Being able to bridge that gap specifically for those that have been neglected in the past such as minority groups and multi-ethnic populations."
Nathaniel's research is fundamentally important to the future of equity, diversity, and inclusion in medicine.
Looking forward

During his time at Dalhousie, Nathaniel has contributed to two published papers and has been the recipient of several awards, including most recently the 2022 NSERC CGS-M award recipient for Academic Excellence and Research Potential.
Nathaniel has an impressive number of accomplishments on his resume already, including a life-changing scholarship early in his academic career recognizing his academic excellence and African Nova Scotian community involvement. Dalhousie University's Forsyth Family Nova Scotia Scholarship, valued at $80,000, is an award Nathaniel is still in disbelief about to this day and was a pivotal contributor to his ability to focus on his studies and research.
Following this award in his undergraduate degree, Nathaniel has also been awarded the Horatio Alger Canadian Scholar and the NSERC USRA/U Waterloo Undergraduate Research Fellowship.
All that being said, Nathaniel's academic journey extends beyond graduating from Dalhousie. As he prepares to conclude his master's degree, he begins a new chapter in his life at Johns Hopkins University. Nathaniel has accepted an offer to pursue his PhD in Computer Science starting in the fall as the recipient of their Computer Science Fellowship award.