The Killam Memorial Library is about to embark on a deep energy retrofit that will continue into early 2026. When it's done, most users won't notice a difference. But the planet will. 
On schedule

The Killam Library deep energy retrofit project fits into the work Dalhousie is doing to improve the energy and water efficiency of existing buildings. As a deep energy retrofit, the project aims to achieve greater energy efficiency by looking at the whole building and incorporating upgrades and maintenance to multiple systems at once.
Work will start this month and continue into early 2026 as building systems are replaced within each area. The plan is to complete the work space by space, so that closures are avoided during busy and important times, such as midterms and exams. 
Stay up to date: visit the Killam Library 2023‑25 Retrofit Project webpage
The Killam retrofit project is projected to reduce both energy and water consumption by more than 50 per cent. It will also reduce greenhouse gas emissions by more than 2,100 tonnes of CO2 — the equivalent of removing 700 cars from the road. 
"We're excited about this project and how much it will impact the university's climate plan," says Michael Vandenburg, dean of libraries. "The Killam is an iconic example of mid-century brutalist design and while we celebrate the many features of this building that have stood the test of time, we are looking forwarding to much needed improvements to the library's systems that will benefit our users and the environment."
Related reading: Set in Stone
Environmental improvements

Built in 1971, the Killam Library is Dal's third largest building. It's also one of the university's top five most energy-intensive facilities, partly because its hours of operation are longer than most other buildings on campus. 
The project plans to address this with energy and water retrofits, as well as some infrastructure renewal to improve sustainability and building performance.
"By strategically targeting reduction in water and energy in one of the more energy-intensive buildings, this project is an excellent opportunity for the university to help achieve the goals set out in the Energy and Green Building Plan," says Ray Carrigan, energy manager with the Office of Sustainability. 
In addition to reducing the building's environmental footprint, the work will also improve the internal environment for library users. Notable features of the Killam retrofit include:
    ventilation, air distribution, and controls improvements;
    energy-efficient lighting;
    energy efficient, touchless fixtures in washrooms;
    upgrading main air-handling units;
    conversion of heating systems from steam to hot water; and
    maintenance or replacement of failed windows and glass.
Summer closures

One of Dal's busiest buildings, the Killam Library welcomes users during regular hours of 8 a.m. to 11 p.m., which means most work will be completed during occupied hours. Selected areas and offices will be cleared and closed for periods of time as work is done to replace equipment in the ceilings and upgrade lighting. 
"While these improvements will, at times, disrupt usual operations, we will be diligent in ensuring our users can maintain access to the services and information resources they need," says Vandenburg. "We realize this building is home to resources that are vital to our students' success and will work throughout the project to anticipate, listen to, and respond to the needs of those we serve as part of our commitment to our students and to service excellence."
The most disruptive work has been scheduled for the summer months when there are fewer students on campus. 
Work in the Downie Wenjack Legacy Space (including the Learning Commons, IT Help Desk, Hardware Services, Ko'jua Okuom, Writing Centre, and the Atlantic Research Data Centre) is scheduled for the summer of 2023 and planned to be completed in time for the start of classes in September. The space will officially close as of May 15 to prepare for work to begin the following week. 
During this time, the Help Desk can be accessed through the Library Service Point desk and the Writing Centre will use alternate locations for in-person appointments.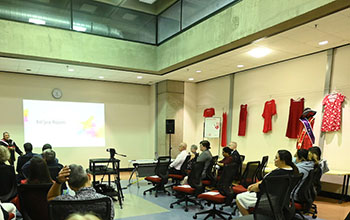 Plans are in place to ensure the Ko'jua Okuom Indigenous Community Room (photo, right) will be available for use on National Indigenous People's Day (Wednesday, June 21) and during the North American Indigenous Games (July 15–23).
Related reading: Ko'jua Okuom: Dal's new Indigenous community room offers a space for reflection and celebration
The following summer (2024), the atrium — including food services — will be closed and the main library entrance will be temporarily moved. 
Sustainable goals

Dalhousie's Energy and Green Buildings Plan [PDF], a collaboration between the Office of Sustainability and Facilities Management includes goals with a particular focus on assessing and improving the water use and energy performance of the university's existing buildings. 
The Killam retrofit is the latest project helping the university reach these goals. Previous initiatives include the Tupper Medical Building and Clinical Research Centre retrofit (2016-18) and the Howe Hall hot-water conversion project (2021-22). 
Learn more: Dalhousie University Tupper Building Efficiency Upgrades (YouTube)
"It's a great example of university management working together as improvements are planned to minimize costs while ensuring the university is in a good position to continue reducing greenhouse gas emissions," says Carrigan. "All that with the benefit of expediting planned maintenance significantly through renewed building infrastructure."
Environmental savings will come from initiatives such as converting from steam to hot water heating, which will reduce the carbon intensity of the building's heating services, as well as from switching to LED lighting and upgrading HVAC equipment to reduce energy use and waste. 
Related reading: Investigating Impact: Innovative energy efficiency practices on campus lead the way for the wider community
Looking up, way up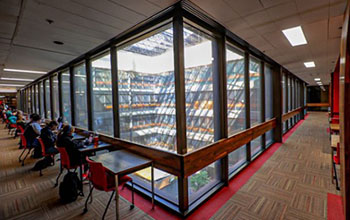 While much of the work will be undetectable to the average visitor, regular users might notice improvements in air quality, temperature, and lighting. And, if you've ever looked up when you entered the Killam Library's windowed atrium, you'll surely notice a difference once the windows have been cleaned — the first time since they were installed in 1996.
Other infrastructure improvements include ventilation upgrades, window replacement on the fifth floor, and washroom fixture upgrades. 
"Dalhousie Libraries provide crucial spaces for teaching and learning, and this work will ensure the Killam is more inviting and comfortable for our users, says Vandenburg. "This investment shows that Dalhousie recognizes the value the Killam Library brings to the university and to the wider community."
MCW Custom Energy Solutions, the company that recently completed the successful Tupper Medical Building and Clinical Research Centre retrofit, will be working with a senior project manager from the Department of Facilities Management to complete the project.
Keep informed

Upcoming closures and project progress will be communicated through Today@Dal, library signage, and updates on the Dalhousie Libraries project website and the Facilities Management project website. Library staff will also be able to answer questions and help with resource requests during disruptions.