On Indigenous People's Day (June 21), the Dalhousie Libraries celebrated with members of the Indigenous community by opening a room they hope will inspire celebrations and programs on campus about Indigenous culture for years to come.

The Ko'jua Okuom, located in the Downie Wenjack Legacy Space on the first floor of the Killam Library, was developed to be a welcoming gathering place for Indigenous students, staff, and faculty to host and attend Indigenous ceremonies and events.
Samantha Adema, Dal's Indigenous Services Librarian and master of ceremonies for last Tuesday's celebration, recalled how excited she felt when she first heard about the initiative to develop an Indigenous community room in 2020.

"I'm Mi'kmaw, I grew up here in the city, but I'm a member of Sipekne'katik, where my dad is from. I remember when I first came to university how out of place I felt," she said. "When I started here as a librarian, I saw my own experiences reflected back in the feedback we received from Indigenous students. Students reported that they wanted to see more representation of their culture in the library, more visibility of Indigenous resources, and more culturally relevant programming. With that in mind, I think that this room is an excellent step in breaking down some of those barriers."

"I really want this to be a space for L'nu [Mi'kmaq] students, and the community, to feel represented and at home at Dalhousie," she added.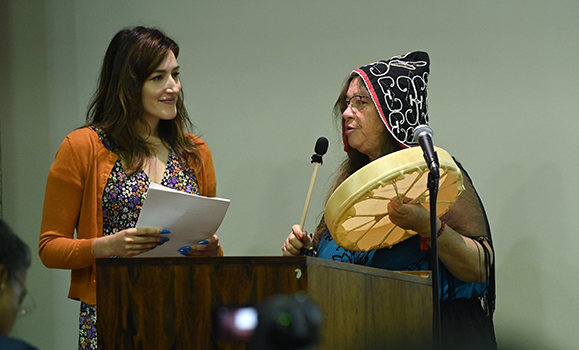 Samantha Adema, Dal's Indigenous services librarian and Catherine Martin, Dal's director of Indigenous community engagement.
Dancing place

The room's name, Ko'jua Okuom, refers to an Indigenous dance of friendship.
"The Mohawk gave us that dance in friendship and peace, dancing together as partners," explained Elder Thomas Christmas, who performed a smudging ceremony and blessed the new name.

"Some people call the Ko'jua the two-step or the friendship dance. It's a dance of getting together and acknowledging somebody and it's an important aspect of our people when they celebrate. It's fun, it gets your heart pumping, it gets people talking, and it's beautiful," he added.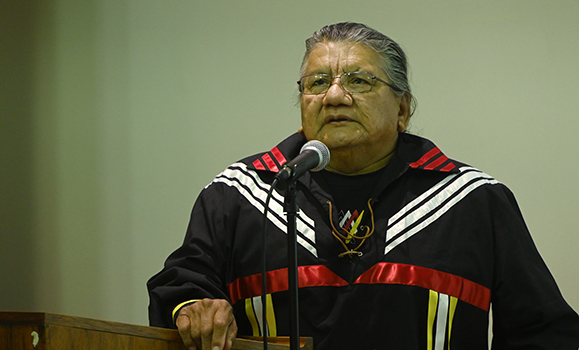 Elder Thomas Christmas.
Catherine Martin, Dal's director of Indigenous community engagement, opened the event by singing a traditional Mi'kmaq welcome song while playing her drum. "The drumbeat represents the heartbeat of Mother Earth, or the heartbeat of our mother," Martin explained. "That's something we've all heard; we know that language very well because our mother taught us. We're always told in Mi'kma'ki to speak from the heart."
Decolonizing spaces, rebuilding trust

While in the past libraries, museums, and other memory institutions have often exploited and profited from Indigenous culture and knowledge and denied Indigenous people access to their spaces, efforts are now underway to decolonize these spaces and repair broken trust in the name of reconciliation.
"We want the Ko'jua Okuom to be a place for advancing Indigenization, decolonization, and reconciliation at Dalhousie," says Elaine MacInnis, associate dean of library services and head of the MacRae Library. "To that end, the Ko'jua Okuom has been designed with Indigenous colleagues to celebrate and honour Indigenous culture in an environment where all can learn more about Indigenous customs and traditions through events and collections of Indigenous books, art, and artefacts."
Dal President Deep Saini reflected in his remarks at the event on how the strength of relationships with Indigenous communities is fundamental to the university's success.
"Dalhousie has an obligation to redress historical and ongoing systemic inequalities, further reconciliation, and build integrity in all our relationships with Canada's First Nations," he said. "The opening of the Ko'jua Okuom is one way we are demonstrating this commitment."
A special collection

Another highlight of last week's opening was the introduction of an extraordinary new collection of books and other materials received by Dal Libraries from the Prosper family of Ottawa.
Jim Prosper, a survivor of the Indian Residential School in Shubenacadie, became an ardent researcher of colonialism, aboriginal treaties, rights, and sovereignty in his retirement years, meticulously curating an impressive collection of materials over twenty years. Upon Jim's move to a senior's residence and the subsequent downsizing of the family homestead, Jim's son, Ron, wanted to see his father's treasured book collection go to a university near his father's birthplace, choosing to donate the collection to Dalhousie. (Learn more about the Prosper collection.)
Ron Prosper, who attended the event with his wife, Lorna, and his brother, Rob, spoke at the launch as well.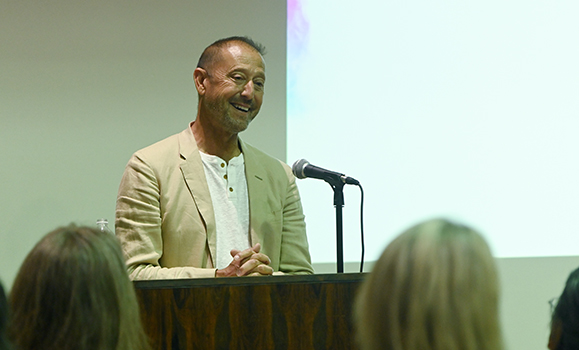 Ron Prosper.
"My father very much wanted to be here today, but his health prevented him from coming. It has been a two-year project for us to get my father's books to Dal — a monumental task with nearly three quarters of a ton of books making their way here from Ottawa," explained Prosper. "My father is an extraordinarily generous man, and a kind, amazing father, which belies his early days. He is resilient and he chose education, and turned that into a productive, wonderful life. This book collection is very much a testament to who he is."
Books from the Prosper collection, as well as other books relating to Indigenous culture and history, are available on the shelves in the Ko'jua Okuom. A few of the rare books in the Prosper collection are also featured in secure display cases donated by the Halifax Foundation that currently exhibit part of Catherine Martin's basket collection (on loan). Framed lithographs of the Dummer and Mascarene treaties (also from the Prosper collection) are hung on the walls and plans for a large meeting table to be commissioned by an Indigenous artisan are in the works.
Learn more about the Prosper collection: In search of his roots (Dal News)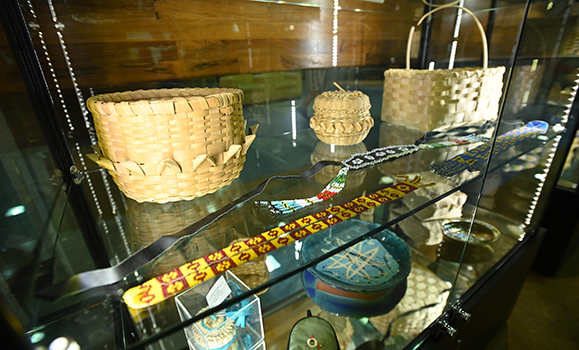 Mi'kmaq artefacts in secure display cases on loan from Martin.
From gathering place to study space

The university is currently seeking a donor to fund an extensive HVAC renovation so that smudging can take place in the room, a key component of having a decolonized, welcoming space.
The Libraries' Indigenous Program Planning Team has beading and dance workshops, lectures, and film screenings planned for this coming academic year. Room booking information will be available soon, which will allow others at Dalhousie and community members to hold events with Indigenous themes in the room. When the room is not being used for events, it is a study space open to everyone.
"We hope that the Ko'jua Okuom introduces new opportunities for Indigenous communities in Mi'kma'ki to engage with Dalhousie in a space that supports and advances Indigenous ways of knowing," says Donna Bourne-Tyson, dean of Dalhousie Libraries. "We are grateful to Elder Thomas Christmas for naming the room, to Catherine Martin for her guidance every step of the way, and to the Prosper family for donating such a valuable collection that perfectly supports the aspirations for the space."