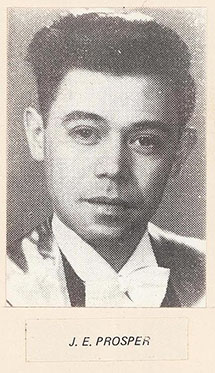 When Jim Prosper was born in 1925, his mother was eighteen and not married. As was common for a young woman in that situation at the time, she gave up her son for adoption. Jim lived the first five years of his life in a Halifax orphanage, and in 1930 became a resident of the Indian Residential School in Shubenacadie, which was the same year it opened. He lived there until he was 18.
Upon leaving the residential school, Jim, a proud Mi'kmaw, served in the Second World War. When he returned to Mi'kma'ki, Jim attended St. Francis Xavier for two years to study engineering, followed by two more years at the Nova Scotia Institute of Technology (which later became the Technical University of Nova Scotia and then Dalhousie's Faculty of Engineering) to complete his engineering degree. Jim is believed to be the first Indigenous engineering graduate from both institutions.
Right: Jim Prosper's 1952 graduation photo from the Nova Scotia Institute of Technology.
After a distinguished career that included being a lead engineer on Cold War intelligence projects, Jim retired in 1984. It was during this period of retirement that Jim decided to spend his time researching his genealogy in the hope of learning more about his mother and finding anything he could about his father. He made many visits back to the East Coast from his home in Ottawa, travelling to First Nations communities in the region and talking with the people who lived there. 
Through his visits, Jim eventually learned who his mother's family was, meeting people who knew his mother and who could also tell him about his father — believed to be an American sailor. When he visited these communities and got to know the people, Jim kept hearing the same thing everywhere he went: "This reserve is shrinking, the land is being taken away."
This topic ignited a passion in Jim, and he soon became an ardent researcher of colonialism, aboriginal treaties, rights, and sovereignty. That's when he began curating an impressive book collection — one that has now found a new home at Dalhousie.
"My father was the hardcopy Google before Google," says Ron Prosper, one of Jim's three grown children. "For my dad, it was important to have hard copies of everything. He never got into digital, and he never wanted to leave information behind. He had to own the book; it wasn't enough that he could borrow it from a library."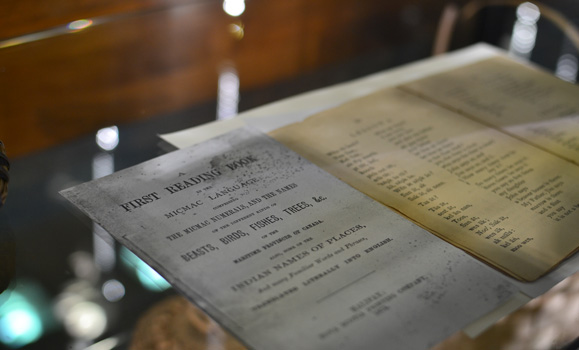 Book dealers on 'speed dial'

Jim amassed his extraordinary book collection over twenty years, dealing with some of the most well-known antiquarian book sellers in Canada. "He had antiquarian book dealers on speed dial," says Ron. The most unique books in Jim's collection are bibles, hymnbooks, and catechisms in Mi'kmaq, some dating to the late 1800s.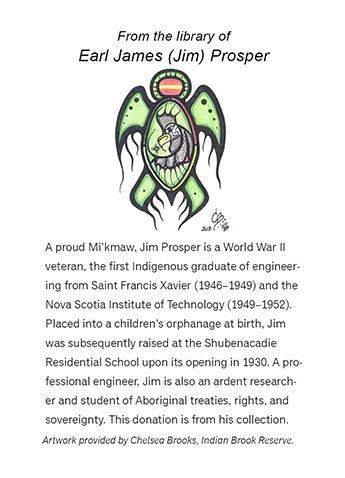 Eventually, Jim's book collecting slowed down, and once he reached his nineties, it became challenging for him to continue living alone. His family helped him move to a senior's residence — where, at 97, he still lives — and then came the difficult job of packing up the homestead.
Left: The bookplate that appears in all donated books. Artwork by Chelsea Brooks, Indian Brook Reserve.
Ron knew his father's book collection was special, having seen how much love and effort he had put into curating it. "I knew that if the collection was ever going to survive intact, there were very few institutions that would have the capacity to take it on. I felt that a university, being an institution devoted to learning, would be the best place for the collection. I also wanted to take it somewhere close to my father's birthplace, and that was how I decided upon donating the collection to Dalhousie," says Ron.
Exceedingly rare and old

Phil Laugher, a digital asset technician in the Dalhousie Libraries with a twenty-two-year background in the antique book trade, assessed Jim's collection and says it is one of the most thorough he's ever encountered. "This collection was developed through a meticulous effort. It was a true labour of love in both the quality and quantity of the materials. There are 100-year-old items in pristine condition, and in some cases, only two other libraries in the world have some of these titles," says Laugher.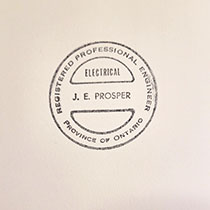 The exceedingly rare and old books will be securely housed in Dalhousie Libraries Special Collections, while the more contemporary books will be found on the shelves in the newly launched Indigenous Community Room, found on the first floor of the Killam Memorial Library in the Gord Downie and Chanie Wenjack Legacy Space. The room, collaboratively designed with members of the Indigenous community at Dalhousie, creates a welcoming gathering place for Indigenous students, staff, and faculty to host and attend Indigenous ceremonies and events. 
"Things just could not have gone better," Ron says, of the process of donating more than 700 books from his father's collection to the Dalhousie Libraries. "There were so many people with the right expertise working on this donation at Dalhousie, and the timing of the donation coinciding with the opening of the Indigenous Community Room in the Killam Library, it's all part of the wonderment of how this unfolded." 
Above right: Jim's personal stamp, which appears in many of the books he donated.
Jim was not able to travel to the official opening Indigenous Community Room on Tuesday morning where his collection was being introduced to the Dalhousie community, but Ron and some members of his family were honoured guests at the event, with Ron giving remarks about his father.  (Watch for coverage of the room opening later this week on Dal News)
"There is a unique story behind each of the collections that our donors give to the Dalhousie Libraries," says Donna Bourne-Tyson, dean of Libraries. "The genesis of this particular collection and how it supported Jim Prosper's understanding of his family and his Mi'kmaq heritage makes it a very special and moving story. We are honoured to be entrusted with the preservation and sharing of this collection."