A group of Indigenous students from Dalhousie have embarked on a two-week study tour of New Zealand that will transport them deep into the country's rich Māori history and culture.

Dr. Lisa Binkley, a professor in Dal's Department of History, describes the inaugural study abroad opportunity as "an in-country study tour through a Māori lens." The Māori are New Zealand's Indigenous peoples.
For the first time, students will see the interwovenness of Māori culture across Aotearoa-New Zealand — the Māori language name for New Zealand — as they travel through the Northern Island.

"The guiding idea is to experience other Indigenous groups in other places in the world," says Dr. Binkley, who arrived in the country with the students earlier this week.

The te reo Māori (Māori language) name for New Zealand has become recognized by a growing number of organizations within the country. Lately, Canada recognized the hyphenate. Like Canada, New Zealand is reckoning with its colonial legacy.

"I often think we're going to Aotearoa, not New Zealand, because it's all unceded land," says Dr. Binkley. "Everything, even the language, is so integrated. When they're talking to you, they even throw in these [Te Ao Māori] words so you've kind of started learning their language, too."

Over the past decade, Dal has started to walk its own path of reconciliation. This new three-credit Indigenous Studies course, called the International Travel Experience, strengthens the university's expanding Indigenous Studies certificate program by opening Indigenous students and faculty to new forms of knowledge exchange.
Cultural exchange


To bring the course to life, Dalhousie's International Centre worked with Dr. Binkley and fellow Dal Indigenous Studies faculty members Patti Doyle-Bedwell and Dr. Margaret Robinson along with Māori educators and facilitators with the Kāpuhipuhi Wellington Uni Professional — a Māori-led education group at the Te Herenga Waka-Victoria University of Wellington.
The course was funded by a federal grant that offers post-secondary students who have historically travelled less during school new opportunities to do so.

"Maybe this is just the beginning of further travel opportunities," said Dr. Binkley. "I think it will create an amazing relationship with people down there."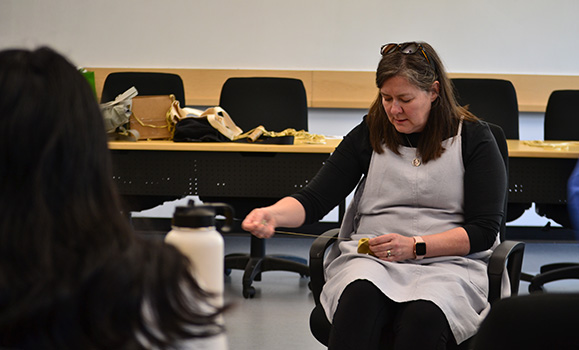 Dr. Binkley illustrates a method for sewing a medicine pouch.
Following the 18-hour flight, Dr. Binkley and the students were welcomed to the territory by Elder Marie Cocker from Wellington Uni Professional.

The trip's itinerary encapsulates a variety of interests one might expect from 14 students from different Indigenous backgrounds and academic departments (from law, environmental science, and health to arts and museum studies).
"It's a pretty diverse group," says Dr. Binkley, explaining there are students from seven different Indigenous nations going. "I think it'll be wonderful because some are from community, some are from the city.

"And I think people are just curious. We've tried to foster a really safe environment so that they share what they know with each other."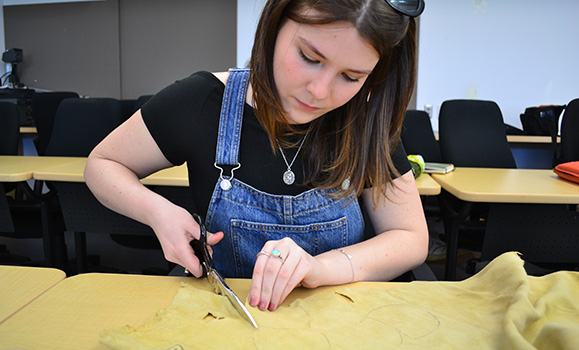 A student cuts deer hide for use in medicine pouches. 
Cocker began introducing Dr. Binkley to Māori culture before the trip. Unlike Canada, there is one Indigenous People in Aotearoa-New Zealand: the Māori.
"I think the experience itself is just to be able to go and see how the Maori live, work, operate, speak, interact, share, collaborate and all those things," says Dr. Binkley. "Because it's so different [than] experiences in Canada. I think that's going to be important."

Recommended reading: African Nova Scotian students uncover powerful new perspectives abroad
Leading new conversations


Ann (Annjij) LaBillois, Dalhousie's Elder in Residence and a Philosophy and Indigenous Studies student at Dal, is thankful to be among the students chosen to go along on the trip.

 "I love Mother Earth. And for me, I can travel anywhere in this world and when I touch Mother Earth, a part of home travels all the way that far, also, because that's how the land connects with each other," she says.

"So, I don't get lonely. And it's like, saying, 'Hello,' when I get there: 'Hello. Oh my gosh, I'm so honoured to meet you,' to the trees or whatever is there. That's so exciting. To be able to touch them and feel them. Feel how it breathes over there. That's the reason why I really wanted to take this course. I'm so grateful that I got chosen."
LaBillois and the other students will meet with Dr. Binkley each morning before breakfast. Each student was given a journal to note down their experiences as part of the course and each will take a turn leading a circle discussion. They can lead it in prayer or song or simply talk about the experiences they had the day before.

"Each day, I'm going to put one to two students in charge of that conversation so that they can put their own flavour on it," Dr. Binkley says.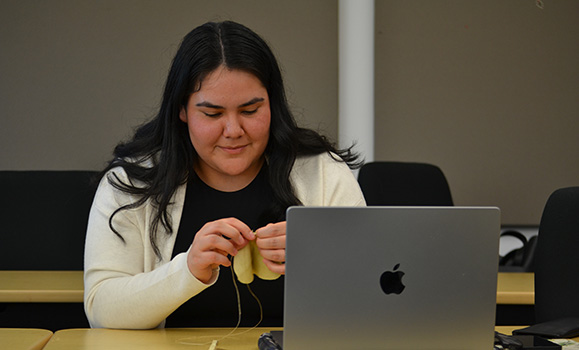 Students will have many experiences to draw upon. Activities include a day at the Te Papa museum, learning about Māori repatriation of remains and objects with curator and researcher, Amber Aranui. They'll tour Mount Victoria, have brunch in Hobbiton, visit Aotearoa-New Zealand's biggest farm show, spend the afternoon at the Te Puia springs,visit Matiu Somes Island to hear iwi stories, see Lake Taupō and the Huka Falls and have a free day with Auckland.

They'll also share stories of their Indigenous science knowledge, attend Mātauranga Māori and Indigenous science lectures at the university, visit the Wētā workshop where the Hobbit was made, visit the university's fine arts campus, see a Waitangi Tribunal, sit in on classes at Raukawa University-Indigenous University, visit historic Takupawahia settlement, and meet the authors of Imagining Decolonisation.
As they travel through the Northern Island, they'll complete a few mini courses, as well. One is on intercultural competencies.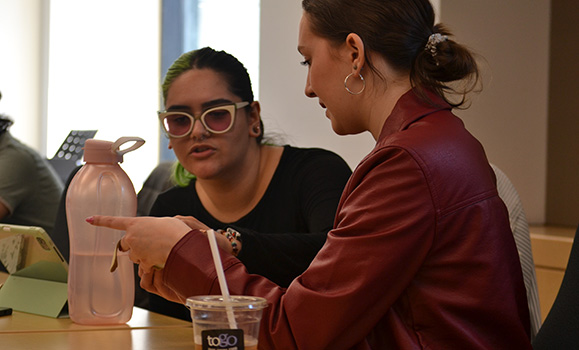 Dr. Binkley wants to be very decolonized without quantitative assignments that are common across the university.
"So, one assignment is having your journal and just reflecting and doing what you want to do in it," said Binkley, "because we never have enough time. And that was kind of a requirement is that you're going to take time for yourself."

Another project allows students to choose their own topic and form.

"They can make a video, draw a map, they can really do whatever." This is possible because Wellington is a walking city, and they'll be given free time to explore or continue conversations with people they've met within different settings.
A parting gift
 
Dr. Binkley says there's also a hope that maybe someday Māori students will have a chance to come to Canada.
"I think that would be wonderful. Then we'll have an idea of what we can do to show them who we are."

They'll aim to give a glimpse of this at the end of their trip when they gift medicine pouches they created in class at Dal with their Māori hosts. Dr. Binkley led the group in making the deer-hide pouches a few weeks before they departed — an experience that seemed to foreshadow the kind of knowledge-exchange that could happen on the trip.

"One student was sitting there and went over to her neighbours and started teaching them her own way of making the medicine pouch," says Binkley. "That's fantastic. That's sort of what it's all about."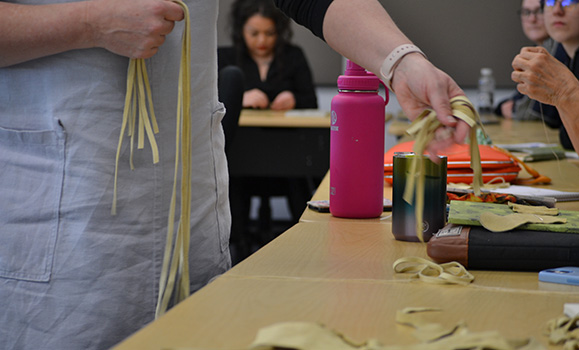 Dr. Binkley passes out materials during the medicine pouch workshop.