A new Dalhousie study abroad program offers African Nova Scotian students immersive travel experiences aimed at shifting their perspectives on what it means to be Black and a person of African descent. 
The program, piloted last year with a trip to Zambia, does so by sending students to places decidedly different from their home province — places where Black people are the majority population. 
Jalana Lewis, Dal's director of African Nova Scotian community engagement, says exposing students to countries, cities, and colleges with predominantly Black populations could be transformative for some.
"Imagine a current student who's already at Dal going through their degree, but then they get to have this moment in time where they get to imagine a different sort of learning experience," says Lewis, who helped design the program — along with Dr. Barb Hamilton-Hinch, Dal's assistant vice-provost, equity and inclusion — as part of Dal's African Nova Scotian Strategy.
This year, the program will take students south of the border to visit Historically Black Colleges and Universities (HBCUs) in North Carolina and Washington, D.C. and overseas to the African continent for a major conference in Ghana.
The program, funded by Universities Canada, is open to all undergraduate students currently enrolled full-time at Dalhousie who identify as African Nova Scotian. Applications for this year's opportunities are closed but stay tuned for future opportunities.
Recommended reading: Bringing Dalhousie's African Nova Scotian strategy to life (Dal News)
A Zambian adventure

Dal Nursing student Arielle Noseworthy, who went on the trip to Lusaka, Zambia, last August, recalls how she felt upon first arriving. 
"As soon as we landed in Zambia, I was really overwhelmed to see that I was no longer a minority," she says. "It was predominantly a Black population. That's the first thing I really remember: how different that feeling was to not be the minority population anymore."
Organized in partnership with Ghana's Youth Bridge Foundation, the trip to Lusaka focused on students attending the 2022 African Youth and Governance Convergence conference.
Students at the conference were assigned corresponding "pillars" or fields of specialty, with each of these pillars then generating ideas or strategies to combat common problems of that field. Arielle's pillar focused on healthcare.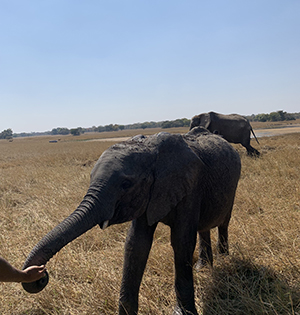 "In healthcare, we were talking a lot about ways to expand in the communities that are remote like with telehealth," she says. "Here in Nova Scotia, we have a lot of virtual health programs that help those in remote communities, and those that are without family doctors. We would come up with ideas such as those and made a proposal with the General Assembly to see if these ideas will be passed into motion and potentially implemented."
She says the conference provided an opportunity to connect with different peoplefrom all over Africa and the African Diaspora. 
"Connecting to see what the problems there were and that those problems were also problems that were happening in Nova Scotia — and in Canada — and then coming together and trying to figure out a way to combat these struggles," she says.
Students also went on a guided safari as part of the experience in Zambia.
"We had the most surreal and beautiful experience of feeding a mother and baby elephant," says Arielle. (See image above right.)
Recommended reading: Schulich School of Law introduces first mandatory course on African Nova Scotian legal history and issues
Creating connections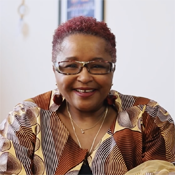 Dr. Hamilton-Hinch (shown left) says every aspect of these study abroad trips (including the HBCU trips) counts towards three credits of a student's undergraduate degree at Dal. 
"The students are going to be in a two-week intensive program," she says, of this year's trips. "But leading up to that — and following that — they will have the equivalent of what you would do in a course."
At the end of April, students travel to Howard University in Washington D.C. as part of the HBCU field course opportunity and to Ghana in August. 
Lewis organized these U.S. trips and hopes they will open students' eyes to the importance of Black history and Black social justice in America. 
"Washington, D.C. is a hub of Black America, Black history, Black politics, and learning."
Dr. Hamilton-Hinch will accompany students to Ghana this year.  She recalls a powerful moment from one of her own trips there when the country's tourism minister greeted her and others by saying "welcome home sons and daughters of our strongest ancestors." 
Students will have the opportunity to visit some of the historical sites in Ghana, including one of the places where people of African descent were held captive during the transatlantic slave trade.
"These trips provide students with an opportunity to connect with themselves, others, and to learn more about the life of other people of African descent in the Diaspora," says Dr. Hamilton-Hinch.