Students commonly experience stress and anxiety in university, but left unchecked these feelings can batter mental health and jeopardize success.

A 2022 survey of Dal students revealed that nearly half felt stress was impacting their academic performance or delaying progress in their degree.

The pandemic exacerbated matters. National research shows that three in four students have struggled with mental health challenges during their studies, with 75 per cent indicating matters have worsened due to the health crisis's lingering effects.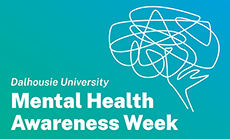 Dal has responded to this worrying trend by stepping up efforts to help students. For the third year in a row, the university will be hosting its own Mental Health Awareness Week (March 10-17) to promote mental health and help build a sense of belonging and holistic well-being for all students.
"We are here to help facilitate and support students in whatever initiatives and events they feel will promote good mental health on campus," says Jonnie-Lyn Baron, health promotion manager with Student Health and Wellness and one of the organizers behind the week.

The week-long campaign will engage students in events, activities, and conversations that provide opportunities for improving emotional and spiritual well-being, discussing life's challenges, and building long-lasting social connections.
The week is a collaborative effort between Student Health and Wellness, other university departments, students, and student leaders.
Dealing with life's challenges

Mental health promotion at Student Health and Wellness is guided by a commitment to helping people from all walks of life to enjoy life and deal with life's challenges. Honouring this commitment, Equity, Diversity, Inclusion and Accessibility (EDIA) values are upheld in the initiatives being planned.
"Our goal is to create an environment where everyone feels safe and accepted," says Baron. "This is paramount to ensuring people can achieve their full potential as healthy, resilient, and inspired members of the Dalhousie community."
Key findings from the Mental Health Commission of Canada and Canadian Alliance of Student Associations note that the top positive drivers for mental health include relationships with friends (71%), relationships with family (68%) and stable housing (59%).
Several in-person and virtual events, programs, and campaigns being offered and are designed to stimulate discussion, social engagement and even become a catalyst for new, impactful initiatives across Dalhousie campuses.
There are painting and game nights, yoga and dance classes, journaling, sleep and self-kindness workshops, a panel discussion on imposter syndrome as a grad student, and other events aimed at addressing misconceptions about mental health and many more.
Find full details on what's happening, visit the Student Health and Wellness site here.
Recommended reading: Feds boost research tackling emerging youth mental health issues