The federal government announced nearly $5 million in new investments Tuesday to examine existing standards, best practices, and guidelines for the delivery of mental health and substance use services for children, youth and young adults.
The investment — through the Canadian Institutes of Health Research (CIHR) —will fund 25 projects across the country. The Honourable Carolyn Bennett, Minister of Mental Health and Addictions and Associate Minister of Health, made the announcement at Dalhousie over video conference.
"The system as it's currently functioning is not meeting the needs of Canadians," said Bennett.
"As we work to improve Canada's universal health care system, children, youth and young adults deserve access to the highest quality of mental health and substance use care no matter where they live in Canada. Today's investment will ensure that the national mental health and substance use service standards that are being developed with provinces and territories are grounded in evidence."
Fewer than 20 percent of the 1.2 million children and youth in Canada affected by mental health issues currently receive appropriate care and treatment.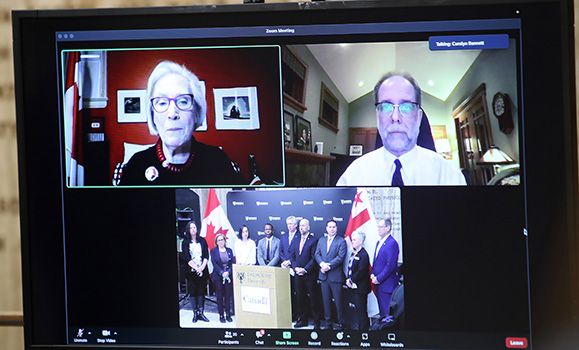 Bennett pictured above left.
Serving underserved populations
 
Several of the new research projects will ensure that underserved populations such as Black, Indigenous, gender diverse and racialized youth will be represented, as they face disproportionate challenges and barriers to accessing care.
Dr. Remigius U. Agu, a professor in Dalhousie's College of Pharmacy who is on a Dal research team receiving funding from CIHR, spoke about the importance of this acknowledgment of children and youth of African descent. He said providing care that is culturally competent and sensitive is critical. He and his team will be working with grassroots organizers in Nova Scotia.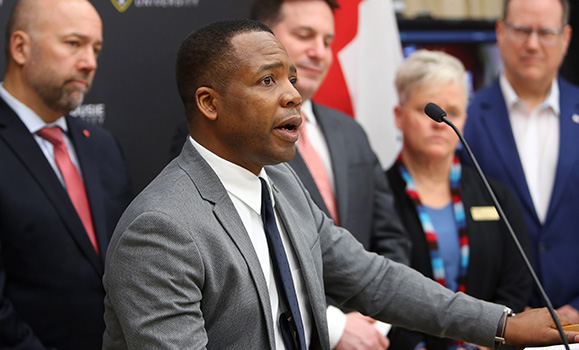 Dr. Remigius U. Agu speaks at this week's announcement.
Dr. Jill Chorney, an associate professor of Psychiatry at Dalhousie, emphasized the need for person-centred care, in which healthcare providers really learn about the youth beyond their labels. She said it's important that healthcare providers' best intentions actually meet the needs of diverse communities and that it's not just a box-ticking exercise. 
Other research projects will study standards relevant to different care settings such as hospital emergency departments and juvenile justice settings, as well as different types of standards such as reducing wait times and delivering culturally inclusive care. They will also look at standards for specific mental health and substance use conditions such as anxiety, depression and/or eating disorders.
"Dalhousie is proud to contribute to a body of knowledge that promises to improve equity and access to mental health and substance use health care for young Canadians," said Frank Harvey, Dalhousie's acting president and vice-chancellor at the event. "National service standards will provide a comprehensive view of the systems that underpin the delivery of mental health in Canada, exposing gaps and opening doors with culturally inclusive care for young people from underserved communities."
Several other members of parliament and ministers were on hand for the Dal-hosted announcement, including Andy Fillmore (MP for Halifax), Lena Diba (MP for Halifax West), Darren Fisher (MP for Dartmouth-Cole Harbour), and Marco Mendicino, minister of public safety. Faculty of Health Dean Dr. Brenda Merritt and Dr. Christine Chambers, Canada Research Chair in Children's Pain and a professor of pediatrics at Dal, were also in attendance.
Recommended reading: Trudeau taps student energy and ideas at health‑care town hall