Giving people more personalized care options. Expanding dental coverage. Shifting addiction issues out of the criminal justice system and into health care.
These are just a few of the ideas Prime Minister Justin Trudeau shared with university students in response to their questions about how to improve Canadian health care during a town hall Thursday afternoon at Dalhousie.
More than 100 students from five Halifax-area universities attended the event in the Collaborative Health Education Building, where they asked the prime minister about everything from doctor shortages and surgery wait times to pharmacare and beyond. In opening remarks, Faculty of Health Dean Brenda Merritt said health care has never been more front and centre for Canadians.
Trudeau admitted that Canada's health-care system is not working that well for some people right now. But he warned it would be misguided to give in to critics who point to these challenges as evidence of flaws in a publicly funded system.
"That's simply wrong," he said.
Instead, he said governments should focus on ways to uphold and improve upon Canada's public system.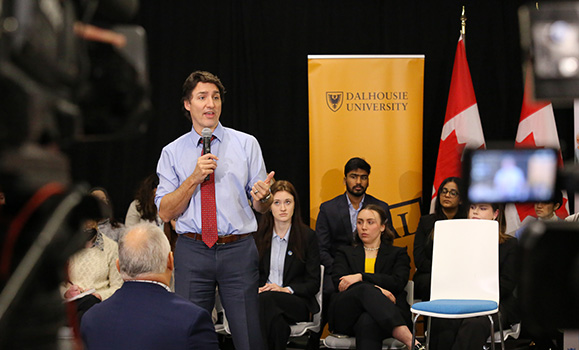 While the provinces are responsible for administering health care locally under the Canada Health Act, Trudeau said the federal government plays a critical role in the system by both helping fund it through tens of billions of dollars in transfer payments to provinces and in collaborating on solutions.
"Our job is to make sure Canadians are getting the right services, the right health care across the country. And the way to do that is to really focus on outcomes," he said.
Student success critical

Trudeau confirmed at the event that Ottawa has reached agreements-in-principle with Ontario and the four Atlantic provinces on a new health-care funding offer made at the first ministers' meeting earlier this month.
That funding agreement would see an additional $46 billion in new federal funding for the provinces and territories over the next decade.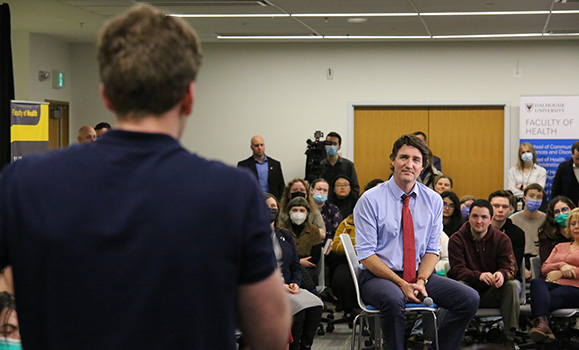 To ensure better outcomes, Trudeau said provinces will have to direct that new money to four key areas: access to family doctors, better access to mental health care, more support for health care workers (and, relatedly, a reduction in wait times), and better sharing of data within and between provinces.
"As those get improved, the results throughout the system will improve," he said.
Students from Dalhousie, Saint Mary's University, the University of King's College, NSCAD University, and Mount Saint Vincent University participated in the event.
Trudeau stressed the critical role students like those gathered could play in helping shape the future of health care in Canada.
"It is so unbelievably important to all of us that you are able to succeed," he said. "That you are able to fulfill your potential. That you are able to make it through these years where you're learning, growing, developing into people who will be able to not just contribute to society for the coming decades but shape the society and the world we live in for the coming decades."
Recommeded reading: Dal prof leads initiative to bring PrEP prescribing into community pharmacies