Universities provide numerous pathways for learning, personal growth, and career development, yet for some individuals it's a journey hindered by obstacles.
In some cases, barriers prevent physical movement. In others, they present daily challenges for learning effectively in a classroom or accessing a service efficiently. In all cases, they create unnecessary hardship and can strip individuals of valuable opportunities.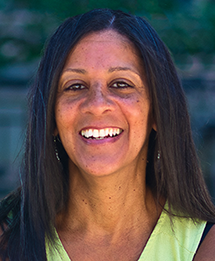 "Removing these barriers is key for equitable access to education, research, employment and services," says Quenta Adams, director of Student Academic Success at Dal and co-chair of the university's Accessibility Advisory Committee.
This year, Dalhousie accelerated its efforts to do just that when it released its first university-wide Accessibility Plan. The plan lays out a detailed roadmap for ensuring the university meets Nova Scotia's goal of being fully accessible by 2030, not just for people with visible disabilities but also those who struggle with invisible disabilities linked to mental health and neurodivergence.
Dal's framework, informed by the province's Access by Design plan as well as years of research and consultation across the university, identifies six key areas where changes are needed and the university's commitment to each:
Built Environment
Our commitment: Buildings and outdoor spaces on Dalhousie University's campuses provide meaningful access for intended users.
Teaching, Learning, and Research
Our commitment: Dalhousie University is a leader in inclusive and accessible teaching and learning, and collaborative research on accessibility.
Goods and Services
Our commitment: Students, employees and visitors with disabilities or others who experience barriers to accessibility have equitable access to goods and services provided by Dalhousie University.
Information and communication
Our commitment: Ensuring all people can receive, understand, and share the information provided by Dalhousie.
Transportation
Our commitment: Transportation provided to Dalhousie employees and students is accessible.
Employment
Our commitment: Dalhousie University is an accessible and equitable employer, supporting the careers of employees with disabilities or others who experience barriers to accessibility, and ensures their employees reflect the diversity of Nova Scotians.
Each area of commitment is supported by a series of recommendations, which Dal will track to measure its success on the road to achieving full accessibility for those with visible and invisible disabilities.
(For further information about recommendations, visit dal.ca/about-dal/accessibility-plan/projectplan.html or download the full plan below).
Download: Dalhousie Accessibility Plan [PDF - 300kb]
Capturing lived experience and expertise

Collaboration and consultation were key to building a plan that complements existing accessibility policies and initiatives at the university, explains Adams.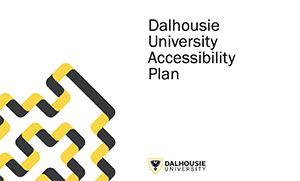 The Student Accessibility Centre (Student Affairs), Accessible Employment (Human Resources), the dis(Ability) Caucus for faculty and staff, and Facilities Management were all deeply involved in the planning process, which kicked off in August 2019 following a university-wide accessibility audit.
The Accessibility Advisory Committee, which Adams now co-chairs with Chris Hattie, acting vice-president of Human Resources, was set up to help guide the planning process. Decision-making teams were then created to tackle commitments and recommendations in each focus area. These were comprised of members of the Dal community, including those living with disability and leaders responsible for accessibility work.
"We've arrived at this critical stage due to voices from the margins being centred in this work and with lived experience visible, supported, valued, and celebrated," says Adams.
In addition to assigning working groups to create sub-plans for each commitment area, the university also gathered valuable input and data through an accessibility survey. Respondents totalled 2,209, including 942 students, 346 faculty members, 921 staff — each completing a survey customized for their group.
The various sub-plans and data gathered were then weaved into the final plan, which integrates the province's own planning guidelines for post-secondary institutions.
The university will track its progress towards meeting the plan's recommendations on a webpage featured in the Accessibility Plan section of Dal.ca.

Recommended reading: When a little effort goes a long way
Introducing Accessibility Week – Nov. 28-Dec.5

This week, Dalhousie has launched a new annual initiative called Dalhousie Accessibility Week.
The university's inaugural campaign kicks off today, November 28, and runs through until December 5, overlapping with the International Day for Persons with Disabilities (Dec. 3).
Dal has a series of public events and initiatives planned for the week to raise awareness about the Accessibility Plan and accessibility at the university more generally.
"The success of our new Accessibility Plan involves all members of our community, as we continue our path towards a more inclusive campus," says Hattie. "We hope that the inaugural Accessibility Week will be an important step towards bring awareness to this important topic."

Learn more about what's happening on the Accessibility Week webpage.