Warming up a slice of pizza using a microwave with a touch screen is a regular part of most students' lives. Unless of course, that touch screen is completely useless to you.

"If I approach the microwave and there's nothing tactile to indicate how to program the microwave for temperature or time, I can't use that appliance. Not being able to use the same appliances that everyone else uses is really disheartening," explains Gabrielle Close, a second-year psychology student.

Gabrielle is blind.
She chose Dalhousie because of its commitment to accessibility and the university's ability to move quickly to accommodate her needs. Soon after she arrived, braille signs were installed on the stove and microwave in the kitchenette on her residence floor in Risley Hall.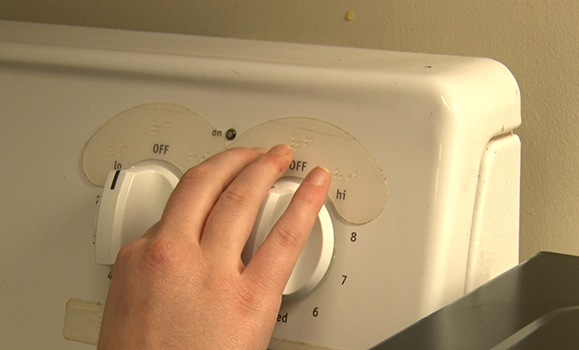 "There has been a lot of effort on Dal's part to make this environment as accommodating as possible," she says. "That involves having accessible signage as well as implementing measures that allow me to receive assistance when it is needed in situations that might be a little bit more challenging for me."

Similar braille signs were also installed at every station in her dining hall.

"The dining hall is often busy, and furniture is often being re-located, so it's just a very dynamic environment. When I come in, someone meets me and lists off the items on the menu and assists me in picking out the ones that I am interested in. Even though I receive assistance from the dining hall staff, having signage is very helpful because as I'm moving along the serving area, I can feel the signs and determine if that's a spot that I might like to order from."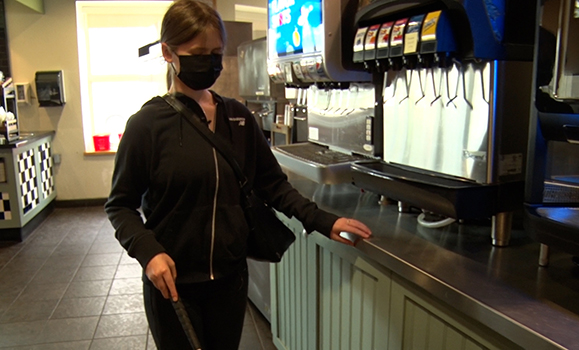 Recommended reading: The path to full accessibility -- Inside Dal's plan to transform its campuses and services by 2030
Adapting to university

Gabrielle was assigned an access advisor — a one-on-one support person who helps facilitate student access to academic courses and programs, facilities, services, and activities — as soon as she was accepted to Dal. Her advisor arranges for assigned seating near an outlet in class, so she has power for her specialized technology and also plans routes to get to class.
"Not being able to focus on academics and only focusing on whether or not a building is accessible can be stressful," she says. "University is a very new experience. I'm still learning, and I'm still finding ways to adapt, so having someone who can guide me through some of the challenges that I may face means a lot to me. This is one of the best ways in which a university can support a student like myself."
For Gabrielle, all that effort has been more than appreciated.
"I just feel like anyone else. I don't have to place my entire focus navigating spaces that may be inaccessible, or worry about whether or not I can find something to eat in the dining hall, or whether or not I can find my room. Having signage in place and having supportive staff members is wonderful because it makes university life a much more enjoyable experience."
Recommended reading: What It's Like — First‑person perspectives on living with a disability