During the early days of the COVID-19 pandemic, leaders around the globe were searching for solutions to help get a handle on the crisis. When would the next wave hit? When would the next surge wash over their community?
Testing on an individual basis provided answers, but often a COVID wave was already a flood by the time epidemiologists could fully absorb and analyse the results. There was demand for more immediate feedback on the levels of infection streaming into communities.  
Innovators around the globe were searching for solutions — including a small business in New Brunswick with a solution focused on testing water downstream in the pipes leading from our homes and business.
Outsourcing a brilliant idea

"As the pandemic went on, we determined that there is something interesting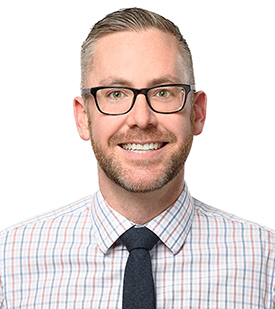 here with the wastewater," said Jordan Schmidt, director of product applications at Fredericton, N.B.-based LuminUltra Technologies. "How might we develop a wastewater test kit that is accessible for a larger audience. Our research and development team had an idea, but they didn't have the time because they were focused on higher priority clinical testing."
LuminUltra was focused on fulfilling a contract with the Government of Canada to produce tests for individuals, so it did what it often does when it wants to put new ideas to work. It turned to their longstanding research partners in Dalhousie's Centre for Water Resources Studies.
"We had the idea, but we didn't have the people to follow through. And Dal had a lot of folks that were interested in working in the lab and doing something to protect public health, so it was a natural win-win," says Dr. Schmidt (pictured above right).
The result was a new patent-pending innovation for wastewater testing that is easy-to-use and provides results in hours. It was a significant improvement over previous testing options that could take weeks to provide results and required specialized equipment and lab expertise. The new process opened wastewater testing to a huge new market.
A climate for water innovation

It's wins like this that inspired NSERC to approve a new $7-millon Alliance Grant that will enable Dalhousie researchers to work with public and private sector organizations focused on water testing and treatment. The aim is to better understand the coming impacts of climate change. Led by Graham Gagnon with co-investigators Amina Stoddart, Mita Dasog and Alison Scott, the team is set to study how rising temperatures could affect our water systems, from the water we drink to the water we pump out into the world.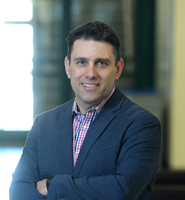 "With climate change will come a change in the temperature of surface water that we use as sources of drinking water," says Dr. Gagnon (pictured left). "But this also results in changes in water chemistry and water microbiology. In other words, if the water is warmer, different species can grow, they can grow longer in some cases or shorter in others."
And some of these species, like blue-green algae, will not be fit for human consumption, while others may not be safe for the ecosystems they are ultimately released to.
Dr. Gagnon says acquiring an understanding of changes to come is valuable to industrial partners like Halifax Water, one of eight organizations, including LuminUltra, making financial or in-kind contributions to gain access to Dalhousie research. He says being able to envisage what our water supply is going to look like in years to come will allow Halifax Water and other organizations to make strategic investments to keep customers safe and efficiency high.
"When an organization designs a treatment plant, they typically design for a 25- to 50-year lifecycle. If you don't know exactly what you're going to be treating it makes it very difficult. You have to ask, 'If the temperature changes by one and a half degrees, does that mean I'm treating something different? Do I have to put other provisions in my treatment plant as a consequence?'"
Putting ideas into action

For LuminUltra, the research is informing rapidly paced business decisions and product development that is having a substantial return on investment. The COVID-19 wastewater test kit they developed in collaboration with Dal has become a "beachhead" that helped launch the company in new directions, land major new clients and expand their operations around the world.
"It has grown from there and along the way we have commercialized different items that have been well accepted," says Dr. Schmidt. "It has allowed us to be an innovative player in the space. We were the first to the market with a lot of these solutions and people have followed our lead. It's become a busier market, but within that we have been able to do a lot of interesting projects."
The company has inked contracts with the Centers for Disease Control and Prevention in the United States to monitor wastewater at corrections facilities and for 500 municipalities. They are doing wastewater epidemiology in remote camps in Northern Ontario and cruise ships, and have customers in the UK using their products for mobile laboratories in the back of Sprinter vans.
Related reading: Dal researchers help develop wastewater test that could act as an early warning sign for COVID‑19 outbreaks
Drawing on students

Dr. Schmidt, a Dalhousie PhD graduate who studied with Dr. Gagnon, points to the university's research team, including its graduate students, as an engine of novel ideas that keep LuminUltra in a constant state of innovation development.
"We're completely on board with harnessing the innovative spirit that a lot of the graduate students have, and their drive to bring their ideas to the world," he says. "Everyone has a desire to make a difference and I think that's where we have common core values between the research group at Dalhousie and our eight research partners."
PhD student Emalie Hayes says the opportunity to develop wastewater testing solutions for COVID-19 that potentially saved lives is hugely satisfying.
"I've learned so much from working and collaborating with LuminUltra and Halifax Water. It gives us the chance to expand our ideas, make them into commercial products, take our research to the field, and just do more," she says.
"To see something that you've been working on with your fellow researchers help people and to be able to expand this new field of research and have an impact – it really is exciting."