This article is part of a series focusing on the grads of the Dalhousie Class of 2022. Spring Convocation runs from May 24 to June 3 in Halifax and Truro. Read all our profiles here as they are published, and for more information visit the Convocation website.
For Claire Mercer, keeping busy and involved with campus life has been a huge part of her career as an undergraduate student at Dalhousie. This spring, Claire graduates with a Bachelor of Arts degree, with a Combined Honours in History and Political Science. In addition to the degree that she worked for over the past four years, Claire also leaves Dal with valuable work and volunteer experience both on and off campus and several special achievements to be proud of.  
With a strong interest in international relations, Claire (originally from Hubley, Nova Scotia) began her studies in the Faculty of Arts and Social Sciences (FASS) with a plan to major in Political Science. However, she shifted her degree focus to also include history, not only because the topic has been a lifelong passion, but also because she realized the strong relationship between those two subject areas.
"Both Political Science and History are very human-centric disciplines," says Claire. "Political ideologies always interested me, as did twentieth century history, so I wanted to focus my research on those two areas in particular. This led me to address in my honours research how fascist ideology related to artistic representation in Germany during and before the second world war."
Jumping into student life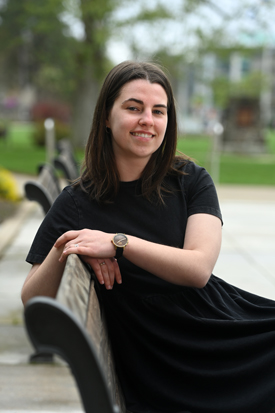 Claire had a goal to gain a more well-rounded image of Dalhousie and its structure, and so she jumped right into getting involved with campus life. In her first year, she joined the Dalhousie Undergraduate Political Science Society (DUPSS) and became the society's First-Year Representative. She stayed on as an executive member of the society straight through to her senior when she became the society's President. Through DUPSS, she developed strong faculty and peer relationships which allowed her to pursue other opportunities within the university, including a part-time job as a minute-taker for the University Secretariat, being selected as the student representative for the FASS Academic Development Committee, supporting the FASS Dean's Office with new student recruitment and orientation activities, and becoming involved with the inaugural Stanfield Conversations: Talking Democracy event.
Additionally, in their final term at Dal, Claire and her peer Ronald Blanchard (President of the Dalhousie Undergraduate History Society) took it upon themselves to reinstate the Dalhousie Arts and Social Sciences Society (DASSS), a society which had been absent for the past few years. Claire knew the importance of a faculty-level student society and felt the impact its absence left for FASS students.
"I wanted to have DASSS reinstated before I left Dal because I wanted incoming and returning students to have a fulfilling experience at university, which for many will mean being part of a society or participating in important campus community initiatives facilitated by societies," explains Claire. "DASSS is critical in ensuring that a common and inclusive campus culture exists, because they provide support for societies. This support will become even more critical when everyone returns to campus in the future."
Claire adds that all Dalhousie societies deserve to have an organization that ensures proper oversight and communication with the Dalhousie Student Union (DSU) and that DASSS is needed as an important support system for FASS student societies and their relationships and connections with the DSU.
Claire's commitment to campus life and FASS students did not go unnoticed. She was nominated for and selected as the recipient of the 2022 Faculty Leadership Award for the Faculty of Arts and Social Sciences as part of the Dalhousie Impact Awards.
"It was truly an honour to have been nominated for the FASS Faculty Impact award, and winning it was something that I never expected," says Claire. "I immediately felt grateful that someone felt I was worthy of being recognized for my involvement at Dal."
Never be afraid to ask questions

Throughout her four years at Dal, in addition to her full course load and her involvement with campus societies and activities, Claire also consistently balanced at least two part-time jobs off-campus. In her first year, she worked jobs as a lifeguard and in customer service. Over the next few years, she worked for the QEII Hospital and for Debate Camp Canada. In her fourth year in addition to the work she did for Dal's University Secretariat, she also worked at Agricola Street Books.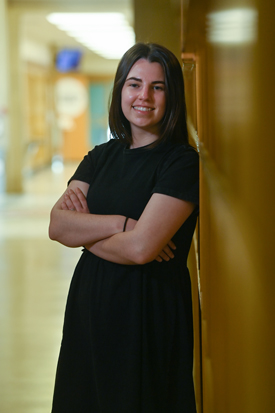 "Keeping busy has always been a state of being for me, because I've been involved in many activities throughout my life," says Claire. "Having a lot on my plate allows me to set personal goals, constantly be challenged and prepare myself for the 'real world' after university."
She adds that although her drive to be active, busy, and involved has introduced her to important connections and opportunities, that lifestyle came not without its challenges.
"I often failed to prioritize my personal health, because I left self-care and self-compassion out of my school/work/life balance," she says. "Burnout has been a very prevalent factor in my life for the past four years, but I have approached and handled it as a lesson for the future."
With that in mind, Claire advises new and returning university students to focus on the things in their life that will make them feel fulfilled in the long term.
"This fulfillment is obviously different for everybody, and that is great — life would be so boring if we all had the same interests and experiences!" she says. "So go out and have your experiences, both the positive and negative ones will help you grow and become who you want to be. Other than that, work hard and never be afraid to ask questions."
Claire leaves Dal with a plan in place, at least for the near future. She has a new job at Pier 21 doing genealogical research and soon begins her MA in History at Saint Mary's University. But after four busy years, she also hopes to do some traveling and take some time to relax.