A few times a month, Anna Gaudet drops by a seniors' centre in downtown Halifax on her lunch break. She's not there to visit a family member, but instead to dig into the past of complete strangers.

To be more precise, she's there to help them get to know their family histories.

"The quote I hear a lot is, 'I never even got to meet my grandparents,'" says Anna, a fourth-year honours student completing a double major in History and Environment, Society and Sustainability (ESS). "It's a history that's far away for a lot of people, and as more and more becomes digitized, it's difficult for older people to access this resource they are really interested in."

Anna started the "genealogy clinics," as she calls them, after completing a similar project for her own family back in 2017 when she was still a high school student living at home in White's Lake near Peggy's Cove. She's served more than 25 clients since then. As she reflects on the volunteer project now, the parallels between that work and her academic pursuits at Dal have begun to shift into sharper focus.

"I like public history and personal history because they are all about people, and I've always been good at connecting with people through history," she says.
A new chapter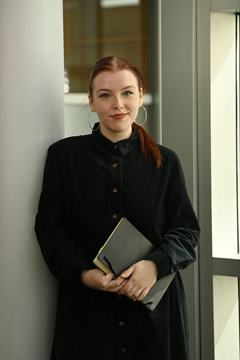 This fall, Anna will get to connect with a whole new community when she begins a Master of Arts in History at McGill University. She'll do so with a McCall MacBain Scholarship in hand. She's one of just 20 scholars selected from more than 700 Canadian applicants this year to receive the award, Canada's comprehensive leadership-based scholarship for master's and professional studies.

Anna becomes the third Dal student in two years to receive the scholarship. It carries full funding for tuition and fees, a living stipend of $2,000 a month, connections with mentors and the opportunity to participate in an intensive leadership development program.

"We are delighted to learn of Anna's latest achievement," says Dal President Deep Saini. "She is one of our star students, and I am confident that she will not only benefit tremendously from the opportunity the McCall MacBain Scholarship provides, but also further enhance the prestige of this scholarship through her work."  

Recent Dal grads Fatima Beydoun (BA'21) and Caroline Merner (BA'21) were both part of the inaugural cohort of McCall MacBain Scholars last year.

"Thank you to John and Marcy McCall MacBain for their ongoing generosity and vision. The impact they are making on post-secondary education is immense and vital to building Canada's future leaders," adds Dr. Saini.
History as a story of change
 
In the first year of her Dal studies, Anna focused primarily on history but took a sustainability course just to "check it out." She was surprised to discover powerful links between the two disciplines.

"When I realized how much history plays a role in sustainability, social issues and social change, and how they fit into it — that is what really piqued my interest. And that side of sustainability is really where I've focused my interest throughout my degree," she says.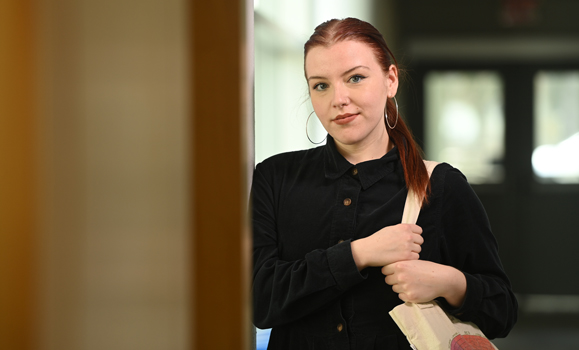 Anna gravitated to courses taught by Todd McCallum, an assistant professor in the Department of History, developing an interest in the history of social movements in the second half of the 20th century. She says Dr. McCallum's approach to history "sparked the fire" she's been working off ever since. "I invested a lot of time and energy into his courses, and I really felt like he invested it back in me," she says.

Anna's honours thesis, which she just submitted a first draft of to another History prof, Will Langford, this past weekend, centres on the recent history of Acadian fishers in Nova Scotia and what it can tell us about the dispute that erupted between settlers and Indigenous fishers over lobster in 2020.

At the core of her interest in this type of history, she says, is the way it illuminates how people relate to the bigger changes afoot in society — changes she sees herself helping to support.
The path to leadership

Indeed, the enterprising, community minded spirit that drove Anna to start her geneaology project for seniors shines through in other areas of her life as well.

This year, she represented Arts and Social Sciences students as a Dalhousie Student Union council member. She volunteers with Concours d'art oratoire, Canada's largest annual French public speaking competition. And she also serves as a board member and advisor with the Nova Scotia Secondary School Students' Association (NSSSA) — a non-profit that provides leadership development opportunities for high school students.

It was as a member of NSSSA herself in high school that Anna began her own path to becoming a community leader.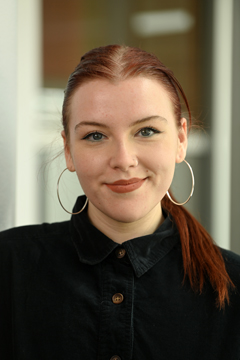 "Leadership is one of those skills that is a life-long muscle that you learn how to flex, and you have to work out to keep it in shape," she says.

One lesson that's stuck with her through the year is that figuring out what motivates you, deep down, is key to improving your skills and abilities in any arena.

Summer jobs working at national historic sites, including the Halifax Citadel and on George's Island, allowed her to dip into the world of public history. But it was a season working at the Canadian Museum of Immigration at Pier 21 in Halifax that opened her eyes to the important ways museums can help engage people in the stories of the past.

"History can be very empirical and document based, but at Pier 21 there is a lot more storytelling that went on there. I found that that was something that really made me feel differently about how we are telling stories, and how much more powerful it is when you can say a first name."

Speaking of names, Anna says one of her fondest moments as a Dal student was seeing her own in print in the undergraduate history journal published annually. "That was so huge for me and the other women in my family."
Rewards in reflection

As McGill and Montreal now beckon, Anna is excited to see where her scholarly and community pursuits lead her next — but she admits she wasn't sure if it would even pan out.
 
"This is not where I thought I was going this year. I was totally ready to enter the workforce and expand on my professional experience, but I threw myself out there, and I was so rewarded for it."

Her advice to others who might be considering an application for the coming year's cohort of McCall MacBain Scholars: "Just apply.

"The interview process alone is really rewarding. They make it worth your time. They get to know you and ask you questions that are really important and help you reflect on your work."

The McCall MacBain Scholarship application will be open in June 2022 for September 2023 admission. Interested? Find out more information here.