Getting life-changing news on a Zoom call may be the reality of our current moment, but it's no less exciting when the news is good.
That was certainly the case for Dal student Fatima Beydoun and recent graduate Caroline Merner, who were among 20 young Canadians to get the call telling them they will be part of the inaugural cohort of McCall MacBain Scholars.
Fatima, a fourth-year student taking a combined honours in Environment, Sustainability and Society (ESS) and International Development Studies (IDS), and Caroline, a 2017 graduate of the same double major, were selected from more than 730 applicants to receive Canada's first comprehensive leadership-based scholarship for master's and professional studies.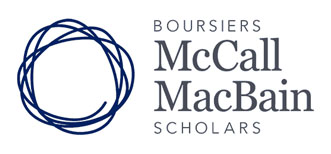 The scholarship enables students to pursue a fully funded master's or professional degree at McGill University while connecting with mentors and participating in an intensive leadership development program. Scholars were chosen based on their character, community engagement, leadership potential, entrepreneurial spirit, academic strength, and intellectual curiosity.
"We are so proud of Fatima and Caroline for being selected for this prestigious scholarship after participating in such a rigorous national competition," says Deep Saini, Dalhousie president and vice-chancellor.
"Both have distinguished themselves as dedicated advocates for vital social justice and environmental issues and are so deserving of this historic opportunity to carry on their important work. To have two Dalhousie individuals among this inaugural cohort of McCall MacBain Scholars speaks to how our students and graduates are boldly making their mark nationally and internationally."
Leading with passion

Fatima, who is from Halifax and is also minoring in French in addition to her IDS/ESS studies, says she's still in shock about the news of her award.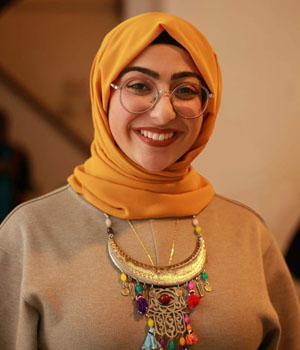 "I could not believe it," she says. "I feel like I'm just starting to process it. It was such a hard interview. I'm so very thankful, and my family was so happy for me."
She plans to study Law with her McCall MacBain Scholarship, seeking to bring a new lens on her various experiences leading change at Dal and in the community.
"One thing that's really important to me is finding that balance between community and academics," she explains. "I'm hoping to find that segue between the study and practice of law and how that's available to grassroots movements and social justice endeavours."
An organizer with Amnesty International Canada — most recently as a national youth advisor and president of the Dalhousie chapter — Fatima represents Dalhousie students on the university's Board of Governors, is an experienced cultural humility facilitator and public speaker, and is a founding member of local racial justice collective BIPOCUS.
"I'm excited to use the community and collaborative skills I've garnered this past few or four years and see where that might fit within legal studies and the applicability of it."
A platform for change

Dalhousie's other McCall MacBain Scholar, Caroline Merner, is from BC, and has spent the four years since her graduation working for different government organizations and non-profits building a young career focused on climate leadership and action.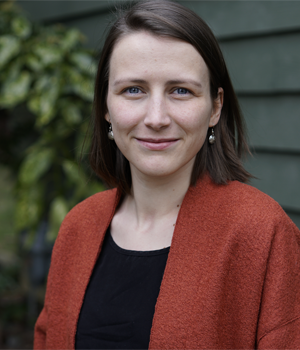 "Going back to school is a big life change for me, but the timing couldn't be more perfect that I found this scholarship and that the values are really aligned with mine in terms of leadership and change-making," she says.
Currently working with the Canadian Institute for Climate Choices, Caroline is the co-founder of Youth4Nature (formerly Climate Guides), a non-profit organization that mobilizes youth on nature and climate action. The organization has hosted two youth mentorship programs, a storytelling platform, and a network of 5,000 youth. She also helped run the Dalhousie Student Union's Sustainability Office during her time at Dal and mentored students during a six-month training program and cross-Canada cycling relay.
At McGill, she plans to study towards a master's in Public Policy.
"In my youth advocacy and working in government, I realized the importance of having a foundation in policy making," she explains. "I really feel my studies will help me become a better advocate and encourage decision-makers or become a better decision-maker myself. That's what really excites me."
She's also excited by the varied disciplines that the 20-student McCall MacBain Scholar cohort comes from, and what awards like the McCall MacBain mean in terms of increasing access to higher education.
"The huge bonus is that I'm going to be part of a cohort that's very interdisciplinary, and that having our master's funded allows us to have that financial barrier removed… I think it should be everyone's right to have access to higher education. I really hope it continues to be something the McCall MacBain Scholarships offer to students."
Meaningful connections

The namesake of the McCall MacBain Scholars program is John McCall MacBain, the businessman and philanthropist who together with his wife Dr. Marcy McCall MacBain, created these scholarships through a historic $200 million gift. He says the global challenges society faces needs the sort of energy and entrepreneurial spirit embodied by the students selected as McCall MacBain scholars.
"Through this scholarship program, they'll have opportunities to deepen their knowledge, develop their leadership skills, and create meaningful connections that will enable them to bring about positive change," he says. "We want to congratulate these students and recognize the hundreds of candidates across Canada who were considered for this scholarship."
Outreach is already underway for the second class of McCall MacBain Scholars, with the application period opening in June. Canadian students and alumni can visit mccallmacbainscholars.org to learn about applying for Fall 2022 admission.
The program will expand internationally over the next decade, with nearly 300 McCall MacBain Scholars selected by 2030.