Dalhousie's research labs are filled with stories about small discoveries that make a big difference in our lives. The development of a $1 device that can detect COVID-19 in an entire community. The discovery of new bioactive chemicals that lead to the development of strong-yet-biodegradable materials. The microscopic analysis that detects and diagnoses cancer at a cellular level.
Now, Dal researchers are looking within their own labs to discover the small, ongoing changes they can make to reduce the energy, water consumption, and waste produced in their labs without compromising efficiency or safety.
Offering sponsored third-party certification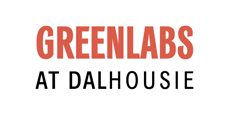 Dalhousie's new Green Labs program from the Office of Sustainability, in partnership with Research & Innovation with advice from the Environment, Health and Safety Office, is designed to support labs in reducing their environmental footprint and adopting more sustainable operations.
In addition to covering the bill for up to 10 certifications per year through My Green Lab, a global leader in best practices for lab sustainability, the program is introducing a variety of resources for interested labs.
"I'm hopeful we'll be able to make some changes as a result of all of this," says cytopathology lab supervisor Tracy Watts, whose lab was one of the first to sign up. "I see so much waste every day in the lab — even just a little bit will help."
Taking steps to reduce the footprint

Even a little bit will help because lab spaces are resource intensive. Across North America, laboratories generate 12 billion pounds of plastic waste each year. Dalhousie's 1,350 labs take up 10 per cent of the building footprint but use 50 per cent of the university's total energy.
"This is important to researchers" says Marlies Rise, assistant vice-president, Research Services. "As you're working to make improvements locally and globally, you may still be left with concerns about plastic waste, for example, in your own lab. But the issue is difficult to address because the protocols and procedures for various methodologies have specific requirements."
Working with external consultant My Green Lab, Dr. Rise (shown left) says, puts researchers in touch with expert partners who have supported over 700 labs in a range of sectors and helps them gain certification that's recognized by the Association for the Advancement of Sustainability in Higher Education (AASHE) and the International Institute for Sustainable Laboratories.
Want to green your lab? See the bottom of this article for details.
Expanding resources

Looking at labs through the lens of sustainability isn't new for Dalhousie. In 2011, an energy, water and waste audit was performed for labs on the Halifax campuses. A year later, the campus fridge/freezer exchange program began and was extended to include the Agricultural Campus in 2015. Large building retrofits have improved the LSC and Tupper labs, the lab spaces on the Sexton campus were upgraded as part of the IDEA project and the rebuild of the Cox Building ushered in upgrades on the Agricultural Campus that included the Haley Building.
The Office of Sustainability has also been working for several years with partners such as Efficiency Nova Scotia on rebates for energy- and water-efficient equipment, and regularly provides advice on equipment purchasing.
The Green Labs initiative extends this work by looking at opportunities to clean up the labs' day-to-day practices.
"We find that once the lab knows where the key areas of impact are, it's often just a matter of noticing habits and choosing to do things differently," Rachael Relph, chief sustainability officer for My Green Lab, told the prospective labs. "Simply encouraging researchers to close fume hood sashes when not in use, for example, can really reduce energy consumption."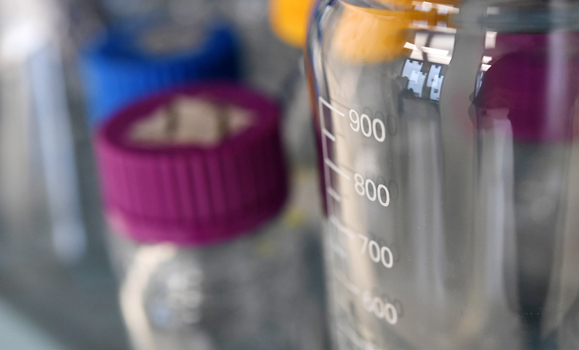 Finding new ways to do things

Among the first cohort for certification is the Clean Water Laboratory, which evaluates drinking water, wastewater and industrial effluents with help from more than 30 graduate students from various disciplines of engineering. 
"As an environmental lab, we're always trying to find ways to be more sustainable," says Heather Daurie, the lab's research chemist. "The students often discuss how they don't like to just throw items out, but we aren't sure what else we can do. I'm hoping through the Green Lab program we'll find a way to deal with and reduce waste, reduce power consumption and conserve water in the lab."
Designed to do just that, My Green Lab certification includes an assessment of current practices followed by a variety of functional recommendations tailored to the size, use and culture of each specific lab.
Measuring individual progress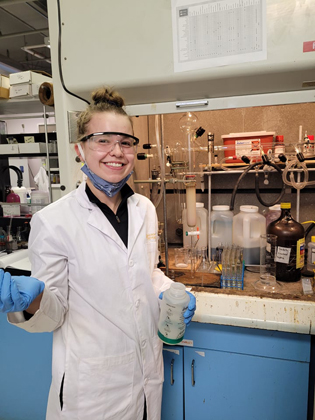 In the Faculty of Science, the Thompson Lab is focused on synthetic chemistry. Sarah Greening, one of the lab's research assistants, is leading the Green Labs initiative for the lab and is excited to see where they can make improvements.
"When I heard about the Green Lab program, I knew immediately that I wanted our group to participate but I wasn't sure if our lab would be able to be certified. As co-founder of the Green Chemistry Initiative at Dal, I'm aware of how much waste (solvents, gloves, water, plastic, etc.) is accumulated in chemistry labs in general," Dr. Greening explains. "We haven't done the assessment yet, but from the resources and support that the Office of Sustainability has shown so far for this initiative – I'm hopeful we might be able to achieve basic certification."
The My Green Lab certification process is unique in that it's focused on the amount of relative improvement in the lab. First, lab members complete an online self-assessment tool about how they work in the lab, which results in a baseline score and a series of recommendations for improvement. Once the changes are put into practice, a reassessment is done to capture the progress. Certification level is based on how much the lab has improved.
Thinking about tomorrow

Some changes in lab practices can have an immediate impact. For example, using a vacuum pump that doesn't require water instead of water vacuum aspirators saves about two gallons of water per minute of use. But there are also important long-term benefits to consider such as the behaviours students will take with them to their own labs.
This was one of the motivating factors for the medical researchers at QEII Cytopathology Lab who are associated with the Faculty of Medicine's pathology residency program.
"it's very important for our future physicians' training," says Cheng Wang, associate professor and program director, Dalhousie General Pathology Residency. "Sustainability should be a habit when they think about setting up their future practice, either running a lab or managing their own office space. I think this way they start early and then make room to pass these habits along."
Collective success

To help support these new habits, the Office of Sustainability is developing materials including tip sheets and guides, fume hood stickers that remind you to "Just Shut It" and a series of posters for lab spaces (sample shown left).
They're also hosting a community of practice, which will meet quarterly to give participants an opportunity to ask questions, discuss experiences and collaborate on finding solutions.
"This idea of a community of practice is really exciting," says Dr. Laurette Geldenhuys, professor, Department of Pathology. "You can continue to have contact with others who have very similar issues, and we can all learn from each other."
Getting started

Interested lab managers and researchers at Dal, are encouraged to reach out to the Office of Sustainability to explore the opportunity.
"I find that most people want to do good things, and this is a tangible way to move forward," says Rochelle Owen, executive director of the Office of Sustainability. "Small acts really do make a difference when they're all focused on achieving the same goals."
Contact Green Labs at greenlabs@dal.ca to learn more.