Update (Dec. 21): The votes are in and Best-Dressed Pet honours go to . . .
Stewart Bun-bun Fuzzybutt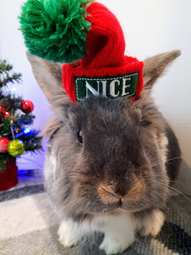 Owner Tanya Matheson will receive a gift.


Second-place runner up: Maple
Third place: Ticino, Javan, Tatiana and new baby girl

Thanks to all the faculty, staff and students who have submitted photos of their furry friends getting into the holiday spirit!

--

Festive felines, dashing dogs, a cheerful rabbit — we've sure seen some special holiday sights over the past week. More than 50 pets got in on the fun, in fact. Some flying solo, others huddled with housemates.
Then we asked readers to cast a vote for Best-Dressed Pet. It was tough. They're all so darned cute.
All the pets are highlighted below but if you want more details, you can take a look back at our detailed profiles from last week: Day One l Day Two l Day Three l Day Four l Day Five
Bonita
Bristow and Mylo
Caper
Ceilidh
Charlie
Clyde and Puffy
Deebo and Daisy
Eddie and Harley







 
Elvis Purrsley
George Harrison
Ginger
Gracie
Gus
Gus and Linus
Hattie
Jack
Kratos
Larry
Loki and Hermes
Mai, Piper, Florence and Griffin
Maple
Max
Metadata Futurecat
Nacho
Oliver Luther Richardson
Sampson
Scooby, Teeny, & Tiny aka The Littles
Shadow Cat and Toby
Sidney Crosby
Stewart Bun-bun Fuzzybutt*
Sunny Cornelius

 
Suzy

 
Sydney
Ticino, Javan, Tatiana and new baby girl
Toby
Victor Hugo