Editor's note: This story contains details that some readers may find distressing.
Flags have been lowered, children's shoes lined up in public places, ribbons tied, church bells rung.
Symbolic gestures like these and others have rippled across Canada in recent weeks in honour of the lives of the 215 Indigenous children whose bodies were found in unmarked grave sites at the former Kamloops Indian Residential School in British Columbia.
But the finding, first made public in late May by Tk'emlúps te Secwépemc First Nation in B.C., has also prompted pleas for more concrete action from governments and led to calls for further exploration at residential school sites across the country.
Lawyer Patti Doyle-Bedwell, an associate professor in the Faculty of Open Learning & Career Development and member of the Mi'kmaq community, spoke to Dal News about the Kamloops tragedy and what needs to happen next.
While the B.C. news has been met with shock from many, residential-school survivors have carried the weight of such stories with them for decades and the Truth and Reconciliation Commission (TRC) even mentioned the issue in its 2015 final report. Why has it taken so long for this issue to gain urgent attention?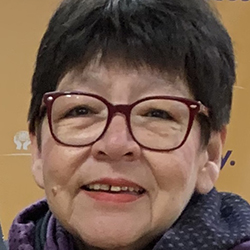 According to Senator Murray Sinclair, the TRC scope did not allow a further investigation of the 6,000 kids identified and he said it could be as high as 25,000. The numbers keep changing. I think the 215 kids hit a nerve with people. It wasn't just numbers in a very long report.
I have known about the overall number of deaths and have seen the government take no action. I know one person told me it was the 3-year-old they found at Kamloops that hit her in the gut. People started looking at their own kids and imagining them being taken away and then never knowing what happened to them. People don't like the word genocide, and I think that word put them off because that is not Canada's reputation. The Canadian public now know that the genocide was real, they feel sadness and anger and are demanding action.
The 215 kids need their voices heard. We need to do an investigation of all the residential schools. Sometimes it appears that Indigenous issues fall to the wayside, and many people think it happened a long time ago. Unfortunately, residential school impacts still continue on today.
The confirmation of unmarked graves in Kamloops has prompted calls to extend the search for similar sites to other former residential schools across Canada. What are some of the different perspectives emerging now around how that work should be undertaken?
The Mi'kmaq have started this work at the Shubenacadie residential school grounds [here in Nova Scotia]. My mom and other family members went to the Shubie school. I am heartbroken. 
As Senator Sinclair has said, we have to be prepared for more discoveries. I think every Indigenous community has to make their own decisions on how to approach the search for similar graves on residential school grounds. Some graves may not be located on the grounds but in other cemeteries. The TRC has identified over 4,000 kids who are missing or who died at the residential schools across Canada.
Senator Sinclair has also indicated that during the TRC investigation, the stories came up about missing and dead children — but this was outside of the mandate of the TRC. The TRC asked for permission to investigate the dead children, but the government denied their request. So, today, since the discovery of the remains of 215 children, Indigenous communities have asked for support in doing the investigation. There are so many questions that need to be answered. However painful, many communities want to investigate the deaths, learn why they died, and bring them home. Investigating these deaths will have a deep impact on Canada and Indigenous communities.
The National Centre for Truth and Reconciliation estimates about 4,100 children died at 130 residential schools across the country according to death records, but the total is likely much higher. What, if anything, is known about how these children died?

In 1900 or thereabouts, Dr. Peter Bryce said that the Canadian government should be charged with manslaughter as so many children had died at that point. I know many children came to the schools with diseases, such as tuberculosis and diphtheria. Poor nutrition, lack of health care, and abuse occurred at the schools. It could be any or all of those reasons. This is why we need to investigate how these deaths occurred. These deaths should be investigated as crimes against humanity, genocide, and perhaps criminal charges need to be laid. There have been stories of baby remains found at some residential schools. So Kamloops is just the tip of the iceberg. Where are the records of these deaths? It is time.
How has the federal government's response so far to the Tk'emlúps te Secwépemc First Nation's work been received by First Nations and other Indigenous communities across Canada?
After learning that the government offered funding to assist in the investigation, which I think was $27 million, I thought, sadly this is not enough. [There are] 139 [former residential] schools in Canada, over 4,000 dead kids, perhaps up to 25,000 kids that need their stories told, and how they died. The federal government must also stop taking residential school survivors to court as well as Indigenous kids with disabilities.
Third, the government must release pertinent records that may tell the stories of what happened to these children. Fourth, they must also push the Catholic Church to release their records as part of this investigation. More Indigenous children will be found, and Kamloops is just the tip of the iceberg. So the government must find more money for survivors, implement the TRC calls to action and offer sufficient financial support to throughly investigate these crimes against humanity. Ultimately, the perpetrators must be brought to justice.