This article is part of a series focusing on the grads of the Dalhousie Class of 2021. Visit our Class of 2021 virtual space to share in the excitement with our newest graduates.
After 10 years of educational exploits at Dalhousie, Louis Martin is set to graduate from medical school with a clearer picture of who he is and what he is meant to be doing. And that seems to involve a little bit of everything and a lot of human connection.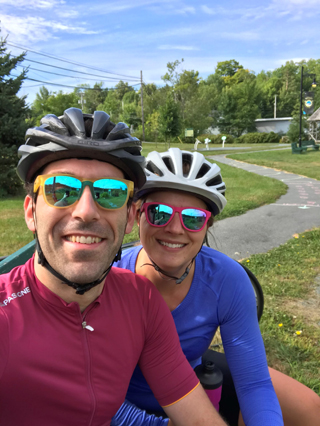 Growing up with a mother who is a family doctor, it might seem like a foregone conclusion that Louis would pursue a career in medicine.  But this was not his original plan. It was only when he was knee deep in sequencing the genomes of single-celled algae for his honours in biochemistry and molecular biology, that he realized something was missing. The work, while interesting, lacked an immediate connection to helping people.
Louis then turned his attention to a pharmacology degree, focusing on chemotherapeutic agents for ovarian and prostate cancers. Although this pursuit proved closer to what he was looking for, he couldn't shake that nagging feeling that something was missing. His work was helping people, but it lacked human interaction. So, he made the plunge and applied to medical school.
Now that he holds an MD degree in his hand, Louis has made human interaction his priority, choosing residency training in family medicine in Halifax. A former freestyle skier and coach of Nova Scotia's provincial freestyle ski team, he plans to pursue additional training in his subspecialty interests of sports medicine and emergency medicine.
"I think what really drew me to these areas, particularly family and emergency medicine, was the scope of presentations that you get to see in the run of a day," he says. "I found my time in specialized fields less enjoyable, as I would always be thinking about the types of patient presentations I would be missing. I think that I come from a fairly multi-faceted background and that is partially responsible for me choosing these fields."
Leaning into uncertainty

The most challenging part of the pandemic year for Louis was being pulled from the clinical setting for the first three months of the 2020 lockdown, and not seeing his classmates in person. But his spirits were buoyed by the efforts of the Class of 2021 to keep everyone in touch and to seize and create as many new educational opportunities as possible. "I think a big lesson that I learned throughout COVID is that embracing the unknown and leaning into those feelings of uncertainty can build resilience in the long term," he observes.
An avid athlete and long-time participant and later coach in the Kids Run Club, one of the highlights of Louis' time in medical school was taking part in the Heartland Tour, a campaign to promote physical activity. "Myself, Dr. Nick Giacomantonio and other medical students provided free diabetes screenings to identify people who may not have known their prediabetes and diabetes risk," he says. "I actually had so much fun on the Tour and grew to enjoy cycling so much that my wife and I joined the Tour the next year for our honeymoon!"
He admits that one of the keys to his success in medical school was to stay connected to his passions outside of medical education, and he thus spent countless hours running, cycling and staying physically active.
Music is another passion that carried him through. "I come from a very musical family and can play around a dozen instruments. I came into medical school thinking that my musical life would have to be put on hold, however I was sorely mistaken," Louis says. "Some of the best times I had in medical school were participating in the yearly Euphoria variety show in the class band, as well as playing trumpet in the Tupper Band."
Another highlight for Louis has been his involvement in the Dalhousie Medical Students' Society's French in Medicine Interest Group.
"My family is Acadian, and I grew up speaking French, but as an undergraduate in a predominantly English-speaking school, I felt like I lost my roots with my French-speaking abilities," he recalls. "I started going to the French in Medicine events to rekindle my fluency, but after several patient encounters where I was the only one available on the service to communicate with Francophone patients, I knew I wanted to play a role in highlighting the importance of incorporating French language skills in medicine."
In second year, he stepped into the role of leader of the French in Medicine group, and travelled to Ottawa to participate in L'Association des facultés de médecine du Canada's annual Ambassadocteurs de la santé en français meeting. "Strengthening my French-language skills in the medical context has proven useful and is something I hope to carry forward and share with others throughout my professional career, he says. "I'm proud to say that the French in Medicine Interest Group continues to put on student-led activities for Dalhousie students in all years of medicine."