There are many obvious reasons to appreciate the Emera IDEA and Richard Murray Design buildings that opened Dal's Sexton Campus in late 2018.

There's the well-equipped engineering labs, workshops and prototyping facilities. The added classrooms, offices and innovation spaces. And then there's the sleek, modern character they lend the campus and its surrounding area in downtown Halifax.

But some of the buildings' most compelling features of all are those hidden from plain view. They're behind the walls, in the control rooms, on the roofs and even under the ground. It's this infrastructure and technology — and the detailed planning that goes into how they operate — that truly catapult these buildings into a league of their own and have now earned them international accolades.

The buildings were recently awarded first place worldwide in the Educational Facilities — New category at ASHRAE's 2020-2021 Technology Awards, an international competition celebrating energy efficiency and sustainability in building design.

"Energy efficiency is baked into virtually every element of these buildings and how they operate, so it's really satisfying to see them getting this kind of international recognition," says Julia Cairns, a senior project manager with Facilities Management (FM) who oversaw construction on the IDEA and Design buildings.
A special opportunity


With state-of-the-art geothermal wells, innovative heating-and-cooling delivery systems, the second-largest rooftop solar PV installation in Nova Scotia and other cutting-edge hardware to work with, Dalhousie and its outside collaborators knew they had a prime opportunity to achieve something special with the IDEA and Design buildings.  

They made sure to take advantage of it.

"We didn't just buy technology. We also enhanced the way that the technology operates," says Justin MacDonald, Efficiency Nova Scotia on-site energy manager with Dal's Office of Sustainability.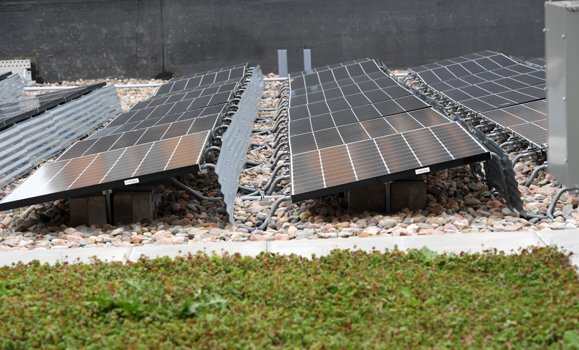 Rooftop solar installation, shown left. (Danny Abriel photo)

As with other capital projects at Dal, the buildings — constructed as part of a larger $64-million Sexton Campus revitalization called the IDEA Project — were subject to what MacDonald calls a "deep dive," where key collaborators at the university and beyond came together with a list of all the systems to be used and talked through different approaches to energy usage for each.
See also: In‑depth on Dal's IDEA Project: New buildings, new labs, new era for Sexton Campus

A series of investigations were then undertaken on everything from the lighting and electrical to heating/cooling and mechanical to uncover optimal ways to control and sequence each to reduce energy usage, maximize efficiency and to ensure operations and maintenance activities were optimized.

"We really took it upon ourselves to come up with new and innovative control strategies that we hadn't done before," says MacDonald. "Dalhousie has a wealth of internal expertise across numerous fields, and the more we leverage that as we did in this case, the more successful our projects are."

MacDonald and other members of the university's FM team collaborated on the analyses with outside engineers from consultancy M&R Engineering, building-automation professionals at Johnson Controls, as well as various contractors.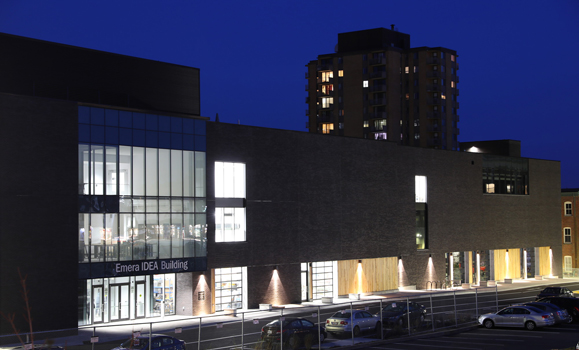 Occupancy sensor controls and LED-equipped fixtures improve effiency in lighting systems. (Nick Pearce photo)
Distinguishing features

What set the Dal buildings apart from others was the way they incorporated ASHRAE's standards for effective energy management, indoor air quality and innovative systems design.

ASHRAE, which stands for American Society of Heating, Refrigerating and Air-Conditioning Engineers, is widely considered the global leader by consulting engineers when it comes to standards for HVAC (heating, ventilation and air conditioning) systems in building design. It sets standards for how mechanical systems should meet ventilation rates in different types of facilities, how they should consume energy and so on.

Projects up for ASHRAE technology awards are scored in six specific topic areas, including energy efficiency, indoor air quality, innovation, operation and maintenance, cost effectiveness and environmental impact.

The IDEA and Design buildings stand out on a number of fronts:
•    Their building 'envelopes' have a high R-value, which is a metric that signifies lower heat loss.
•    Reduced lighting power density is achieved through the use of natural daylighting, occupancy sensor controls and LED-equipped fixtures.
•    Prioritized efficiency of the mechanical components power the heating and cooling systems.
•    An in-floor radiant heating and cooling system in some areas reduces energy use compared to air-based systems.
•    Renewable energy systems, including a 60-borehole geoexchange, use the ground as a heat source and heat sink for the IDEA and Design buildings as well as other nearby buildings. A range of 469 solar photovoltaics (PV) panels convert solar light to electricity.
•    Other features include a rain-water cistern and battery storage.
The IDEA and Design project team's recognition from ASHRAE actually stretches three layers deep. To win the international award requires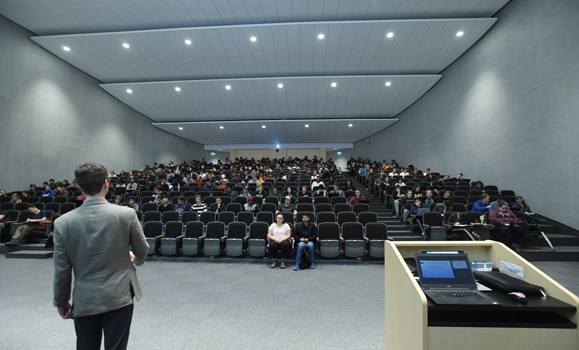 first winning at the chapter (Nova Scotia) and regional levels (Ontario, Quebec and Atlantic Canada).

"The award recognizes the importance of an integrated effort between the engineers, architect and staff from Dalhousie. Early analysis and a team focus on energy use and comfort allowed the project to deliver over 70 per cent energy savings compared to an average educational building," says Aaron Smith, a principal with M&R Engineering who worked on the buildings.
In-floor radiant heating in the Irving Oil Auditorium, shown above, and other areas reduce energy use. (Danny Abriel photo)
See also: Where ideas come to life: Emera ideaHUB opens for business on Sexton Campus

Harnessing high-energy facilities


Achieving top honours from an organization like ASHRAE is an achievement in its own right but consider the type of work that goes on inside the IDEA and Design buildings and it becomes even more impressive.

The buildings are used by the Faculty of Engineering and the Faculty of Architecture and Planning, both of which call Sexton Campus home and rely heavily on the equipment housed within these facilities.

"There are a lot of laboratory, workshop and prototyping spaces in these two buildings, which are generally high-energy intensive spaces," explains MacDonald. "The fact that we've been able to get such low-energy consuming buildings is a testament to the success of our team's approach."

Dal has aimed high in its overall building standards for the IDEA and Design facilities as well, setting its sights on LEED® Gold (which it has achieved) — with a stretch goal of LEED® Platinum. The latter is the highest possible classification attainable from LEED® (Leadership in Energy and Environmental Design), the third-party certification program and internationally accepted benchmark for the design, construction and operation of high-performance green buildings.
See also: The big "IDEA": Dal's transformed downtown campus unveiled



Control room infrastructure. (Danny Abriel photos)