Take a stroll around the Emera ideaHUB on Dalhousie's downtown Sexton Campus and it's immediately evident it is a place designed for building new physical products.
There's an enclosed room with 3D-printer technology, one outfitted with gear for building and testing electrical components, and another with tools for mechanical assembly — all nestled alongside a well-lit, open-concept workshop space generous enough to house the product prototypes created by up to a dozen startup companies at a time.
But this exciting new facility located in the heart of Halifax's downtown innovation district is about building much more than innovative physical products — it's about building the next generation of world-class technology companies.
Companies such as Aurea, a startup developing the world's first mini wind turbine that generates and stores energy for USB devices. And Graphite Innovation and Technologies (GIT), which is producing a graphene-based coating that protects ship hulls from corrosion and biofouling to improve the performance of a boat over its lifetime.
These promising young startups are among the first cohort of seven companies accepted to the Bridge residency program in the Emera ideaHUB, which celebrated its official opening Thursday morning with partners from the Government of Canada, the Province of Nova Scotia, Emera as well as other private-sector donors, alumni and students.
Emera's Rick Janega, Chief Operating Officer, Electric Utilities, Canada, US Northeast and Caribbean, said his company's $10-million contribution to the Emera ideaHUB will enable these young companies to develop their unique technologies and compete on a global scale.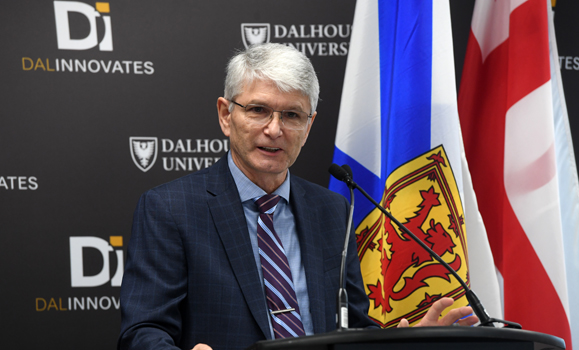 Emera's Rick Janega
"We believe our investment in the Emera ideaHUB is an investment in the future of our region," said Janega. "We're making it possible for the entrepreneurs . . . to pursue their ideas here at home. We all know that's a win for our economy and our communities alike."
Housed in the Emera IDEA Building, one of two new buildings created as part of the $64-million IDEA Project revitalization of Sexton Campus that was completed last fall, the Emera ideaHUB empowers early stage startups and ventures led by students, faculty and alumni to create advanced prototypes and become investment ready.
It does so by ensuring the firms are close to the facilities they need to design and build breakthrough physical technologies as well as the programming and industry connections they need for business development.
"The Emera ideaHUB creates a range of wonderful opportunities," said Peter MacKinnon, Dal's Interim President, in remarks at the opening. "It will foster entrepreneurial talent and offer paths to commercialization, so breakthrough discoveries don't get stalled in the lab."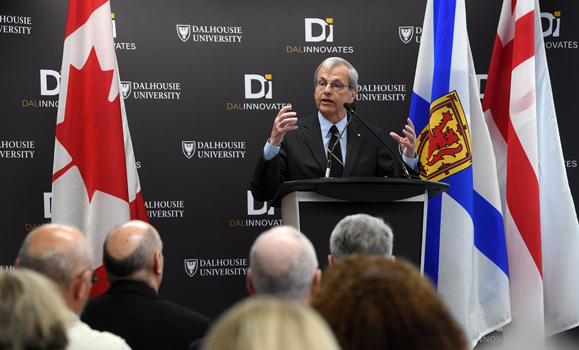 Dalhousie Interim President Peter MacKinnon
He said the Emera ideaHUB showcases what is possible when government, industry and the academy come together, thanking Emera for its vision and leadership in spurring the space and paying tribute to his predecessor Richard Florizone's oft-repeated mantra, "Nobody does anything alone."
"As I stand in this very exciting space on this transformed Sexton Campus, I feel very optimistic about the expanding innovation ecosystem that we at Dalhousie are a part of," he said. "I look forward to seeing the many ways in which the Emera ideaHUB will advance the university, our city and our province."
Andy Fillmore, member of parliament for Halifax and parliamentary secretary to the minister of Canadian Heritage and Multiculturalism, said the facility adds to downtown Halifax's already impressive innovation district that boasts more than 2,000 companies.
"Today's grand opening of the Emera ideaHUB is really serving to help to reinforce this idea that Halifax and Dalhousie University really is an innovation hotspot here in Canada and in the world," said Fillmore.
He noted the federal government's $32-million investment in the larger IDEA Project in 2016 and cited the contributions of students who committed years ago to helping fund the campus renewal.
"Look how far we've come since then. Isn't it beautiful?"
Attendees at the launch had a chance to get their hands on some of the products currently under development in the Emera ideaHUB and to speak with some of the founders and other team members who had set up displays and demonstrations.
Short video segments shown throughout the event also provided a glimpse into how a few of those companies — Color Smith, GIT and NewAE technology — have already started seeing results after just a couple of months in the space.
Mickey MacDonald of MICCO Companies, who along with John Risley of Clearwater donated $2.5-million to the Emera ideaHUB, spoke about a desire to pay it forward to the next generation of entrepreneurs.
Alice Aiken, vice-president research and innovation at Dal and MC for the launch, said the Emera ideaHUB fits nicely into the recently launched Dal Innovates initiative — which has created a pathway through all of the university's entrepreneurship and innovation programming.
"Dal Innovates provides opportunities for students and faculty to explore and experience innovation and entrepreneurship and develop the knowledge, skills and attitudes necessary to translate new ideas into innovations," she said, noting everything from early discovery programs like the provincially funded sandboxes to the growth-centric accelerator CDL-Atlantic.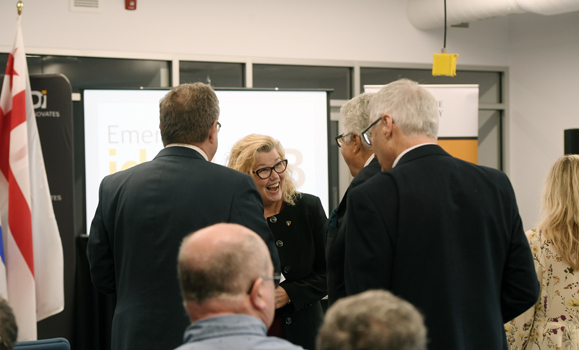 Dal's VP Research and Innovation Alice Aiken chats with guests
The Honourable Geoff MacLellan, Minister of Business for Nova Scotia, emphasized the value of the "the thinkers, the entrepreneurs, the investors, the people who take risk and really put their life and their blood, sweat, tears and their money into ideas."
"We're going to see big things come out of this building," he said, noting his government's partnership on the sandboxes and the Emera ideaHUB. "This is a remarkable place and ideas are going to flow from here."
Honourable Geoff MacLellan, Minister of Business for Nova Scotia
Operated by the Faculty of Engineering, the Emera ideaHUB includes a full-time engineering technical staff and specialized programming focused on building innovative physical products. Community partners such as Volta Labs and Innovacorp will help add another layer of support for companies coming through the Emera ideaHUB, providing programming and advice.
John Newhook, Dean of the Faculty of Engineering, said the Emera ideaHUB is the "final puzzle piece" in a continuum of programming that stretches from conceptual design thinking in first year through to final-year capstone projects that see students working directly with industry on product design. He said four of the first companies accepted to the Emera ideaHUB have already sponsored capstone projects this past academic year, with some even hiring the students to join their startups afterwards.
"This is an excellent example of how we envision this whole process having a feedback loop where the programming we produce creates a pipeline of students interested in doing in innovation and entrepreneurship," he said. "And the entrepreneurs that are here are cycling back into that pipeline, providing those students with unique opportunities to learn about entrepreneurship and product development."
Dr. Newhook praised Emera for its long-standing partnership with Dal, highlighting its support through scholarships, co-op opportunities, hiring Dal graduates, and, now, the Emera ideaHUB.
"Your vision and desire to create a positive impact on the students is really showcased through the Emera IDEA Building and the Emera ideaHUB itself. You've helped equip our students and researchers with modern spaces that will enhance and expand creative minds and capabilities."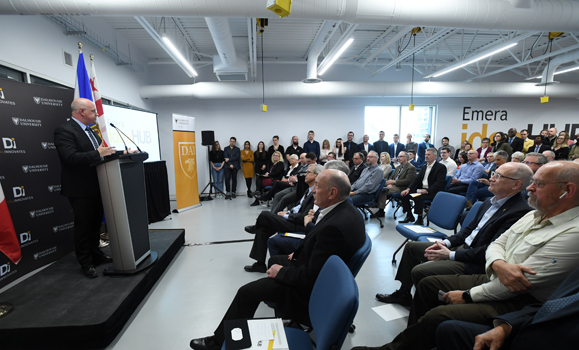 Faculty of Engineering Dean John Newhook delivers remarks
Learn more: dalideahub.ca