On a typical weekday morning, the new Irving Oil Auditorium on Dalhousie's Sexton Campus would be packed with hundreds of students.

But this Wednesday morning was anything but typical on Dal's downtown campus — home to the Faculties of Engineering and Architecture & Planning.

That's because partners from the Government of Canada, the Province of Nova Scotia, the private sector as well as donors, alumni, and students were on hand to mark the official opening of new facilities created on campus as part of the $64-million IDEA renewal project.

Anchored by two new academic buildings, and with stunning upgrades to labs and other features in five existing buildings, the IDEA Project (which stands for Innovation and Design in Engineering and Architecture) has transformed the century-plus old campus into a modern hub of collaborative learning, research, design and innovation.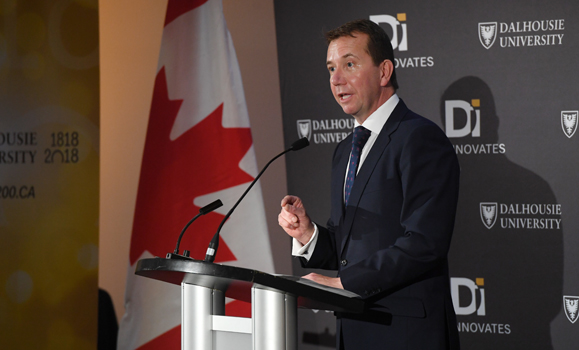 Scott Brison speaks at the IDEA Project grand opening.

"This is big, and it should be big," said the Honourable Scott Brison, President of the Treasury Board of Canada and Minister of Digital Government, in remarks at the event. "[This] will be a place where big ideas are built into big game-changers right here in Halifax, Nova Scotia."

Dal broke ground on the project two years ago shortly after the federal government pledged $32-million in support through its Post-Secondary Institutions Strategic Investment Fund (SIF), building on an earlier $1-million donation from Marjorie Lindsay (wife of late Engineering alum John Lindsay Sr.) and a commitment of future support from students themselves through an annual fee.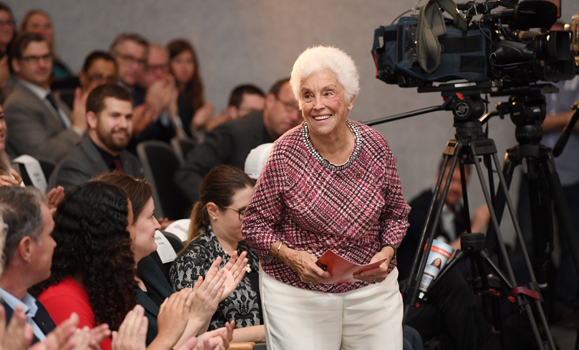 Marjorie Lindsay at Wednesday's event.

Recognizing those who made it possible

The opening provided a chance to recognize these supporters and the many others who have come on board to back the project over the past two years as construction reshaped the campus. These include generous contributions from corporate donors, private donors (like international business leader Lukas Lundin, who gave $2 million) as well as alumni, including Halifax business leader Richard Murray — whose $6-million donation was announced for the first time Wednesday by Dal President Richard Florizone.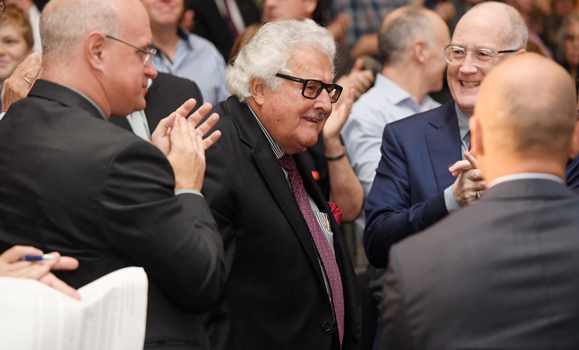 Richard Murray thanked by guests for his donation.
In recognition of Murray's gift, the university will name one of the two new buildings constructed on the campus the Richard Murray Design Building. The Emera IDEA Building next door was named in recognition of a $10-million gift from the Halifax-based energy company that will be used to support cutting-edge startup incubation spaces and programming.

"This is like the mother of all Christmas mornings for me," said President Florizone in remarks thanking supporters at the event. "It is, I think, a watershed moment, a pivot for us at Dalhousie and what we are trying to do in this region."

He spoke about the substantial physical expansion included as part of the IDEA project, but also about its impact on how the campus fits into downtown Halifax's growing innovation district.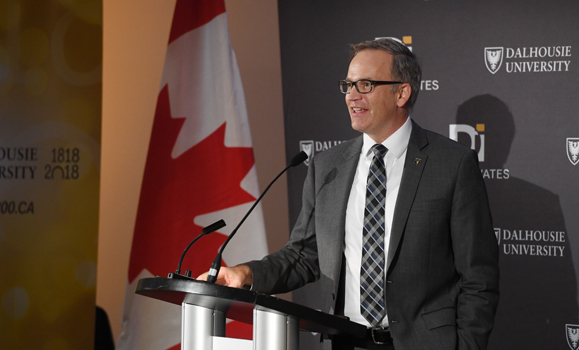 President Richard Florizone

"This project has brought us even closer to the companies, creators and entrepreneurs here in Halifax," he said. "Together, we're deepening those networks of collaboration, reshaping our city and our region and inspiring that next generation to make an impact on communities and the world."
The power of collaboration

Collaboration was a common theme with other speakers as well, including the Honourable Stephen McNeil, premier of Nova Scotia.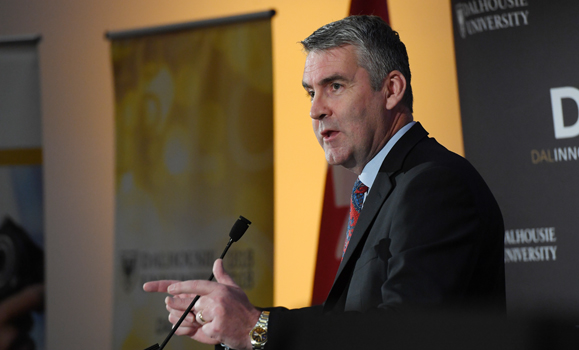 Premier Stephen McNeil.
"While these bricks and mortar are wonderful," he said, "it is the spirit inside of this initiative that is what is driving this province."

He mentioned the Centre for Ocean Ventures and Entrepreneurship (COVE) in Dartmouth and Volta, a rapidly expanding innovation hub also located downtown, as two additional examples of "a spirit of collaboration and innovation that I don't think this province has ever seen before."
Dal News Video: IDEA Project grand opening


A specific case in point as part of the IDEA Project is the Emera ideaHUB, a dedicated innovation and collaboration space located inside the Emera IDEA Building that will help drive economic growth. Scott Balfour, Emera's president and CEO, spoke about his company's decision to support the project.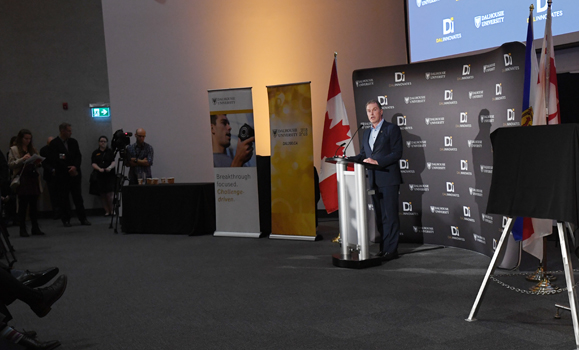 Scott Balfour, Emera CEO.
"Enabling strong, innovative communities is important because together we are facing big challenges and big opportunities," he said, noting the unprecedented change taking place in the energy sector and other industries. "Our investment in the Emera ideaHUB is going to help develop the leaders of tomorrow, and we're counting on those new leaders and new ideas to continue the work that we're doing today." Programming in the Emera ideaHUB is being supported by a $2.5-million gift from Micco Companies and Clearwater Seafoods.

Alice Aiken, Dal's vice-president of research and innovation and MC at the opening ceremony, also set the project in the larger context of the university's role as an innovator in the region, highlighting some of the many programs set to roll out on Sexton and elsewhere at Dal under the university's new Dal Innovates initiative.
She also shared the wording on one of the two cornerstones being installed in the buildings. Unveiled with the help of a robotic arm developed by a Faculty of Engineering student-research team, the cornerstone includes a precedent-setting acknowledement that the land the university sits on is the ancestral and unceded territory of the Mi'kmaq. She said all new cornerstones at Dal going forward will include this acknowledgment.

A first look at a truly "student-centred campus"

Attendees had a chance to explore some of the exciting new spaces, including state-of-the-art workshops, renovated labs and student study areas, and to chat with students and researchers about some of their projects on display for the event.

John Newhook, dean of the Faculty of Engineering, and Christine Macy, dean of the Faculty of Architecture and Planning, spoke about the importance of the project for researchers and for students alike.

"What we have as a result is stunning example of a student-centred campus," said Dr. Macy, taking time to thank architects from DSRA Architecture (also Dal alumni) who gave shape to the IDEA Project. Dr. Newhook also expressed gratitude to his predecessor, Josh Leon, and to Dr. Macy for their crucial role in defining the project early on and getting it off the ground.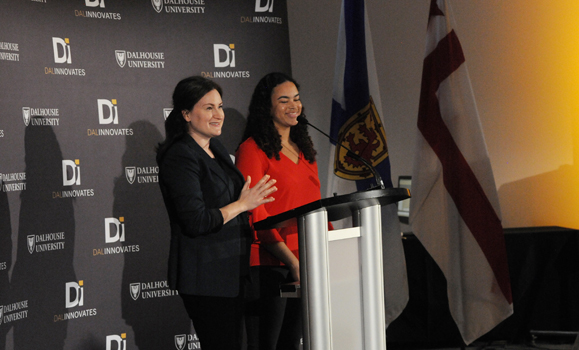 Students Katie Kirkpatrick and Sierra Sparks.

Engineering student Sierra Sparks, who spoke at the event alongside Architecture student Katie Kirkpatrick, said "there's no doubt that the IDEA Project was developed with us, the students, in mind."

She pointed out that the 450-seat lecture hall — made possible as part of a $2.2-million donation from Irving Oil — ensures for the first time that Dal has the space to accommodate even the largest classes on Sexton Campus. And new labs and workshops ensure students will have more opportunities for hands-on experiential learning.

Sparks also drew attention to the valuable new study and collaboration spaces throughout, including the John Lindsay Sr. Design Commons — a vast, open-concept student space created with the aforementioned donation from Mrs. Lindsay and named after her late husband.

In introducing Sierra and Katie near the end of the official portion of the day's events, Mrs. Lindsay spoke of her husband's fondness for Dalhousie and about the impact the IDEA Project promises for students on the Engineering campus he so loved.

"It represents a transformation to the educational experience here at Dalhousie university for students now and generations to come."
IDEA Project Grand Opening - Full Coverage
Additional photography below by Bruce Bottomley