Strolling along a corridor on the second floor of the new Richard Murray Design Building on Dalhousie's downtown campus, there are plenty of signs that students are beginning to make the space their own.
There's a microwave, a smartphone-charging station and some posters and banners sitting at one end of the hall, just outside the new offices of the Dalhousie Undergraduate Engineering Society (DUES) and the Dalhousie Student Union (DSU).
Moving a little further along, in one of several new bookable student meeting rooms on the floor, someone has taken a marker and written on the windows.
"You can see they're using the glass as a white board, which I think is fabulous," says John Newhook, dean of the Faculty of Engineering — which calls the campus home along with the Faculty of Architecture and Planning.
Although this corridor encompasses just one small area of the much-larger IDEA Project that has transformed Sexton Campus over the past two years, these small signs of student life are a useful reminder of what inspired the $64-million project in the first place.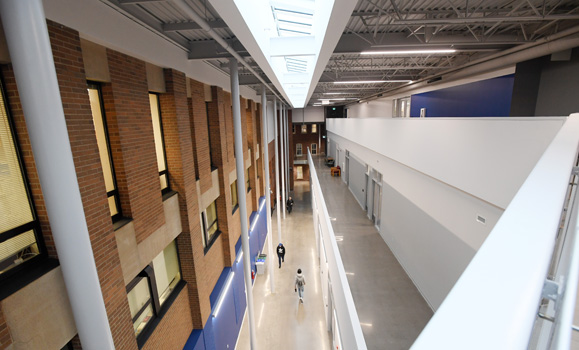 "The IDEA Project is about the opportunity to really enhance and have a positive impact on all aspects of the student experience," says Dr. Newhook.
That runs the gamut from improving their experience in classes and teaching labs to their involvement in extracurricular activities, he says, whether that be competition projects or in learning more about design, innovation and entrepreneurship in a way that they hadn't before.
An "amazing" transformation

With two new academic facilities, including the Richard Murray Design Building and the Emera IDEA Building, as well as substantial upgrades to five existing buildings, the IDEA Project — which stands for Innovation and Design in Engineering and Architecture — is the most significant transformation of Sexton Campus in decades.
First established in 1907 to address a labour and skills shortage in the booming mining and steel-manufacturing industries in Nova Scotia, the campus continues to play an important role in training the next generation of highly skilled engineers.
But it does so now through a faculty with a national research reputation and a student body that's grown by 65 per cent in the last decade alone.
The Design Building was created primarily to accommodate the needs of this larger student body, with a modern 450-seat lecture hall at its core. The concrete perimeter of the Irving Oil Auditorium — now the largest classroom space on the campus — stretches up through the centre of the building from the ground floor to just past the second floor, leaving the remaining spaces in the corners of the building for other uses.
The second-floor corridor mentioned earlier, for instance, eventually merges around the corner into the John Lindsay Sr. Design Commons — a vast, open-concept study area with tables, chairs and a massive terraced-style bank of hardwood-clad lounging platforms leading up to third-floor studios for architecture and planning students. Bathed in natural light, with a wall of large-scale windows overlooking Sexton field and providing views of downtown Halifax's growing skyline, it's one of the most visually stunning spaces in the entire project.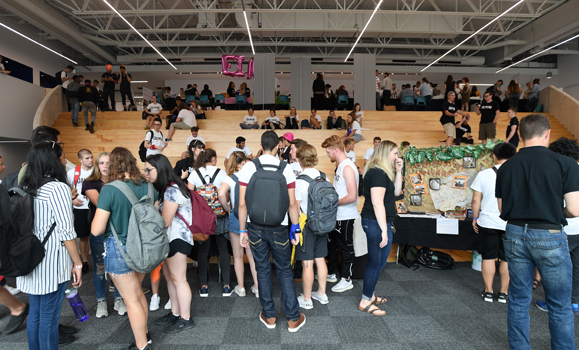 "The entire building is just amazing in terms of giving us a much larger space to work in," says Engineering student Adam Tranquilla, who is current president of DUES. "We can also use that space for talent shows and movie nights and all sorts of stuff."
He's also thrilled with the bookable student-only meeting rooms (that used to be shared with faculty) and with the new lecture hall.
"We've had issues with classrooms in the past where we've had to go to off-campus locations to take classes," he says. "With the new space on campus, it seems like we're making a transition to having all the classes exclusively on Sexton Campus, which is super exciting."
Hands-on from now on

By keeping more students on campus, the project also ensures they'll be closer to other new facilities aimed at fostering the kinds of hands-on design skills increasingly in demand by industry.
In the Emera IDEA Building, the renewal project's other new structure, you'll find brightly lit innovation spaces, state-of-the-art prototyping workshops, and other cutting-edge facilities, all designed to generate new ideas and encourage more hands-on work and collaboration across disciplines and with private industry.
Laid out on three floors in a rectangular shape along a central sky lit corridor with the brick wall of existing buildings on one side, the bulk of the new facilities face outward to a side street and active-transportation corridor linking Spring Garden Road and Morris Street.
On the main floor, you'll find a whole new suite of world-class workshops, including a wood shop, machine shops and a fully outfitted heavy prototyping lab complete with equipment capable of cutting large sheets of steel. And up on the third floor, a light prototyping space is available for undergraduate students working on projects in design and capstone courses.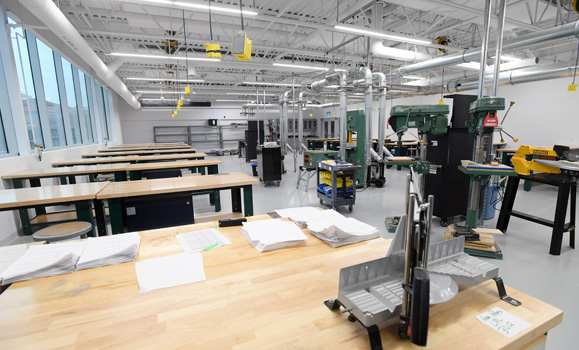 While engineering education has always had a physical lab component to it, Dr. Newhook says in the past it tended to be more prescriptive in nature with rules to follow. These new facilities will help support the shift toward a more design-centric approach that encourages students across disciplines to explore their own design solutions in a more open-ended way.
"Now what we are doing to augment their education is to not simply have them create a design solution in theory, but to go realize that design as a physical product," he says.
The facilities will have a similar impact for Architecture students, many whose programs focus heavily on design and building.
"That whole suite of fabrication workshops is going to greatly enrich the experience of Architecture students, building on our strengths of three-dimensional making as well as the drawing skills that they have to have," says Christine Macy, dean of the Faculty of Architecture and Planning.
Next door to the light prototyping lab is the Emera ideaHUB, an advanced incubator space designed to help hardware-focused early stage startups with a Dal connection (faculty, student, alumni, etc.) become investment ready.
The IDEA Project has also completely renewed several labs and research facilities in pre-existing buildings on campus, helping advance research and development (R&D) and commercialization efforts in critical economic sectors such as ocean tech, advanced manufacturing and clean tech.
Learn more: From "IDEA" to innovation: Inside the ideaHUB and more
A greener and more inclusive campus

The IDEA Project also makes Sexton Campus a leader in environmental sustainability.
"Sustainability features are woven through the campus from the outside in," says Rochelle Owen, director of Dal's Office of Sustainability.
You'll find energy-saving retrofits to both exteriors and interiors of pre-existing buildings on campus as well as layers of new renewable-energy infrastructure, stretching from a geo-thermal exchange system buried hundreds of feet below ground to solar-power infrastructure installed in sun-soaked areas above.
Rainwater collected on the roof of the Design Building will be stored and used for toilet flushing, while the facility's green roof will offer space for testing of plant species in biodiversity research and green-roof applications. What's more, some of these integrated sustainability features will be open for use as learning labs for students.
Outside the Emera IDEA Building, an active-transportation (or "green") corridor cuts across the campus from Spring Garden Road to Morris Street creating a link to other active-transportation infrastructure. It includes dedicated space and markings for pedestrians and cyclists, permeable pavers, and native vegetation.
Taken together, these features and many others illustrate just how central sustainability has been to the renewal project as a whole.
As a result, both the Richard Murray Design and Emera IDEA buildings — designed by Halifax-based DSRA Architecture — are LEED Candidates targeting a Gold certification, with a stretch goal targeting Platinum certification in the future. If the latter were achieved, it would be a first for Dal.
Also in focus for the future, says Dr. Newhook, is broadening diversity in the student population on campus through youth outreach and other programs.
Imhotep's Legacy Academy has been creating pathways to higher education in engineering and science for youth of African heritage in Nova Scotia for 15 years and will continue to do so now in its new location next to Alumni Hall. A maker space there will enable the group to bring more youth to Dal for programming and serve as a meeting place for current Dal students working as mentors with the group.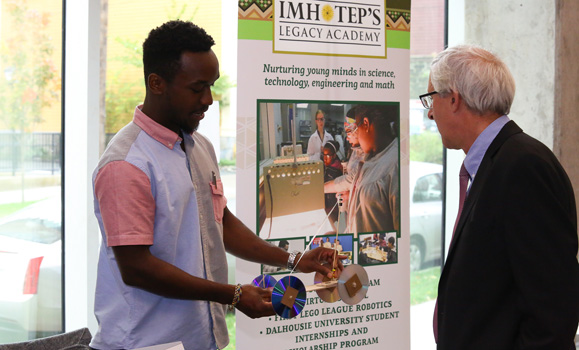 Future programming on Sexton will aim to support women and Indigenous students in engineering as well, part of the Faculty of Engineering's larger Technology Diversity Strategy.
For the next generation

As Dr. Newhook explains the reaction he and other alumni who studied on Sexton decades ago have had to the many new facilities and spaces on campus, the overwhelming refrain seems to be: "I wish we had these facilities when I was going through."
"These are things that resonate now with people who have had careers for 25 or 30 years and recognize all the things you need to know as a young engineer," he says. "And this campus is now delivering more of that."
IDEA Project Grand Opening - Full Coverage